US maintain narrow Presidents Cup lead
The US team go into the final day leading by 9.5pts to 8.5pts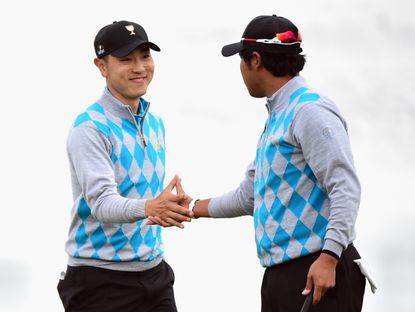 (Image credit: Getty Images)
The US team go into the final day of the Presidents Cup leading 9.5pts to 8.5pts
The US team (opens in new tab) go into the final day of the Presidents Cup maintaining the one point lead that they had taken into the third day (opens in new tab). Both the third day's morning foursomes and afternoon fourballs were halved 2-2.
Presidents Cup holders US are now leading 9.5pts to 8.5pts. There will be 12pts available on the final days of singles. Historically the US has outscored the International side 65-55 in singles matches and 5-2-3 in singles sessions.
Jordan Spieth & Dustin Johnson were 3 down at the turn in the morning anchor match with Jason Day and Charl Schwartzel. But some mistakes by the International pairing, and Spieth finding his putting form took the game to the 18th all square. The Americans, who had trailed from the 4th to the 16th hole, then won the match on 18 after Schwartzel failed to escape from a fairway bunker.
The 6&5 afternoon fourballs win by Sangmoon Bae and Hideki Matsuyama is the 15th time in Presidents Cup history that a match has ended in 13 holes. Twice a match has ended on 12, and Walker and Kirk thought this was the third as they went to congratulate their opponents, only to be told that the match was only dormie, not lost.
Bae and Matsuyama made six consecutive birdies from holes 6-11, with Bae making three straight on 7-9. Matsuyama and Bae played their 13 holes 9 under par.
Phil Mickelson claimed a record-equalling ninth fourball Presidents Cup win. The captain's pick this time out has appeared in every Presidents Cup (opens in new tab) since it started in 1994 and is now level with Vijay Singh for fourball victories.
The drama in Bubba Watson's morning foursomes match started on the driving range when he broke his driver. Watson was due to tee off on the odd-numbered holes, and with his spare driver back in his hotel, he had to tee off without it, before vice captain Fred Couples came down the course when they match was on the first fairway, waving the replacement driver about his head.
Saturday foursomes Reed & Fowler beat Oosthuizen & Grace 3&2 Holmes & Watson halved with Scott & Leishman Haas & Kuchar halved with Bae & Matsuyama Johnson & Spieth lost to Day & Schwartzel 1 down
Saturday fourballs Holmes & Watson lost to Oosthuizen & Grace 1 down Mickelson & Johnson beat Scott & Lahiri 3&2 Kirk & Walker lost to Bae & Matsuyama 6&5 Reed & Spieth beat Day & Schwartzel 3&2
Contributing Writer Golf courses and travel are Roderick's particular interests and he was contributing editor for the first few years of the Golf Monthly Travel Supplement. He writes travel articles and general features for the magazine, travel supplement and website. He also compiles the magazine's crossword. He is a member of Trevose Golf & Country Club and has played golf in around two dozen countries. Cricket is his other main sporting love. He is the author of five books, four of which are still in print: The Novel Life of PG Wodehouse; The Don: Beyond Boundaries; Wally Hammond: Gentleman & Player and England's Greatest Post-War All Rounder.