Why Eleven Sports USPGA TV Coverage Is Good For Golf
There were plenty of complaints, but is the future bright?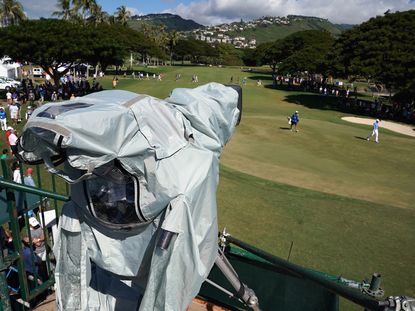 (Image credit: Getty Images)
There were plenty of complaints about the day one coverage of the 100th USPGA Championship, but could it spell a bright future for golf
Why Eleven Sports USPGA TV Coverage Is Good For Golf
Let me start by saying that the coverage of 100th USPGA Championship was not great.
It all started with the rights being brought by Eleven Sports only a couple of weeks ago, delayed app and website launches, lack of marketing and then interrupted live coverage which caused the company to give an apology.
Related: How To Watch The USPGA Championship
This all means that many UK and Ireland golf fans were frustrated that they couldn't watch the 4th Major of the year in the way they had become accustomed.
For all these troubles with the coverage, there is huge potential for Eleven Sports to be a big hit for golf.
Golf has been hidden behind the pay to view packages of Sky for decades now, and with the BBC more or less giving up on their live golf coverage it has meant that if you couldn't afford to pay for Sky it was very tricky to watch you favourite players from week to week.
Eleven Sports look like a very modern broadcasting company, no TV channel as of yet they show their sports, which they appear to have a lot of this year, on an app. Eleven Sports do offer a subscription to its channels, but it is much cheaper than some of the current pay per view packages.
But even more exciting was the live Facebook feed that Eleven Sports aired, something that is happening for round 1 and round 2, and is completely free to watch.
Expand Social Media Reacts To Eleven Sports USPGA Championship Coverage
Social Media Reacts To Eleven Sports USPGA Championship Coverage
Eleven Sports broadcast its first day of golf…
Expand 15 Things You Didn't Know About Brooks Koepka
15 Things You Didn't Know About Brooks Koepka
Did you know all of these facts about…
Where there were lots of Sky TV customers complaining about the standard of the Eleven Sports coverage, and Sky coverage is superb, there were a huge amount of non-Sky Subscribers who were cock-a-hoop with the coverage being free to air.
Another unexpected experience was that the amount of comments that people were leaving on the Facebook coverage and that viewers could interact with each other, these gave a whole new level of interaction with the event.
Eleven Sports also announced they were showing six LPGA Events before the end of the year, and if they allow any free coverage of these events again it will be great for the golf public, as well as giving the women's game some much needed publicity.
Eleven Sports have hopefully learnt many lessons from their first few days of live sport broadcasters, but I hope they continue to offer good value and free/cheap coverage of the events they have secured.
Any ill feeling they have at the moment should soon disperse and be left with plenty of positivity.
Did you watch the Eleven Sports coverage? Let us know your thoughts on our Facebook and Twitter pages
Tom Clarke joined Golf Monthly as a sub editor in 2009 being promoted to content editor in 2012 and then senior content editor in 2014, before becoming Sports Digital Editor for the Sport Vertical within Future in 2022. Tom currently looks after all the digital products that Golf Monthly produce including Strategy and Content Planning for the website and social media - Tom also assists the Cycling, Football, Rugby and Marine titles at Future. Tom plays off 16 and lists Augusta National (name drop), Old Head and Le Touessrok as the favourite courses he has played. Tom is an avid viewer of all golf content with a particularly in depth knowledge of the pro tour.