Gallery: Masters Practice day 2
James Hahn makes a hole in one, Bubba gets another trophy...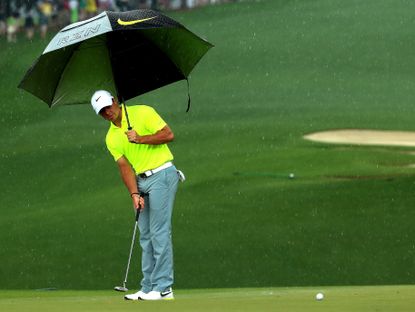 (Image credit: Getty Images)
James Hahn makes a hole in one, Bubba gets another trophy, Tiger talks family and Rory keeps dry - the action from the second day of Masters practice
Tiger Woods was noticeably in a more related mode than he often is when facing the press. He told the assembled hacks that he will be playing in the par 3 tournament on the eve of the Masters (opens in new tab). Tiger the serious golfer tended to ignore that tournament - 2004 was the last time he played in it - but Tiger the dad does not. His two children, daughter Sam, 7, and son, Charlie 6, will caddy for him. "Charlie has seen me win a golf tournament before," said Woods. "Sam, actually she was there at the U.S. Open in 2008, but doesn't remember it. It's nice to be able to share these things with my family, and it just means the world to me."
Ben Crane is leapt upon by his daughter during Masters practice.
James Hahn celebrates making a hole in one on the 12th. Harris English aced this hole last year in Masters practice but in the actual tournament the most recent hole in one on 12 was in 1988, by Curtis Strange. Traditionally it's one of the toughest holes on the course, as the average score here in all Masters rounds is 3.28. It is churlish to say his brilliance deprived the Korean, who is playing in first Masters, a chance to work out the putting contours of the green?
Hunter Mahan's caddy gets out a spirit level to help him decipher one of Augusta's many tricky contours during the second day of Masters practice.
John Solheim of PING Golf presents Bubba Watson of the United States with a gold PING putter head to commemorate his victory at the 2014 Masters
That trophy up close.
Change the outfit of the sportsman and it would look just like a batsman pulling a ball away to the square leg boundary. Especially if we told you that the sportsman was called Compton. But it is not Denis but Erik.
Don't try this at home folks, Well not in a competition anyway as it is against the rules of golf. Rory McIlroy takes in some unorthodox putting Masters practice.
Picture credits: Getty Images
Contributing Writer Golf courses and travel are Roderick's particular interests and he was contributing editor for the first few years of the Golf Monthly Travel Supplement. He writes travel articles and general features for the magazine, travel supplement and website. He also compiles the magazine's crossword. He is a member of Trevose Golf & Country Club and has played golf in around two dozen countries. Cricket is his other main sporting love. He is the author of five books, four of which are still in print: The Novel Life of PG Wodehouse; The Don: Beyond Boundaries; Wally Hammond: Gentleman & Player and England's Greatest Post-War All Rounder.