Augusta High Jinx: Masters Par 3 Contest
The story of The Masters par 3 contest and its supposed "jinx"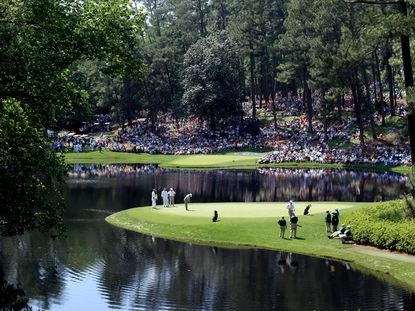 (Image credit: Getty Images)
Golf Monthly Newsletter
Golf tips and expert instruction, golf club reviews and the latest golf equipment.
Thank you for signing up to . You will receive a verification email shortly.
There was a problem. Please refresh the page and try again.
Nobody who's won the curtain-raising par 3 contest at The Masters has gone on to win the tournament proper. Here we tell the story of the event and the rise of the "jinx."
The charismatic and much loved Bobby Jones stands out when one considers the origins of Augusta National and The Masters tournament. The great amateur was the public face of both from their inception. But, another man was equally responsible for turning 365-acres of an old indigo plantation into America's most famous golf course and administering the early invitational tournaments at the club.
Clifford Roberts was a mysterious character. Intimidating and opinionated, Arnold Palmer admitted to being, "almost instantly scared to death of him." Roberts was Augusta chairman from 1931 to 1976 and of the Masters from 1934 to 1976. A Wall Street banker, Roberts worked tirelessly behind the scenes to create and protect the image of the club and the annual tournament it hosted.
In the planning of Augusta National, Roberts wanted to include a short course in addition to the main track. Jones was less enthused by the idea though it was the club's fragile, post-depression, finances that dictated the plan was shelved.
The project was only shelved though and, in 1958, Roberts hired course architect George Cobb to build nine par 3 holes around two ponds close to the clubhouse. For Roberts, renowned as a perfectionist, this short course was an essential component of the club and something he felt had been omitted from the original designs.
In 1960, Roberts announced a par-3 contest around the short course on the Wednesday afternoon prior to The Masters. "He was always looking for ways to give spectators value," said David Owens, author of a book about Roberts. The fact the chairman stipulated the main course would be closed for practice at 2.30 was a clear indication of his intentions. "It meant he wanted us to play in the par 3 contest, and we did," said Gary Player.
The first par 3 tournament was won by Sam Snead who negotiated the pristine track in just 23 strokes – the course record is 20, shared by Art Wall and Gay Brewer.
Since 1960 the par-3 competition has become a Masters tradition – a grand spectacle and perfect warm-up to the year's first Major. It's a joyous celebration of golf where Masters patrons have a chance to see tournament participants, non-competing past champions, and honorary invitees in relaxed mood enjoying the company of their peers, families and the people who come to support them.
Just like the big course, the setting of the par 3 layout is fantastic. Surrounded by towering pines, azalea's and dogwoods, the holes play across DeSoto Springs pond and Ike's pond – named after President Dwight Eisenhower, an Augusta member and close friend of Clifford Roberts who regularly fished there. It's a peaceful and hidden oasis, one you wouldn't know existed unless told. But, when the spectators pile in on Wednesday afternoon, it becomes a bustling, lively and colourful amphitheatre with cheers ringing out as wedge shots pepper the flags and threaten the cups. In fact, there have been 73 holes in one in the 55 par 3 contests to date and at least one on each of the nine holes.
Following Tom Fazio's addition of two new holes over Ike's pond in 1987, the course measures 1,060 yards with the longest hole just 140 yards. One of the most famous things about the par 3 contest is its supposed "jinx" – nobody has ever won it then gone on to triumph in the tournament proper. George Bayer who won the par 3 in 1963 fell dramatically from grace with an 84 in the third round of the tournament and Joe Durant finished dead last with rounds of 87 and 79 after winning on the short course in 1999. Over the last 10 seasons the par 3 winner has missed the cut in the main event.
Par 3 winners have also lost The Masters in dramatic fashion – Raymond Floyd led by four shots with six to play in 1990 before losing to Nick Faldo and Ben Crenshaw lost a 54-hole lead in 1987.
Most competitors, however, (particularly past par 3 winners) deny harbouring any superstitions with regards the jinx.
"It's just an old wives tale or a myth, or whatever you want to call it," said the 2009 par 3 champ Tim Clark. "I don't believe in that jinx thing. I want to win it, of course," said 1988 Masters champion Sandy Lyle. The Scot won the par 3 back-to-back in 1997 and 1998.
Others have been more cautious, "I never played it in the years I had a chance to win," said Jack Nicklaus. "I'm a little superstitious like everybody else." In 2004 Tiger Woods aced the ninth hole to tie Padraig Harrington and Eduardo Romero on the lowest total score of 23. Woods declined to compete in the playoff. He cited a prior commitment though the suspicion was he didn't want to tempt fate.
The jinx is subtly avoided by some competitors who allow their children to take the odd putt on the small and super-slick surfaces. Kids are a big feature of the par 3 and it's common to see youngsters caddying for their fathers, decked out in mini white boiler suits. "It's a wonderful experience to have my daughters caddy," said three-time Masters winner Phil Mickelson.
As it's been televised since 2008, Masters week will begin for most of the UK's armchair golf fans with the par 3 contest on Wednesday night. Prepare for The Masters in miniature – current and former greats enjoying the appreciation of loyal fans as they fire over water into lightning-fast greens framed by pines and azaleas. There's bound to be the odd ace, plenty of laughter and perhaps this year that jinx might be broken.
Past par 3 winners
YEAR PLAYER SCORE TOURNAMENT PLACING
1960 Sam Snead 23 T11
1961 Deane Beman 22 MC
1962 Bruce Crampton 22 T29
1963 George Bayer 23 T28
1964 Labron Harris Jr. 23 43
1965 Art Wall Jr. 20 T45
1966 Terry Dill 22 T17
1967 Arnold Palmer 23 4
1968 Bob Rosburg 22 T30
1969 Bob Lunn 23 MC
1970 Harold Henning 21 MC
1971 Dave Stockton 23 T9
1972 Steve Melnyk 23 T12
1973 Gay Brewer 20 T10
1974 Sam Snead 23 T20
1975 Isao Aoki 23 MC
1976 Jay Haas 21 MC
1977 Tom Weiskopf 23 T14
1978 Lou Graham 22 MC
1979 Joe Inman Jr. 23 T23
1980 Johnny Miller 23 T38
1981 Isao Aoki 22 T45
1982 Tom Watson 23 T5
1983 Hale Irwin 22 T6
1984 Tommy Aaron 22 MC
1985 Hubert Green 22 MC
1986 Gary Koch 23 T16
1987 Ben Crenshaw 22 T4
1988 Tsuneyuki Nakajima 24 T33
1989 Bob Gilder 22 37
1990 Raymond Floyd 23 2
1991 Rocco Mediate 24 T22
1992 Davis Love III 22 T25
1993 Chip Beck 21 2
1994 Vijay Singh 22 T27
1995 Hal Sutton 23 MC
1996 Jay Haas 22 T36
1997 Sandy Lyle 22 T34
1998 Sandy Lyle 24 MC
1999 Joe Durant 22 MC
2000 Chris Perry 23 T14
2001 David Toms 22 T31
2002 Nick Price 22 T20
2003 Harrington/Toms (tie) 21 MC/T8
2004 Padraig Harrington 23 T13
2005 Jerry Pate 22 DNP
2006 Ben Crane 23 MC
2007 Mark O'Meara 22 MC
2008 Rory Sabbatini 22 MC
2009 Tim Clark 22 T13
2010 Louis Oosthuizen 21 MC
2011 Luke Donald 22 T4
2012 Harrington/Byrd (tie) 22 T8/T27
2013 Ted Potter Jnr 23 MC
2014 Ryan Moore 21 MC
2015 Kevin Streelman 22 T12
Fergus is a golf obsessive and 1-handicapper. Growing up in the North East of Scotland, golf runs through his veins and his passion for the sport was bolstered during his time at St Andrews university studying history. He went on to earn a post graduate diploma from the London School of Journalism. Fergus has worked for Golf Monthly since 2004 and has written two books on the game; "Great Golf Debates" together with Jezz Ellwood of Golf Monthly and "The Ultimate Golf Book" together with Neil Tappin (also of Golf Monthly)... Fergus once shanked a ball from just over Granny Clark's Wynd on the 18th of the Old Course that struck the St Andrews Golf Club and rebounded into the Valley of Sin, from where he saved par. Who says there's no golfing god?