Gallery: True Thailand Classic
Muay Thai, a townhouse-winning player, a shot you'll scarce believe and more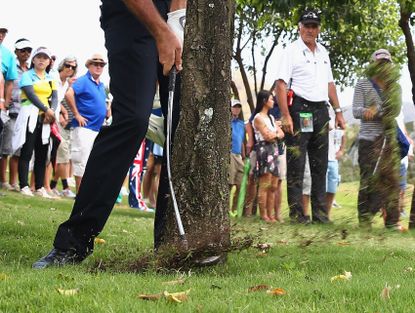 (Image credit: Getty Images)
Muay Thai, a townhouse-winning player, a shot you'll scarce believe, and more...
Johan Edfors, Thomas Bjorn and Thongchai Jaidee watch a Muay Thai demonstration during the pro-am. Muay Thia is a traditional combat sport of Thailand. It is referred to as the Art of Eight Limbs as fighters can use punches, kicks, elbows and knee strikes, thus using eight points of contact, as opposed to the two of boxing or four of kickboxing
Michael Hoey shot a course record eight-under-par 64 to take the first-round lead at the True Thailand Classic presented by Black Mountain. Hoey was the only player in the field to hit every green in regulation. But his following rounds were of 72, 73, and 71 and he ended the True Thailand Classic in 37th.
Miguel Angel Jiménez shrugged off flu to take the lead after a second round 66 at the True Thailand Classic. "I have the flu and I'm very bunged up and slept terribly last night, but apart from that I'm fine," said the 51-year-old Spaniard. Despite his illness the Spaniard was his typically animated self.
Panuphol Pittayarat won a house for his hole-in-one at the 192-yard 14th. he won one of the three-bedroom townhouses being built alongside the 9th fairway on the course, which are being sold for about £240,000.
"I feel like I've won this golf tournament," Pittayarat said. "I wasn't sure if it had gone in. But one of the guys ran up and he said there's no golf ball on the greens. So I started yelling. I was out of my mind."
"I'm still shaking after finishing 18 holes," he continued. "It's the second time I got a hole-in-one. All I got the first time was two shots. But this time I really got something!"
Scott Hend played the back nine in 32 to take the lead on day three at the True Thailand Classic presented by Black Mountain. His round of 66 was marred by a three-putt on the final green, but it was still enough to give him a one-shot lead after three rounds. However a 72 on the final day left him tied in second with Thongchai Jaidee a shot behind...
....Andrew Dodt.
Contributing Writer Golf courses and travel are Roderick's particular interests and he was contributing editor for the first few years of the Golf Monthly Travel Supplement. He writes travel articles and general features for the magazine, travel supplement and website. He also compiles the magazine's crossword. He is a member of Trevose Golf & Country Club and has played golf in around two dozen countries. Cricket is his other main sporting love. He is the author of five books, four of which are still in print: The Novel Life of PG Wodehouse; The Don: Beyond Boundaries; Wally Hammond: Gentleman & Player and England's Greatest Post-War All Rounder.