Gallery: Gary Stal wins in Abu Dhabi
Images of, and reflections on, the unexpected triumph of Gary Stal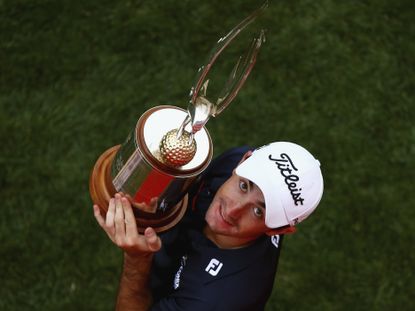 (Image credit: Getty Images)
Views on amazing victory by Gary Stal, collapse by Martin Kaymer and an overdue ace by Rory McIlroy and why Rickie Fowler might have taken the hump
Well no-one saw that coming. Not when Martin Kaymer went to bed on Saturday night with a six-shot lead tucked under his pillow, and certainly not when he walked off the 5th green on the Sunday having not made a bogey for 47 holes and now 10 shots clear of the field.
This event had been run nine times before and Kaymer had won three of then. Rory McIlroy had come second three times. McIlroy said before the fourth round that he was playing for second. He had discounted the win - Kaymer had that nailed on. And he did. But he didn't.
McIlroy got his second, but Kaymer was third, the only man to do better than the World Number One was the world number 375. Gary Stal became 14th Frenchman to win on The European Tour. They have 32 wins between them.
In just under four years France hosts the Ryder Cup. Last year Scotland, the Home of Golf, did so and there was only one Scot is the team, a contentious captain's pick, a 39-year-old rookie who barely played. When Wakes hosted it four years before that, no Welshman played. France is unlikely to face such embarrassment when they host. Victor Dubuisson, who came 4th in the Abu Dhabi HSBC Golf Championship, made his debut in the last Ryder Cup, Alexander Levy won twice on the European Tour last year, and now 22-year-old Gary Stal is setting out his stall.
His was the biggest final round comeback by a winner on the European Tour since former Golf Monthly columnist Graeme McDowell at the 2014 Open de France. For the second week running the European Tour saw a spectacular advance on the final day to bring victory. At the South African Open last week current Golf Monthly columnist Andy Sullivan came from seven shots behind to force a play-off victory over Charl Schwartzel. If a tour pro wants to maximise his chances of a final-day fightback he better apply for a writing job with our editor.
Martin Kaymer: "I don't really know how to put it into words," he said. "It was very, very surprising today. I started off well and hit a couple bad tee shots and cost me double-bogey and a triple-bogey. Twice I missed the grass and I was in a bush – I had to drop it in the sand. I missed a lot of putts today, and therefore, was very difficult for me to make birdies. The positive is I was playing really good golf. That was nice after such a long break, when you play the first three days, I played so solid, missed barely a fairway. And today was a little bit different, but there's still a lot of positive, and that's tough to say after that round."
Rickie Fowler came to try to siphon off some of the oil money, but left with only €4,785 of it,. Still he got a ride on a camel...
..and was on hand on the second day to congratulate his mate Rory McIlroy on his first hole in one in a professional event. As McIlroy reckons he has 10 holes in one all told, the first as a six-year-old, you wonder what kept him.
This marshall can never wash his hat now.
Gary Stal: "When I saw my name on the leaderboard, I started thinking, well, don't get excited. For the four days, my attitude has stayed the same. I've told myself at the beginning of the tournament that I wouldn't get upset, and it paid off. I thought if I could putt well, if I could play shot by shot, it would pay dividends. Therefore, I just kept the same way, the same attitude."
"It's really crazy. This morning, I was thinking about second place, I didn't think about first place. My dad and my mother, they made it possible to be a good golfer. I thought about my mother, Christine, who died in May while I was playing Wentworth - she passed away while I was playing, and I thought about her a lot."
Contributing Writer Golf courses and travel are Roderick's particular interests and he was contributing editor for the first few years of the Golf Monthly Travel Supplement. He writes travel articles and general features for the magazine, travel supplement and website. He also compiles the magazine's crossword. He is a member of Trevose Golf & Country Club and has played golf in around two dozen countries. Cricket is his other main sporting love. He is the author of five books, four of which are still in print: The Novel Life of PG Wodehouse; The Don: Beyond Boundaries; Wally Hammond: Gentleman & Player and England's Greatest Post-War All Rounder.