Open 2015 players: America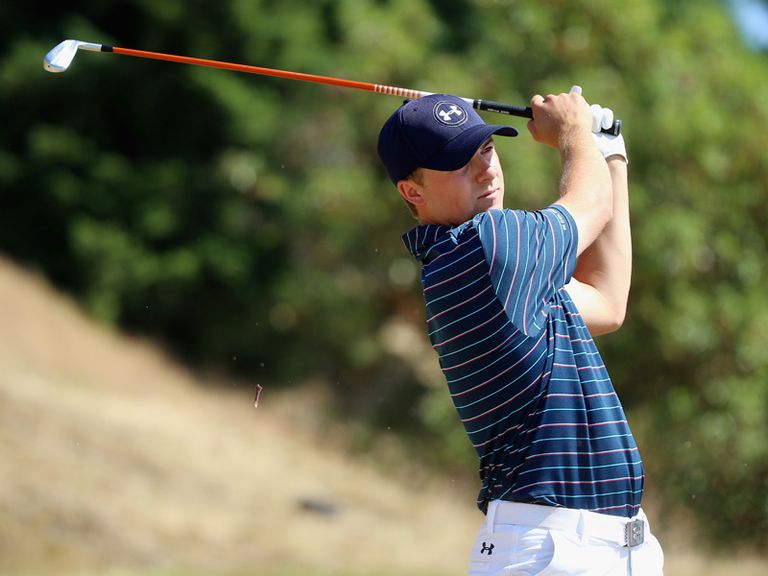 (Image credit: Getty Images)
A look at the players who have qualified to play at the 2015 Open Championship at St Andrews By Jac de Wet
Open 2015 players: America
As the continent with the largest number of players, naturally there is a lot of talent in the group and multiple title contenders, one of these people being Jordan Spieth who at the age of only 21 is ranked 2nd in the world.
Having already had a successful year after winning both the Masters Tournament and the US Open, there is a high possibility of a third success as an outstanding up and coming golfer.
Winner of the 2012 and 2014 Masters , Bubba Watson also stands a very good chance in this year's Open. He currently stands 3rd in the world rankings after Spieth, however is also yet to win an Open Championship. After his recent run of form there is certainly potential this year for a title to go his way.
Check out our 2015 Open preview video below
In 4th and 5th position in the current world rankings are Dustin Johnson and Jim Furyk. So far this year Johnson has been very successful, coming 2nd in the US Open and 6th in the Masters. However he also hasn't quite managed an Open Championship victory, with his closest attempt being the number two spot in 2012.
Jim Furyk is another to watch out for next week as one of the more experienced golfers at the tournament. He claimed the US Open title in 2003 and also placed 4th in last years Open Championship therefore looking to put up a good fight for this year's title.
Name: Daniel Berger
Nationality: American
Best Place in an Open: N/A
Name: Keegan Bradley
Nationality: American
Best Place in an Open: 15th
Name: Mark Calcavecchia
Nationality: American
Best Place in an Open: 1st
Name: Stewart Cink
Nationality: American
Best Place in an Open: 1st
Name: Ben Curtis
Nationality: American
Best Place in an Open: 1st
Name: John Daly
Nationality: American
Best Place in an Open: 1st
Name: Graeme Delaet
Nationality: Canadian
Best Place in an Open: 83rd
Name: Jason Dufner
Nationality: American
Best Place in an Open: 26th
Name: David Duval
Nationality: American
Best Place in an Open: 1st
Name: Harris English
Nationality: American
Best Place in an Open: 15th
Name: Matt Every
Nationality: American
Best Place in an Open: 71st
Name: Rickie Fowler
Nationality: American
Best Place in an Open: 2nd
Name: Jim Furyk
Nationality: American
Best Place in an Open: 4th
Name: Bill Haas
Nationality: American
Best Place in an Open: 19th
Name: Todd Hamilton
Nationality: American
Best Place in an Open: 1st
Name: Brian Harman
Nationality: American
Best Place in an Open: 26th
Name: Russell Henley
Nationality: American
Best Place in an Open: 73rd
Name: Charley Hoffman
Nationality: American
Best Place in an Open: 35th
Name: Morgan Hoffman
Nationality: American
Best Place in an Open: N/A
Name: JB Holmes
Nationality: American
Best Place in an Open: 14th
Name: Billy Horschel
Nationality: American
Best Place in an Open: N/A
Name: Zach Johnson
Nationality: American
Best Place in an Open: 6th
Name: Dustin Johnson
Nationality: American
Best Place in an Open: 2nd
Name: Chris Kirk
Nationality: American
Best Place in an Open: 19th
Name: Kevin Kisner
Nationality: American
Best Place in an Open: N/A
Name: Brooks Koepka
Nationality: American
Best Place in an Open: 67th
Name: Matt Kuchar
Nationality: American
Best Place in an Open: 9th
Name: Justin Leonard
Nationality: American
Best Place in an Open: 1st
Name: David Lipsky
Nationality: American
Best Place in an Open: N/A
Name: Hunter Mahan
Nationality: American
Best Place in an Open: 6th
Name: Ben Martin
Nationality: American
Best Place in an Open: 26th
Name: Phil Mickelson
Nationality: American
Best Place in an Open: 1st
Name: Ryan Moore
Nationality: American
Best Place in an Open: 12th
Name: Jonathan Moore
Nationality: American
Best Place in an Open: N/A
Name: Kevin Na
Nationality: American
Best Place in an Open: 27th
Name: Mark O'Meara
Nationality: American
Best Place in an Open: 1st
Name: Ryam Palmer
Nationality: American
Best Place in an Open: 30th
Name:Patrick Reed
Nationality: American
Best Place in an Open: N/A
Name: Webb Simpson
Nationality: American
Best Place in an Open: N/A
Name: Brandt Snedeker
Nationality: American
Best Place in an Open: 3rd
Name: Jordan Spieth
Nationality: American
Best Place in an Open: 36th
Name: Robert Streb
Nationality: American
Best Place in an Open: N/A
Name: Brendon Todd
Nationality: American
Best Place in an Open: 39th
Name: Cameron Tringale
Nationality: American
Best Place in an Open: N/A
Name: Jimmy Walker
Nationality: American
Best Place in an Open: 28th
Name: Bubba Watson
Nationality: American
Best Place in an Open: 23rd
Name: Tom Watson
Nationality: American
Best Place in an Open: 1st
Name: Gary Woodland
Nationality: American
Best Place in an Open: 1st
Name: Tiger Woods
Nationality: American
Best Place in an Open: 1st