Open 2015: A welcome detour
Fergus Bisset visited Eden Mill distillery and brewery near St Andrews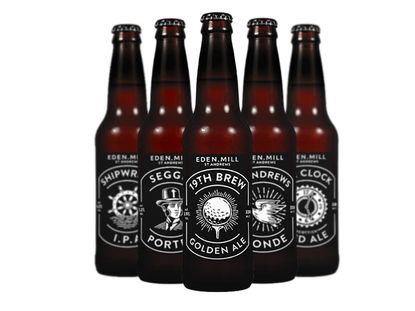 Fergus Bisset stopped off in Guardbridge on the way in to St Andrews to check out Eden Mill brewery, an operation that's rapidly earning a fine reputation.
Giving golf a good run for its money on the list of things the Golf Monthly staff enjoy most in life is something that is more reliably pleasurable than the fickle sport we have given our hearts and souls over to. Something that, like golf, can delight and excite, invigorate and enliven, even if you're not on your best form… Yup, booze. You won't see a group of golf journalists in happier mood than when work is done for the day (or almost done at least) with a pint in hand and with the time to savour it.
But as we've grown older, the Golf Monthly team has changed in approach to drink. Over the last 10 years or so we've steadily moved away from consuming cheap fizzy lager and rough spirits in unnatural quantities. We have become more discerning and would prefer to savour one or two excellent beers or a fine bottle of wine rather than necking a gallon of terrible plonk. Well, I'm speaking for myself here at least, and that's all I can do.
So, with our newfound appreciation of the finer things about beer and spirits in mind, Editor Mike Harris did some research about locally produced alcohol prior to our arrival in St Andrews today for the 144th Open Championship.
What he discovered was The Eden Mill Distillery and Brewery which has, for just three years, been operating out of a section of the old paper mill at Guardbridge. I was tasked with stopping on my way down the road to St Andrews to find out a bit more about the business…. Another tough gig.
I was shown around the property by owner and founder Paul Miller, and his daughter Vicky. It turns out that prior to being a Paper Mill, there was a brewery on the site in the early to mid 19th century so it's highly appropriate that these old buildings are once again being used to produce beer, whisky and gin.
Paul has a background in the industry and has worked for large brewers and internationally renowned distillers through his career. He spotted a gap in the market when considering, just a few years ago, that there was no brewery or distillery within striking distance of St Andrews. He set about rectifying that situation and persuaded the university of St Andrews, who own the old mill at Guardbridge to lease him a part of the property.
The business started small but there was quickly an obvious demand for the beers that they were producing and for tours of the facility as visitors looked for alternative entertainment in, and around, the Auld Grey Toon.
Eden Mill has expanded rapidly and is now producing an ever-increasing volume of beer, whisky and gin and it's all of excellent quality. The whisky is produced using a fabulous spirit distilled from locally sourced barley. It's matured in sherry casks, but other casks like bourbon or port are sometimes used to create different finishes.
One of the coolest offerings is that you can create your own cask of single malt whisky. You can choose your own barley and barrel type to produce a quarter cask to suit your own taste. It's £1250 and you'll get 60 to 80 bottles, plus you'll have the chance to taste it to see how well its maturing, and you'll get a discount on purchases in the Eden Mill shop and a Cask Owners Club golf sweater made by Glenmuir. Sounds pretty good value to me and something a little bit different. A couple of pro golfers and Alex Salmond are among those with quarter casks currently maturing.
Golf and alcohol go hand in hand. What better than that post-round pint or dram? That clubhouse debrief over a few drinks is, to many, the most enjoyable part of a day's golf. So The Open in St Andrews is the perfect opportunity for Eden Mill to showcase their products on a world stage and target the golf market. And, as they're clearly highly savvy when it comes to marketing, they're making the very most of the opportunity.
Obviously, the brewery and distillery in Guardbridge will be open to the public throughout the week and there are opportunities for tours and tastings. You can choose to take part in either the Beer Experience, Whisky Experience or Gin Experience – you get a drink on arrival, a lowdown on the history of the site and then a tour of the facilities… then the fun bit – the tasting! Phone 01334 834038 to book.
In addition, there will be a pop up craft beer and gin bar in the St Andrews Aquarium. It will be open from the 15th to 19th of July and will serve a selection of Eden Mill's craft beers plus some interesting cocktails – go check it out… It's open late too – until 2am! Eden Mill will also be setting up a shop in the basement at the Rusacks Hotel – also worth a nosey if you have a spare 20 mins.
For more information on the Eden Mill Distillery and Brewery go to edenmill.com It's an impressive set-up with a clear desire to produce products of the highest quality and to find a way for them to reach a wider audience… This week should be a pretty good starting point and, if you're here for the week, I'd recommend a trip to Guardbridge as a most interesting and enjoyable diversion.
Fergus is a golf obsessive and 1-handicapper. Growing up in the North East of Scotland, golf runs through his veins and his passion for the sport was bolstered during his time at St Andrews university studying history. He went on to earn a post graduate diploma from the London School of Journalism. Fergus has worked for Golf Monthly since 2004 and has written two books on the game; "Great Golf Debates" together with Jezz Ellwood of Golf Monthly and "The Ultimate Golf Book" together with Neil Tappin (also of Golf Monthly)... Fergus once shanked a ball from just over Granny Clark's Wynd on the 18th of the Old Course that struck the St Andrews Golf Club and rebounded into the Valley of Sin, from where he saved par. Who says there's no golfing god?