Home (of golf) sweet home: Open Blog
Bill Elliott talks through his favourite place to stay at St Andrews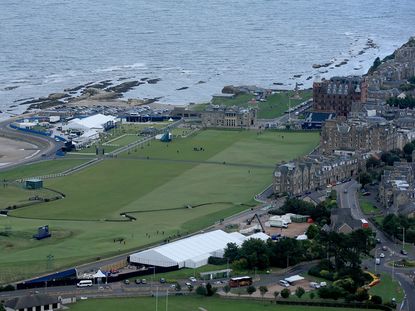 Bill Elliott, who has been to many an Open, talks about his favourite place to stay in St Andrews, and a chance and intersting encounter
Home (of golf) sweet home: Open Blog
THERE are a lot of places to stay in and around St Andrews. For me, however, there is only ever one... St Salvator's Hall (opens in new tab).
St Sally's is the oldest college of St Andrews University which in turn is the oldest uni in Scotland having been founded circa 1410 which is before even I was born.
Whatever, I've stayed at this college for the last several Opens and as this is likely to be my last Championship in the auld toon I'm back to college again this year. This means a single bed in a big room with not much else in it.
It means sharing a shower room with several others and putting up with people who talk too loudly as they over-excitedly exit Sally's shortly after dawn.
It is, however worth it for St Salvator's is an impossibly pretty building in a fab location just a few hundred yards from the 18th green (opens in new tab).
My room has a view out to sea and the smell of brine adds interest to my otherwise rather stark surroundings. Breakfast, however, is excellent, served in a glorious refectory, the sun occasionally streaming through stained-glass windows.
Check out some players from the 2015 Open talking about their favourite St Andrews memories.
It was over fried eggs this morning that I entered into conversation with a sturdy looking woman called Jenny.
Turns out Jenny, who is from Chester and who tells me she has been married and divorced twice, it turns out she is here as a volunteer scorer.
She has twice scored at Hoylake (opens in new tab) but this is her first venture away from home and she is thrilled to be walking around the Old Course. So far, so predictable.
Then she told me her 'secret of golf' story. Jenny is the mother of twins – now 29 years old – a boy and girl. As a keen golfer – some might suggest obsessive – she geared up her pregnancy with this pair around the golf season 30 years ago, got pregant in early June and looked forward to a March birth the following year leaving enough time to get the wee pair sorted out before the Masters began.
Meanwhile during the first few months of her pregancy she naturally continued to play golf herself. This is where her story really got my attention.
"I don't know what it was – the hormones, too much oestrogen, something else – but during this period my golf improved like never before, " she said. "So much so I went down in handicap from 22 to 17 in a matter of weeks. I've never known anything like it since."
So there you girls. Never mind this tip or that, just get pregnant. What do you think?
Bill has been part of the Golf Monthly woodwork for many years. A very respected Golf Journalist he has attended over 40 Open Championships. Bill was the Observer's golf correspondent. He spent 26 years as a sports writer for Express Newspapers and is a former Magazine Sportswriter of the Year. After 40 years on 'Fleet Street' starting with the Daily Express and finishing on The Observer and Guardian in 2010. Now semi-retired but still Editor at Large of Golf Monthly Magazine and regular broadcaster for BBC and Sky. Author of several golf-related books and a former chairman of the Association of Golf Writers. Experienced after dinner speaker.