How To Hit A Pitching Wedge
Knowing how to hit a pitching wedge close will pave the way to more birdies and par saves. We run through the basics...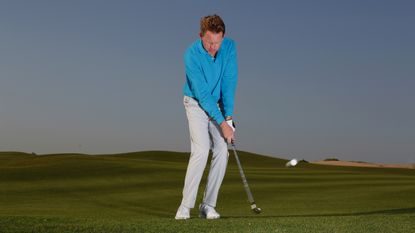 (Image credit: Mark Newcombe)
A pitching wedge will typically have a loft of somewhere between 44˚ and 48˚. Clearly the distance you are able to hit the ball will dictate how far you can hit a full-ish pitching wedge.
But while the biggest hitters may now be able to hit the best wedges on the market 140-150 yards, for most golfers, 100-110 yards is more realistic. It is that length of shot and below that we focus on here.
These pitches may sometimes be your second shot on a short par 4 or your approach to a par 5 to potentially set up a birdie chance.
But they will often also be required when you've mishit your tee-shot or second shot, got out of position or can't reach a long par 4 into the wind. Your mission then is to try and save par.
So, how should you approach these pitch shots such that you are able to get up and down more often to retain momentum and keep the scorecard intact?
How to hit a pitching wedge: Weight forward
The first thing to note is that you should adopt a narrower stance than you would for a normal full swing, keeping the weight fractionally more towards the front foot – around 60 per cent.
You should then keep that extra weight on your front foot throughout your swing rather than transferring it back and forth as you would in a full swing with other clubs.
This also gets the club coming back down fractionally steeper to help guarantee the ball-then-turf impact needed for crisp contact and added backspin control.
Three-quarters back and through
With a pitching wedge it's rarely wise or necessary to swing flat-out. The objective here is distance control and accuracy rather than out-and-out distance and that's easier to achieve when you're not swinging flat-out. If you need to hit it further, you can always go up a club or two!
Think of the pitching wedge swing as a pendulum. Make a rhythmical backswing taking the swing back to three-quarter length, before then also following through to three-quarter length. We think it's wise not to overcomplicate things when it comes to pitching.
RELATED: The most forgiving wedges you can buy
Yes, you could work on various backswing lengths to hit the ball different distances but remember – you have other clubs at your disposal that will probably allow you to hit it different distances more easily.
So perhaps limit it to two different swing lengths – that three-quarter one in which the arms swing back to horizontal with the ground and through to a similar length.
And then maybe a half shot in which it is the club itself that swings from horizontal to horizontal.
Grip down for more control
Another great way to enhance that feeling of control rather than distance is to grip down the club a fraction more than usual.
This will bring the ball a little closer to you at address and add a much-needed degree of control in your quest for potentially par-saving precision.
Stay connected
Because power is not the goal with a pitching wedge, there can be a temptation to do it all with the hands and arms.
Unfortunately, this doesn't work because, as with any swing, the movement works best when everything – torso, arms and shoulders – stay connected and work together.
As soon as any one element starts moving independently - such as overactive hands, a lifting of the arms or an early shoulder turn – it will have a drastic effect on where the club goes and ultimately how you present it to the ball.
Pitching works best when the shoulders, upper body and arms are linked, so everything moves backwards and forwards together through the ball.
Improve your pitching wedge striking
Flicking at it with the hands is a common issue with pitching wedge shots. This little drill will help you compress the ball against the turf and get it zipping up the clubface, improving your strike and bringing added control.
Lay a tee peg in the ground a few inches behind the ball, then aim to just miss it with your club. You'll find that a little bit more weight on your left side will encourage the slightly steeper backswing and downswing needed to achieve that.
Jeremy Ellwood has worked in the golf industry since 1993 and for Golf Monthly since 2002 when he started out as equipment editor. He is now a freelance journalist writing mainly for Golf Monthly across the whole spectrum from courses and Rules to equipment and instruction. He also edits The Golf Club Secretary Newsletter, a highly regarded trade publication for golf club secretaries and managers, and has authored or co-authored three books and written for a number of national papers including The Telegraph and The Independent. He is a senior panelist for Golf Monthly's Top 100 UK & Ireland Course Rankings and has played all of the Top 100 plus 91 of the Next 100, making him well-qualified when it comes to assessing and comparing our premier golf courses. He has now played well over 950 golf courses worldwide in 35 countries, right across the spectrum from the humblest of nine-holers in the Scottish Highlands to the very grandest of international golf resorts, but put him on a links course anywhere and he will be blissfully content.
Jezz can be contacted via Twitter - @JezzEllwoodGolf
Jeremy is currently playing...
Driver: Ping G425 LST 10.5˚ (draw setting), Mitsubishi Tensei AV Orange 55 S shaft
3 wood: Ping G425 Max 15˚ (set to flat +1), Mitsubishi Tensei AV Orange 65 S shaft
Hybrid: Ping G425 17˚, Mitsubishi Tensei CK Pro Orange 80 S shaft
Irons 3-PW: Ping i525, True Temper Dynamic Gold 105 R300 shafts
Wedges: Ping Glide 4.0 50˚ and 54˚, 12˚ bounce, True Temper Dynamic Gold 105 R300 shafts
Putter: Ping Fetch 2021 model, 33in shaft (set flat 2)
Ball: Varies but mostly now TaylorMade Tour Response