7 tips and tricks for winter golf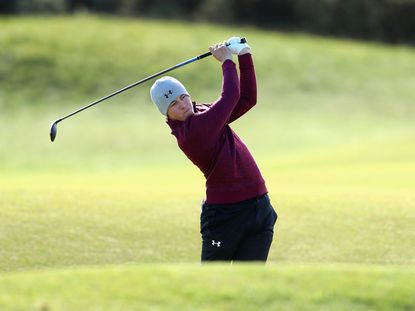 (Image credit: Getty Images)
Winter can be the most enjoyable time to play golf. With changing conditions however, you'll need to adapt your game. These 7 tips and tricks for winter golf are sure to help.
1 Be Prepared
If you are serious about playing good golf this winter, you need to prepare properly. A good, modern, well-fitted waterproof suit will have all the crucial modern technology to keep you dry in the rain. A good lightweight design will also enable you to make your normal swing, even if it gets cold. You should also look to keep your towel dry by hanging it inside your umbrella. Another good tip is to put all of your spare gloves into a freezer bag. This will protect them from the wet and if the weather gets really bad, you'll be able to change your glove regularly so you have a firm hold on the club throughout the round.
2 Add Stability
Creating a stable hitting platform is important whenever you play but it becomes imperative in the winter. With soft conditions under foot, try widening your stance a little on all of your shots. This lowers your centre of gravity and will help your stability. By doing this you might not create quite so much speed but the quality of contact should be good enough to make up for it. Also, ensure you regularly clean any mud and grass off the bottom of your shoes.
Review: Under Armour Spieth 2 Shoes
3 Tee It Up
One of the great things about winter golf is that you actually have more control of your ball. The ball should hit and stick wherever it lands making the fairways and greens much bigger targets than in the summer. To maximise your distance off the tee, you need to increase your carry. That's why it is well worth teeing the ball up a fraction. Set a little more weight on your back foot at address and make a normal swing from there. These minor tweaks will help you find a few crucial extra yards.
5 Ways To Hit Longer Straight Golf Drives
4 Core Muscles
Whenever you are playing in the cold, it is imperative that you keep your core muscles warm. Arriving on the first tee without so much as a practice swing will cause a shorter and more compact swing to send the ball off to the right of your target. Do some core stretches before you start and try to make a full upper body rotation on your first swing. This will help you square the clubface and hit the fairway.
Stability Drills For More Powerful Golf Swings
5 Carry Yardages
Any golfer, professional or amateur, looking to play well needs to know his or her yardages. However, this does not mean having an idea of the total distance you hit every club in the bag. Instead you need to know your carry numbers – the rest is down to ground conditions. If it is particularly cold, you may need to take 5 or 10 yards off your normal carry yardages to compensate.
6 Calm Swings
Whenever you are playing in windy conditions, take a little speed off your normal swing. Make a full body rotation but swing smoothly. Not only will this improve your control but less speed equals less backspin. A flatter ball flight that doesn't balloon in the wind will actually offer you much more distance.
7 Break on wet greens
It goes without saying that wet greens will be slower than when they are dry. However, what people often forget is that putts will not break quite so much. As such, you need to be able to adjust your mind-set on the greens. Aim straighter and be a little more aggressive with the pace than you usually would be. This approach will also help you find a stronger roll to cope with any imperfections on the green.
Articles created in partnership with Under Armour.