Ping Anser wedges
Ping Anser wedges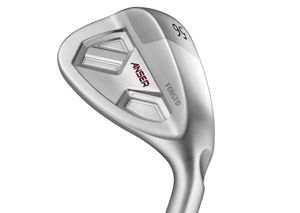 The Ping Anser wedges have a good-looking headshape and high-quality finish, which combine to create an impressive performing wedge on both full shots and chips from around the green. When you consider the price tag, some will be disappointed not to have a number of bounce options for each loft. PGA pro verdict Performance was excellent here and the spin control, enhanced by the new Dynamic Gold spinner shaft, was impressive. The headshape was pleasing, but not classic as with the many choices that are available. The performance, however, was superb and consistent. Knock down shots that require a lower ball flight were particularly easy to create and the trajectory was consistent, time after time. (Golf Monthly Top 25 Coach John Jacobs)
The Ping Anser wedges are forged from soft steel in order to provide a solid feel and added consistency. A tungsten weight in the toe positions the centre of gravity in a place that improves control. The sole narrows from sole to heel to aid performance from tight lies and bunkers. A reinforced back cavity helps to provide a solid feel and feedback.
Ping Anser wedges will suit Ping fans who have been waiting for a forged wedge and/or anyone who wants a narrow sole for versatility.
The Ping Anser wedge is a good-looking wedge that produced a pleasing flight on full shots and didn't balloon at all. From around the green the strike was consistent, which helped provide an injection of confidence after a few shots. For conforming grooves there was plenty of check on offer on pitch shots, which encouraged a confident swing. Much like the Ping Anser irons the high price is justified by the high-quality finish and the impressive feel on offer.
See more:
Ping Anser wedges video review
Ping Anser wedges launched
Paul joined Golf Monthly in 2006 in a junior role and has since worked as senior staff writer and now as technical editor. He writes equipment and instruction content and tests the vast majority of golf clubs that are introduced every year.