Ping Sydney putter
Ping Sydney putter review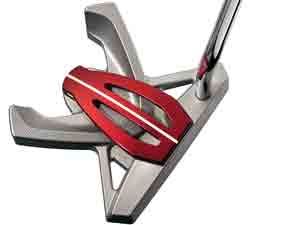 The head makes it very easy to square the face at impact, making it easier to hole out when under pressure from short range. The sound off the face is solid and the roll is consistent. Some golfers just won't like the look of the oversized head and bright colours at address. PGA pro verdict A beautiful product, that would appeal to many I'm sure. Its design and feel gave the best roll I have had on a putter for many years and its balance was second to none. I grew up convinced I could feel the difference on face-balanced putters and this resurrected that conviction again. It does swing beautifully and holds its true arc really well, especially on those short putts. It's perhaps a little fussy for me at address, but if that gives these results, I'm all for it! (John Jacobs, Top 25 Coach)
A lightweight high-grade aluminium frame is combined with three eight-gram tungsten weights to help keep the head square through impact. As well as giving the head a high moment of inertia (MOI) it also positions the centre of gravity in a way that helps produce a consistent roll. A bold red alignment bar runs behind the centre of the putter.
The Ping Sydney putter will suit players who struggle with putts from short range and/or those lacking confidence.
Even now, when outlandish putter designs are a common sight, the Ping Sydney stands out as being unusual. The head looks enormous, which will appeal to anyone needing some help on the greens. The high MOI design won't suit those with a severe arc in their stroke, but could be ideal for anyone who likes to take the putter straight back and through. Like many oversize putters, the Ping Sydney putter excels from short range when the pressure is on to make a solid stroke.
See also:
Ping Sydney putter video review