i-Ezone driver
Golf Monthly Senior Staff Writer Paul O'Hagan tests the Yonex i-Ezone driver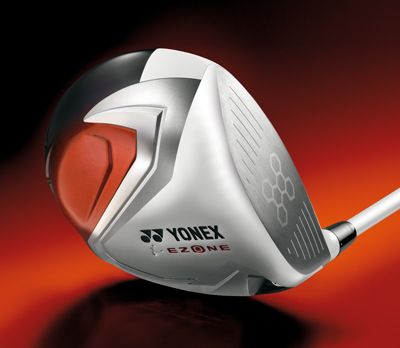 PGA pro verdict: This was my first test of a two-tone driver. The visuals were striking, and really assisted alignment at address. Performance was powerful, yet forgiving. The face was shallower than many, but the launch was high and consistent. I also loved the feel at impact, which was very responsive and delivered fast ball speeds - by Top 25 Coach John Jacobs. Test team rating: Performance: 4/5 Visual appeal: 4.5/5 Innovation: 3.5/5 Value: 4/5 Overall: 4/5
Why you can trust Golf Monthly Our expert reviewers spend hours testing and comparing products and services so you can choose the best for you. Find out more about how we test.
Aesthetics:
1) Address - this is very different to previous Yonex offerings, thanks to unique white and black colouring on the crown. The area near the face is white, while the back portion is black to improve alignment.
2) Shelf appeal - although the unusual crown colouring had the potential to look cheap, it achieves the exact opposite. It looks very classy, just as you would expect from a driver at this price point.
Components
3) Shaft options - The i-Ezone is available with either a Nanometric stock option or a Rexis NP (£50 extra). The Nanometric material is said to improve impact strength by 40 per cent for added stability, while the Rexis version is available in eight options, each designed to produce a different ball flight.
Technology
4) Adjustability - This is the brand's first ever adjustable driver. The face can be opened and closed to alter the trajectory of the ball, and the club can be set more upright than standard if desired.
5) Construction - The graphite crown has been reshaped to create a "cup-type" shape. This makes the crown lighter and, combined with the titanium body, shifts weight deeper in the head.
6) Weighting - To create a deeper centre of gravity, weight has been shifted to the side sole, allowing you to generate quicker swing speeds for powerful, longer drives.
Performance
7) Feel - With the stock shaft option we tested, the sound and feel off the head at impact is superb. It's crisp and powerful, with the high-end components clearly working very well together.
8) Flight - Yonex's Quick Adjust System allows you to refine the launch trajectory and face angle, although it doesn't have too much effect on ball flight. However, change the shaft and the difference is noticeable.
9) Distance - Although the i-Ezone features adjustability, the emphasis is still very much on producing a head and shaft combination that helps players to get the most out of each swing. The i-Ezone achieves this very well, offering impressive distance off the tee on our test.
10) Forgiveness - This is an area of major improvement compared to ?the brand's original Ezone driver. With the right shaft, the new i-Ezone will appeal to a wide range of golfers, thanks to the attractive looks and, most importantly, the performance on offer from shots that miss the middle of the clubface.
Paul joined Golf Monthly in 2006 in a junior role and has since worked as senior staff writer and now as technical editor. He writes equipment and instruction content and tests the vast majority of golf clubs that are introduced every year.