Callaway RAZR Fit driver
Callaway RAZR Fit driver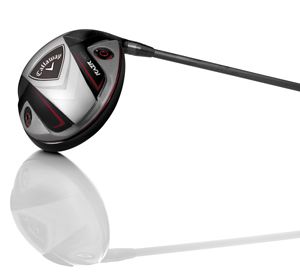 Like the RAZR Hawk, the RAZR Fit driver will produce a pleasing flight without too much spin. The adjustability predominantly affects sideways flight and does make a difference. The shaft and head combination means those with fast swing speeds will really see the benefits of the design. It produces a lot less spin than most models, which is ideal in the wind. The ability to manipulate sideways flight will help to reduce the damage that a typical bad shot produces. 
The traditional shape means 
major misses will 
be punished. Solid and powerful without being overbearing, this is something that Callaway has got right for the past couple of years. The sound on impact is unique, but it works well. PGA pro verdict A beautifully proportioned driver. The Callaway RAZR Fit driver performed consistently, even though the face looked strong at address. Callaway has made the adjustability simple and effective. It felt solid at impact and I could tell where the head was through the entire swing. Launch angles were consistent and higher than expected. It made me question my own driver's performance! Golf Monthly Top 25 Coach John Jacobs
The Callaway RAZR Fit driver is fitted with the new Aldila RIP'd NV shaft, which is designed to combine the feel of the NV shaft with the stability of the RIP shaft. This should help produce added length without sacrificing any consistency.
When the Callaway RAZR Fit driver is adjusted at the hosel the shaft does not rotate, which allows golfers to use any type of grip, including those with reminders on them. This is a nice touch from Callaway.
The Callaway RAZR Fit driver is Callaway's first adjustable driver. It can be set in open, square or closed. Two weights in the head (12 and 2 grams) can be changed round to help promote either a draw or neutral ball flight.
The crown on the Callaway RAZR Fit driver is made from Forged Composite, which is light and strong to allow the head to be optimised. Variable face thickness and hyperbolic face technology help increase ball speed.
Callaway's RAZR Fit driver is sure to catch the eye of many thanks to a sleek headshape and the fact there is adjustability on a Callaway RAZR Fit driver. The sole design is classy and the silver and red works well.
Although there is a lot of technology compared to previous models, Callaway has maintained a classic look at address thanks to a rounded head and dark finish on the crown of the Callaway RAZR Fit driver.
See more:
Callaway RAZR Fit driver pictures
Callaway RAZR Fit driver launched
Paul joined Golf Monthly in 2006 in a junior role and has since worked as senior staff writer and now as technical editor. He writes equipment and instruction content and tests the vast majority of golf clubs that are introduced every year.