Book review: Send In The Clown
Send In The Clown is a self-published novelisation by Andrew Stelmack about Canadian golfer Moe Norman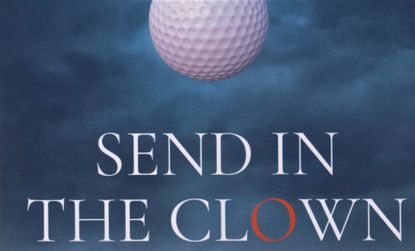 (Image credit: Andrew Stelmack)
As a a languid meander through various reminisces and anecdotes of Norman's life. the 57-chapter Send In The Clown works well at drawing the character of Moe Norman. However it lacks the action and zip many look for in a novel.
Reasons to buy
+

Brings to life the character of Moe Norman

+

Seeks to spotlight a golfing talent sometimes overlooked by history
Why you can trust Golf Monthly Our expert reviewers spend hours testing and comparing products and services so you can choose the best for you. Find out more about how we test.
Send In The Clown is a handsomely produced self-published debut novel by Andrew Stelmack. Its subject is Moe Norman, described by the author, his fellow countryman, in his epilogue as 'one of Canada's greatest athletes and treasures'. It is a bold undertaking to present Moe Norman's life in this way rather than as non-fiction biography.
Norman was self-taught as a golfer with a swing like no other. Although never tested, it is generally thought now that he was on the autism spectrum. He was eccentric in manner, dress, speech and outlook.
He dominated Canadian amateur golf, but was ill-equipped to cope with pro tournament golf in the USA and the bullying he experienced from players there, so never made the mark in pro golf his amazingly accurate ball striking suggests he could have. He would also sometimes deliberately not win tournaments, intimidated by the thought of having to make a victor's speech.
Stelmack writes in the epilogue that: "Wouldn't it be nice if next time a Moe comes along, we don't hear about him or her long after the fact? That instead, we revel in their gifts and we do it in the present. That we celebrate their eccentricities, their differences, and their unique views."
That he feels the need to add an epilogue to explain the message of a 57-chapter work suggests the author himself was dissatisfied with his novel.
The plot follows a day in Moe Norman's later life mainly spent mundanely on the driving range. This day is leading up to an evening event as yet unspecified to the reader. The novel is narrated by 'Nick', who is not at this stage introduced to the reader, but is later revealed as the compère of the evening event.
Nick ends up narrating events of the day including those that he did not witness and has no reason to know about. But then he also explains the inner thoughts of Moe Norman, to which he also would have no access. Sometimes Nick simply recounts stories of Moe Norman's past life as though he had been present at them.
The format is such that the reader can be taken on a languid meander through various reminisces and anecdotes. Send In The Clown works well at drawing the character of Moe Norman, however it does lack the action and zip many look for in a novel.
Contributing Writer Golf courses and travel are Roderick's particular interests and he was contributing editor for the first few years of the Golf Monthly Travel Supplement. He writes travel articles and general features for the magazine, travel supplement and website. He also compiles the magazine's crossword. He is a member of Trevose Golf & Country Club and has played golf in around two dozen countries. Cricket is his other main sporting love. He is the author of five books, four of which are still in print: The Novel Life of PG Wodehouse; The Don: Beyond Boundaries; Wally Hammond: Gentleman & Player and England's Greatest Post-War All Rounder.