Golf Monthly February Issue - Make 2017 Your Best Year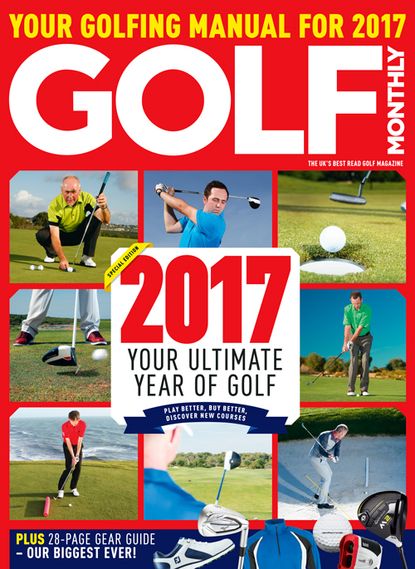 We take a look inside the February edition of Golf Monthly – your golfing manual for 2017. We have tips on essential shots to learn, tactics that will help you think your way around the course more effectively and a rules refresher to ensure you know how to deal with the most common situations golfers face. To help you broaden your golfing horizons, we've included new courses to seek out and listed reasons to play in some 'open' competitions. And, for those who follow the elite game, we have selected ten players who we think will make it big, plus noteworthy tournaments to attend if you fancy catching some live golf. We have also produced our biggest ever buyers' guide with lots of practical advice on how to select the right gear for you.
1. Our Biggest Ever Buyers' Guide
We have devoted 24 pages to our most comprehensive ever golf gear guide. It includes tips, recommendations and insight on everything you need to consider when buying new golf equipment in 2017.
2. The 10 Must-Have Shots For 2017
Get your game in good shape for the upcoming season and fulfil your potential by mastering some of golf's most commonly occurring shots.
3. The 10 Most Broken Rules
Improve your Rules knowledge in 2017 with our start-of-the-year special in which we take a look at the ten most misunderstood or misinterpreted Rules…
4. MOT Your Game
We've all been guilty of clinging on to old clubs, but what could worn grooves and ill-fitting shafts be costing us? We sent three readers for an MOT with independent fitter Jason MacNiven to find out.
5. Fit For All Seasons
Much hard work goes on during the year to keep our courses in tip-top shape. We spent a morning on the fairways at West Hill in Surrey with course manager, Ben Edwards, to find out more.
6. Think Smart, Play Better
A carefully devised gameplan for 2017 will help you avoid some of the common pitfalls that can wreck your scorecard and stop you shooting lower scores.
7. The 10 Players To Watch In 2017
We profile ten golfers at various stages of their careers who look poised to reach the next level in the coming year.
8. The 10 Tournaments To Watch In 2017
Whether it be The Open or The Amateur Championship, nothing beats getting up close and personal and watching golf live. We pick the events to attend in 2017, both at home and abroad.
9. The 20 Courses To Play In 2017
Broaden your golfing horizons and find inspiration for the year ahead with our must-visit courses guide.
10. Play More Golf In 2017
Stop agonising about how infrequently you play and make 2017 your most active golfing year to date. We give advice on how you can get the very most from your game in the coming year.
David joined Golf Monthly in 2015 as a content editor for the magazine and regularly contributes to the website. He has worked in magazine publishing and editing since 2003. He is a keen golfer and up until recently was a member of Blackmoor Golf Club in Hampshire. He has covered various big events and tournaments for GM, the highlight of which was witnessing Tiger Woods win his 15th Major at Augusta in 2019. Email: david.taylor@futurenet.com