'Winning Is How We Should Be Judging Players' - Harrington On OWGR Debate
The Irishman wants to see changes made to the world rankings and offered a solution of his own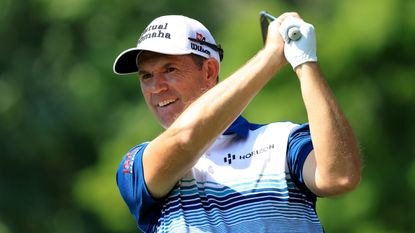 (Image credit: Getty Images)
Padraig Harrington has weighed into the world rankings debate that has ignited since it was updated in the middle of last year.
The three-time Major winner was speaking to John Huggan for Golf Digest ahead of the Abu Dhabi HSBC Championship - the Irishman's 467th start on the DP World Tour - and voiced his displeasure at the way the system currently works.
He joins the likes of Tiger Woods and Jon Rahm, who has been outspoken in his criticism having failed to see his ranking rise from No. 5 despite three wins in his previous five starts.
"I actually have a bee in my bonnet about the World Rankings," said Harrington. "A good player in Europe can often ruin his game by going to the States a little too early. He gets an invitation to play in one event. He goes to a course they have never seen. And he plays like it is the final round of tour school. It is all such a big deal to him.
"Here's the bigger thing though. In the States, he gets the worst draw. He plays with two guys who are struggling to keep their cards. All very different from home, where he gets TV draws alongside the best players in the field and gets treated like a star.
"It works the other way, too. When an American comes to play in Europe, he gets a great draw. He gets the penthouse suite and feels like a star. So he shoots two 65s. So if it was up to me, I'd adjust the World Ranking points. About 40 per cent of every field should actually get them every week. You should never be last and get points. If there are only 20 guys in the field, only eight get points. I'd say the same about LIV events. Give points to 40 per cent of the field. And if it's only three rounds, cut that to 75 percent of what a 72-hole event gets. Fair enough.
"It's a travesty that winning smaller events is devalued. If you win on the Asian Tour, you might get only four points. But winning is the big thing for me. First, second and third should get the vast majority of the points. Finishing 20th in a PGA Tour event is not better than winning a tournament. It's just not, even if it's a win on the Alps Tour. I know that's a hard sell, but winning is how we should be judging players."
Harrington was also quizzed on LIV Golf, the breakaway circuit that has vaulted the game into the spotlight. The 51-year-old believes there are merits to the format, despite insisting he wouldn't have been tempted by an offer if it existed when he was in his prime.
"I think LIV can be good for some players," said Harrington. "Like the Champions Tour, it's 54 holes, no cut and a limited field. So if you're any good you'll be in contention a lot. Sweating it out on the cut-line every week kills players.
"But the majors are it for me. So anything that would have harmed my ability to contend in and win those, I wouldn't have done."
The last nine months have seen the PGA/DP World Tour become embroiled in a feud with the Greg Norman-fronted series, but whether you want it to succeed or fail, Harrington hopes the Saudi-funded series is allowed to run its course, wherever that takes it.
"Whether you like the concept of team golf or not, or the source of the LIV money, whatever, to some extent we should just let them have a go at it," Harrington explained. "If you don't like it and think it will fail, leave them alone and let them fail. Let them see what they can do.
"Most people who don't like what LIV is doing think it's just a bad idea. To be fair, I did watch one round last year, when Dustin Johnson holed a great putt to win. I enjoyed the flipping back and forth between all the players. I thought that was fabulous. But when I told that to someone, they responded by saying they didn't know what was going on. I did because I'm a player.
"I don't like the fact that, where you're not in contention, you don't get shown. But LIV shows everyone. I like that. That's why LIV have gone to the smaller fields."
Ross Kilvington is a freelance writer from Scotland who has had his work published by acclaimed publications such as Nutmeg alongside popular online blogs including the Gentleman Ultra, North Section and Engrossed in Football. Ross holds a passionate interest in golf and tries to play as often as possible, although having two daughters under the age of four means his quest to break 80 will have to wait a little bit longer. He writes about golf in his spare time, most recently having an article published in the Golf Memories anthology Mind the Links, which was released in July with all proceeds going towards Alzheimer charities. With a handicap that floats between 13-14, highlights are few and far between on the golf course, with an eagle on the par 4 16th at Kinghorn one that stands out (it doesn't matter that it was only 290 yards!).