Victor Perez Praises PGA And DP World Tour Alliance After Abu Dhabi Win
The recent DP World Tour winner has praised the PGA Tour and DP World Tour over their alliance which offers players new opportunities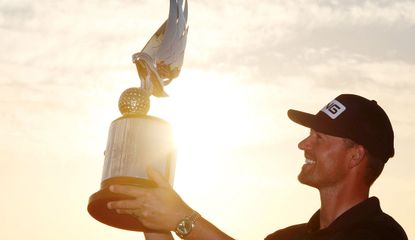 (Image credit: Getty Images)
Following his superb Abu Dhabi HSBC Championship victory (opens in new tab), Victor Perez gave his thoughts on the state of European golf, with the Frenchman full of praise for the strategic alliance of the PGA Tour and DP World Tour (opens in new tab)that is set to last until 2035.
The alliance between the two Tours was installed for the next 12 years to combat the emergence of the Saudi-backed LIV Golf League (opens in new tab), with one of the most significant clauses within the agreement being that the leading 10 players in the DP Tour rankings, at the end of the season, will gain PGA Tour cards for the following season.
These cards will be given to individuals who are not already exempt and offer a huge opportunity to players like Perez who could benefit massively by making the jump onto the PGA Tour.
"Ideally, I think that's everyone's goal," stated Perez at Yas Links. "I think the Tour has done such a great job giving us the opportunity. I was saying, I think it's never been easier to get on the PGA Tour for European Tour players because now we have those ten cards. You have all the Rory McIlroys and Jon Rahms (opens in new tab) of the world that are on list but are going to be taken out.
"So it's really going to drop to, whatever, the 20th position and gives us a great category when you get to America and it doesn't have to go through that Top-50 world, which if you have a limited amount of points, forces you to perform or forces you to go to Korn Ferry finals which is very difficult to go through and then you might not have a great category.
"You might be called last second to play an event. And whether people want to believe it or not, when European Tour is playing in America, it's an away game in a sense. You might not be welcome and you might not be in a similar environment that you're used to in Europe, and you have to prove that you can perform and play well in big tournaments.
"I think there's a lot of Europeans that are starting to break through and go over there. I think you know, you see guys at The Hero Cup (opens in new tab) last week playing very well, and then going back to the PGA Tour. That's inspiring and something that I think we all want to do."
Perez, like many others, had the opportunity before until the Covid-19 pandemic struck and stopped everything in its tracks. The Frenchman said his time in the US was really difficult and that it wasn't a "fair fight".
"Yeah, I think Covid affected people differently. I think for me it was really difficult because I was riding such a high wave of performance towards the end of 2019 and the start of 2020.
"But yeah, for me it was very difficult because I went away to America. We couldn't practise in the UK for the longest time and then you go and, in hindsight, you still believed that you can perform, and I think every player in every room is always going to tell you, like, I think I can do it.
"But when I look back now two years later, how realistic was it to go out to America and perform when you haven't played golf for four months, when you haven't practised. You're going to play against guys that know the course, that have practised; it's not a fair fight.
"You know, I may have played with a bit of ignorance, but it was not like I was not going to go and play. So in that regard it was a bit of a slap in the face. You come back and it's humbling, but I think every career is like that. You're going to have highs and lows and players are going to play well, they are going to have good years, bad years.
"There are only a few outliers who are at the top for the longest time, and I think it's not realistic to base your standard at that, you know, thinking that you can stay in the top 5 or top 10 or world for 15 years. You might, but you are going to have to work very hard for it."
Cieran joined the Golf Monthly team having previously written for other digital outlets like Reach PLC and Northern Golfer. After studying Journalism at Northumbria University, Cieran went on to complete an MA at the University of Sunderland. A big golf fan, he currently plays at Blyth Golf Club, where he holds a handicap of 8. Citing his favorite golfer as Tiger Woods, Cieran regards himself as the best snap hooker of a ball in the North of England.