IFQ European & American results for the 137th Open Championship
Ryder Cup veteran Peter Baker and former USPGA winner Davis Love III were two of the big names to qualify for the Open Championship at Birkdale. Fellow Major winner Rich Beem and 2008 PGA Tour winner Paul Goydos joined Love, while double Masters champion Jose Maria Olazabal missed out in a play-off at Sunningdale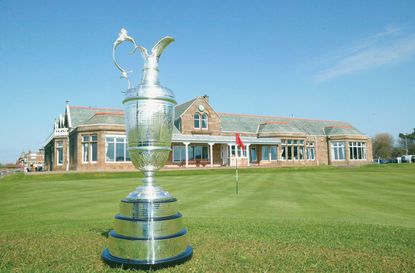 IFQ EUROPE QUALIFIERS
Simon Dyson and Peter Baker survived a six-man play-off, yesterday evening, for the last two qualifying places at IFQ - Europe, held at Sunningdale Golf Club. They have qualified to play in the 137th Open Championship at Royal Birkdale, 13 20 July 2008.
Alongside the English duo in the play-off were Ross McGowan and Chris Rodgers, also of England, Alastair Forsyth, of Scotland, and Jose Maria Olazabal of Spain. Forsyth and McGowan were both knocked out at the first extra hole after failing to get up and down, and Rodgers went at the next with a bogey. On the third hole, Olazabal drove into the rough with a 5-wood and was forced to lay up, eventually playing his third from behind where Dyson's drive had finished. Baker was also safely on in two, leaving Olazabal a 20ft putt to keep his hopes of qualification alive, a putt which he left short.
Dyson was relieved to have made it, having got to six under par with three holes left of regular play before dropping two shots to end up in the play-off. But he hit his drive to within 70 yards of the green on the final play-off hole and hit a wedge to six feet, two putting for his par and a place at this year s Open Championship. I m thrilled really. I played really well and just had the wind change on me a couple of times in the last few holes. I can t wait to get there. I have some friends up Southport way so maybe one of them will offer me a bed.
Earlier in the afternoon Simon Wakefield followed an opening round of 65 with a 68 to finish among the top the qualifiers at IFQ Europe. A run of late birdies in his opening round of 65 allowed him the luxury of a steady 68 in the afternoon.
Though he s never played the Open venue, he has strong memories of watching Ian Baker-Finch winning the 1991 Open at the venue. "At the time I d lost interest in the game and was too busy climbing conker trees and not playing golf," said Wakefield. "But my mum and dad took me along there to try and inspire me to get back into the game."
Alongside Wakefield was Ariel Canete, the Argentinian, who had rounds of 67 and 66. A shot further back were Johan Edfors of Sweden, England s Ross Fisher and two Frenchmen, Gregory Bourdy and Jean-Baptiste Gonnet. The Englishman summed up what they had achieved. It s why we play the game. The whole week is very special.
Round of the day, however, belonged to a player from the group tied for seventh. Swede Alexander Noren had a mediocre morning 72 on the New Course, but followed up with a 63 on the Old Course in the afternoon to propel himself up the leaderboard and secure a spot at Birkdale.
Also with a total of 135 was 2007 Walker Cup player David Horsey made it through to The Open with fine rounds of 68 and 67. Horsey credited his recent win on the Challenge Tour with giving him the confidence he needed to play so well "winning a few weeks ago really kickstarted things for me," he said. I m really looking forward to The Open. It s been a steady progression for me through county golf and then Walker Cup and now The Open. It s what you dream about.
Other automatic qualifiers on 135 were the English quartet of Paul Waring, Anthony Wall, Steve Webster and Phil Archer, Austria's Martin Wiegele, Sweden's Pelle Edberg, Portugal's Jose-Filipe Lima and South Africa's Thomas Aiken.
IFQ EUROPE QUALIFIERS
WAKEFIELD, Simon England 65 68 133 -7
CANETE, Ariel Argentina 67 66 133 -7
EDFORS, Johan Sweden 67 67 134 -6
GONNET, Jean-Baptiste France 66 68 134 -6
FISHER, Ross England 66 68 134 -6
BOURDY, Gregory France 66 68 134 -6
WARING, Paul England 68 67 135 -5
AIKEN, Thomas South Africa 68 67 135 -5
NOREN, Alexander Sweden 72 63 135 -5
EDBERG, Pelle Sweden 68 67 135 -5
WALL, Anthony England 66 69 135 -5
LIMA, Jose-Filipe Portugal 66 69 135 -5
HORSEY, David England 68 67 135 -5
WIEGELE, Martin Austria 69 66 135 -5
ARCHER, Phillip England 67 68 135 -5
WEBSTER, Steve England 68 67 135 -5
BAKER, Peter England 70 66 136 -4
DYSON, Simon England 65 71 136 -4
LOST IN PLAY-OFF
OLAZABAL, Jose Maria Spain 71 65 136 -4
RODGERS, Chris England 70 66 136 -4
FORSYTH, Alastair Scotland 65 71 136 -4
McGOWAN, Ross England 68 68 136 -4
IFQ-AMERICA QUALIFIERS
Paul Goydos and Jeff Overton led a group of 14 players who progressed through International Final Qualifying (IFQ) - America for this year s Open Championship at Royal Birkdale.
A total of 94 players teed off on two different courses in suburban Detroit, Michigan in hopes of gaining one of the fourteen starting places at the 137th playing of golf s oldest championship.
Among those who made it through to Royal Birkdale were Davis Love III, Rich Beem, Germany s Alex Cejka, John Rollins, Tim Petrovic and Scott McCarron.
Goydos, a playoff runner-up to Spain s Sergio Garcia at the Players Championship, posted rounds of 65-66 to finish at 13-under par and gain medalist honors at Dearborn Country Club. For Goydos, who turned 44 just ten days ago, it will be his first start in The Open Championship in his 16th year on the PGA Tour.
This was my number one goal for the year, he said. If nothing else happened this year, I wanted to play in The Open. A lot of other good things have happened on top of that, but this really has been my number one goal.
PGA Tour rookie Michael Letzig (67-66) was next in line at Dearborn, followed by Doug LaBelle (68-66), who will also be making his first appearance in The Open Championship.
It s steeped in tradition, said the former Michigan resident who has played in just one major championship thus far (2003 U.S. Open).
I played on the Palmer Cup team in college and we were able to play the Old Course at St. Andrews. To play in The Open will be a tremendous honor.
Jeff Overton ran away from the field of 48 at TPC Michigan, shooting scores of 63-67 for a 14-under-par total, six shots better than John Rollins. Tim Petrovic and Matt Kuchar finished at 7-under and gained spots at Birkdale.
Germany s Alex Cejka was the only non-American to win one of the fourteen starting berths. His rounds of 68-69 at TPC were good enough to qualify him without having to face a playoff.
At TPC, five players on 5-under par needed a playoff to determine one final position. Michigan s Tom Gillis, who has no status on any Tour this year, came out the winner and will make his second start in The Open Championship.
At Dearborn, Davis Love III, Rich Beem, Kevin Stadler, Craig Barlow and Iain Steel were forced into a playoff to eliminate one player after matching 9-under 135 totals.
Stadler and Love III advanced with pars on the second hole. For Love III, his tap-in par putt put him into the starting field of The Open for the 22nd consecutive year.
It s easily my favorite tournament, he said. The way they set the courses up. It s such a tradition. It s a great championship and a great feeling to be able to go back. The Masters and the Open Championship are probably recognised more around the world than any others.
Love III, winner of 19 PGA Tour titles, was forced into the qualifying tournament after a sub-par year in 2007 and off-season ankle surgery. His run of 70 consecutive majors dating back to 1991 came to an end in the spring when he didn t make into the field for The Masters tournament.
It s very strange for all of us to be out here but you ve got to deal with it, said Love. You don t play well. You get hurt. You ve got to go through it.
Love was the last man on the course and needed a tough six-foot par putt on the final hole of the day to force the playoff.
The playoff ended when Steel, a native of Malaysia who grew up in Scotland, three-putted the third extra hole, leaving Barlow and Beem with a trip across the Atlantic to Southport.
Steel had tied the Dearborn Country Club course record with a 9-under 63 in the afternoon.
Results
Dearborn Country Club
GOYDOS, Paul USA 65 66 131 -13 Qualified
LETZIG, Michael USA 67 66 133 -11 Qualified
LABELLE II, Doug USA 68 66 134 -10 Qualified
BEEM, Rich USA 36 67 68 135 -9 Qualified
BARLOW, Craig USA 36 66 69 135 -9 Qualified
STADLER, Kevin USA 36 69 66 135 -9 Qualified
LOVE III, Davis USA 36 67 68 135 -9 Qualified
Lost in play off
STEEL, Iain Malaysia 36 72 63 135 -9
TPC Michigan
OVERTON, Jeff USA 63 67 130 -14 Qualified
ROLLINS, John USA 67 69 136 -8 Qualified
PETROVIC, Tim USA 67 70 137 -7 Qualified
KUCHAR, Matt USA 69 68 137 -7 Qualified
CEJKA, Alex Germany 68 69 137 -7 Qualified
MCCARRON, Scott USA 71 67 138 -6 Qualified
GILLIS, Thomas USA 71 68 139 -5 Qualified
Lost in play off
PERNICE JR, Tom USA 66 73 139 -5
JACOBSON, Fredrik Sweden 71 68 139 -5
LEE, Danny (A) New Zealand 67 72 139 -5
BERTSCH, Shane USA 71 68 139 -5
Full results are available at www.opengolf.com
The leading website from the world's oldest golf magazine, we're the go-to destination for amateur and keen golfers alike who are keen to up their golfing game. As well as expert course reviews, news and tips to improve your handicap our golf-focused travel content will help you pair teeing off with your travels in some of the best destinations around the globe.