Faldo says he wanted Jordan Spieth to fail at Masters
Faldo jokes he wanted Spieth to protect one of his own Major records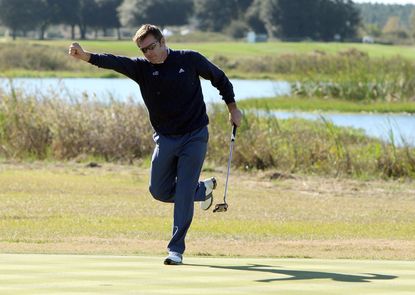 Sir Nick Faldo says he wanted Jordan Spieth to fail at Masters so as to protect one of his own cherished Major records
Faldo says he wanted Jordan Spieth to fail at Masters
Sir Nick Faldo has caused a wee furore with some light-hearted comments at a fundraiser about how he wants some current players to do badly to protect his own records and achievements. These comments were reported in the Columbus Dispatch (opens in new tab).
Faldo was at this fundraiser with Jack Nicklaus for Nationwide Children's Hospital for the annual Legends Luncheon fundraiser at the Ohio Union. The pair were doing a question-and-answer session with the audience and Nicklaus was asked about Tiger Woods' attempt on his Major-winning record:
"I've had Tiger chasing me for a long time," replied Nicklaus. "But, you know, I don't ever, I don't actually sit there and root for him. But I don't root against him, either."
Faldo then cut in: "Oh, I do."
Faldo then went on to talk about how at one point he had been actively wishing Jordan Spieth to do badly at the US Masters:
"I was sitting up there dodging bullets from this young man. Day one, he's in the middle of the 15th fairway at 8 under par, and my fellow announcers were all, 'Wouldn't it be nice if he shoots a 62?' And I'm thinking, Jack and I are both in the 63 club; that's the best round in any Major."
"'So I'm sitting in my (tower) at 18, saying, 'No, it wouldn't be nice'. He takes that 4-wood out, and I know it's the wrong club and I'm going, 'Hit it! Hit it! Hit it!' And he did, and he hits it over the green and three putts so that was that."
Faldo said he also let out an off-air "Yes!" when Spieth missed the 6ft putt on the 18th in round two which have broken the record for lowest 36-hole score (opens in new tab) (130) in a Major, a record that was shared by Nick Faldo, Brandt Snedeker and Martin Kaymer.
After Faldo's comments were reported, Jack Nicklaus issued a statement the next day:
"Nick Faldo was obviously making a joke with his comments about Jordan yesterday, and everyone at the function, including me, took it that way. We were entertaining an audience at a fundraiser, and Nick's comment was said purely in jest. Nick made it clear he has a tremendous amount of respect for Jordan as a person and a champion."
Faldo retweeted Nicklaus' comments and added, "Thanks, Jack. #PlentyofRespect
Faldo's answer was clearly meant as a joke, but his comments can be considered to include an element of candour in them, too. After all, as Jack Nicklaus himself said at this fundraiser: "Nobody likes to see their record broken, but if someone breaks it, well done."
Rob Oller, the sports reporter for The Dispatch who broke the original story, wrote a follow-up article defending Faldo (opens in new tab) after criticism of the six-time Major winner's comments, in which he wrote: "None of Faldo's comments was mean-spirited. Rather, he was offering a bit of honesty delivered with a wink and a smile."
Contributing Writer Golf courses and travel are Roderick's particular interests and he was contributing editor for the first few years of the Golf Monthly Travel Supplement. He writes travel articles and general features for the magazine, travel supplement and website. He also compiles the magazine's crossword. He is a member of Trevose Golf & Country Club and has played golf in around two dozen countries. Cricket is his other main sporting love. He is the author of five books, four of which are still in print: The Novel Life of PG Wodehouse; The Don: Beyond Boundaries; Wally Hammond: Gentleman & Player and England's Greatest Post-War All Rounder.