Cricketers v Footballers match launches PGA Seniors Championship
Freddie Flintoff and Harry Redknapp were joined by cricket, football and European Senior Tour stars for 2nd Annual 'Bat & Ball Challenge' to launch star-studded ISPS Handa PGA Seniors Championship at Slaley Hall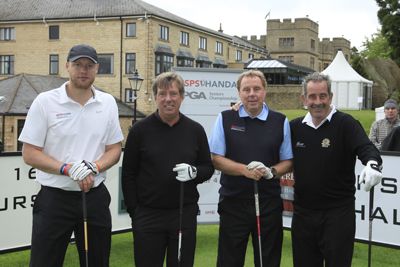 By Tom Clarke
The ISPS Handa PGA Seniors Championship was launched in style, when it was officially launched by De Vere Club Ambassadors Freddie Flintoff and Harry Redknapp.
The pair were joined by some of the headline players in this weeks' championship, going head-to-head in the 2nd Annual Freddie's Cricketers vs. Harry's Cricketers: Bat & Ball Challenge.
Having invited some of their fellow football and cricket stars to Slaley Hall, the pair were joined by European Senior Tour stars such as Sam Torrance, Mark James and Barry Lane to headline the pro-am event over the stunning Hunting Course.
The fun event saw Freddie's team of cricketers emerge victorious, and successfully launched the highly-anticipated European Senior Tour event which got underway this morning.
The Ryder Cup pro-am format used in the 'Bat & Ball Challenge' sees one footballer paired with a Senior Tour star, going head-to-head with a cricketer and another professional.
1999 Ryder Cup captain Mark James, defending PGA Seniors Champion Andrew Oldcorn, double 2012 Senior Tour winner Gary Wolstenholme teamed with the likes of Manchester United legend Dwight Yorke and Newcastle United defender Ryan Taylor to take on test cricket legends such as Philip Defreitas and Neil Fairbrother.
With the match tied at 3 matches all, count-back was needed to split the two teams, where Freddie's cricketers prevailed by 5 holes.
"It's been a real treat being here at Slaley Hall and see up close the way the pro's play the game; it was an incredible morning," commented De Vere Club Ambassador, Andrew 'Freddie' Flintoff.
"The course is in fantastic condition and I'm sure I speak for everyone when I say that it's been a great day. I want to say unlucky to Harry who's been an absolute gent throughout, and thanks to everyone for turning out and lending their support."
"The PGA Seniors Championship is one of the most highly sought after titles on the European Senior Tour schedule and everyone's thoroughly enjoyed having Freddie, Harry and their sporting colleagues to launch the week," commented Daniel Hodson, Director of Golf, Leisure and Spa for De Vere.
The ISPS Handa PGA Seniors Championship runs from 7-10th June. Tickets are available to download for free from www.devere.co.uk/golf