2010 Ryder Cup tickets: Ballot deadline approaching
The initial ballot to sign up for 2010 Ryder Cup tickets closes on July 31.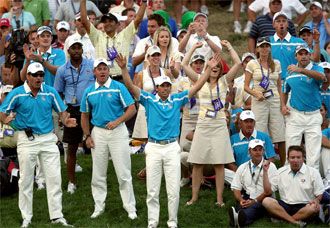 The Ryder Cup 2010 is due to take place at the Celtic Manor Resort in Wales next October (1-3) and golf fans who want to get tickets to the event have only two weeks left to sign-up for the initial ticket ballot. The ballot closes on July 31 2009.
Ryder Cup Europe opened a ticket ballot for the 2010 Ryder Cup back in April, as in recent years, due to an increase in demand to watch the biennial match.
Thirty years ago Seve Ballesteros and Antonio Garrido made golfing history by becoming the first players from Continental Europe to play
in The Ryder Cup. Since then the popularity of the match between Europe and the United States has boomed and history will be made again next year when The Ryder Cup unfolds for the first time in Wales at The Celtic Manor Resort, City of Newport.
The first lot of tickets for 2010 Ryder Cup can be applied for immediately until the July 31 deadline. A second lot of tickets will be made available in April, 2010.
Full details on how to apply are available on www.rydercup.com/tickets and the computerised random lottery draw will take place in August. All applicants will be informed whether or not they have been successful by e-mail.
2010 Ryder Cup tickets were also available from The Celtic Manor Resort as part of an exclusive membership package for the Twenty Ten course. Contact the club for more information.
Related Content
Ryder Cup 2008 microsite on Golf Monthly 2010 Ryder Cup venue
Archive Ryder Cup 2010 news: US Ryder Cup captain announced Europe Ryder Cup captain announced
Ryder Cup in the Forum: Ryder Cup tickets
Betting experts, writers and video producers. Couple of guys in our early 20's looking to bring the sport that we love into a new era.'