Scottie Scheffler To Make Rare Augusta Trip Ahead Of Masters Defence
Scottie Scheffler will visit Augusta National ahead of his Masters defence in order to get any emotions out of the way early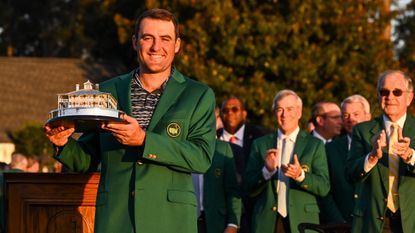 (Image credit: Getty Images)
Masters champion Scottie Scheffler will break with his usual tradition and visit Augusta National ahead of the defence of his title to try and get all the memories and emotions of winning the Green Jacket out of the way before the tournament starts.
The dominant winner of the Masters last year admits he'll have a target on his back this year as the defending champion – which will make it harder to play to his best.
Hosting the Champions Dinner and having a huge increase in media duties all add to the distractions he didn't have to deal with 12 months ago – so Scheffler will be adjusting his usual preparation.
The Texan says he doesn't usually go on scouting trips to Augusta National and just does his prep once he arrives on the property, but this year he'll be heading down Magnolia Lane earlier to get the emotions of his victory out of the way.
A week full of storylines ended with just one - Scheffler shining in his Green Jacket. #themasters pic.twitter.com/6vc7qC6R6jApril 11, 2022
See more
The 26-year-old will be able to reliver winning the Green Jacket on his own time without the sentiment getting in the way of his tournament preparation.
I've never gone to Augusta before the tournament, I've actually never done that," Scheffler said about his Masters preparation. "I've always just been there tournament week. This year it's going to be a bit different, but we'll see.
"I think that's something I'm definitely looking forward to. You know, try and get kind of reliving the memories out of the way before I show up there. Because when you show up for tournament week you don't want to be thinking too much about last year. You want to be getting ready for this year.
"Everybody starts at even. If you're the defending champ, you got the target on your back, it's arguably harder to play well.
"So, I'll get kind of a little bit of the memories and stuff like that out of the way. That way when I show up on Sunday I'm ready for the week."
At his best, Scheffler cuts a care-free figure on the golf course he looks to be just playing on his natural talent and instincts, but he revealed a different side to him when describing how much emphasis he places on mental preparation.
"I would say when I'm preparing for tournaments I'm always preparing and thinking about the situations on Saturdays and Sundays and how you actually feel in the moment," he added.
"So any time you're able to be in that moment and succeed like I was last year it definitely gives you a bit of confidence moving forward.
"As I prepare for those events I know exactly what it feels like when you're standing there on 15 tee on Saturday when you have a lead or close to the lead. I know how I'm feeling on those shots. Having the ability to prepare knowing exactly how you feel is very important.
"As I'm doing my practice, Augusta's always kind of in the back of your head as you're at home working on shots and stuff like that. So it's in the back of your head.
"I feel like I'm playing solid golf right now. I had some success in Phoenix and I feel like I've played some really solid golf this year, so I'm definitely excited heading into that week."
Paul Higham is a sports journalist with over 20 years of experience in covering most major sporting events for both Sky Sports and BBC Sport. He is currently freelance and covers the golf majors on the BBC Sport website. Highlights over the years include covering that epic Monday finish in the Ryder Cup at Celtic Manor and watching Rory McIlroy produce one of the most dominant Major wins at the 2011 US Open at Congressional. He also writes betting previews and still feels strangely proud of backing Danny Willett when he won the Masters in 2016 - Willett also praised his putting stroke during a media event before the Open at Hoylake. Favourite interviews he's conducted have been with McIlroy, Paul McGinley, Thomas Bjorn, Rickie Fowler and the enigma that is Victor Dubuisson. A big fan of watching any golf from any tour, sadly he spends more time writing about golf than playing these days with two young children, and as a big fair weather golfer claims playing in shorts is worth at least five shots. Being from Liverpool he loves the likes of Hoylake, Birkdale and the stretch of tracks along England's Golf Coast, but would say his favourite courses played are Kingsbarns and Portrush.