'Rory Will Win More Majors - But He Needs To Keep His Focus'
Jack Nicklaus says Rory McIlroy will win more than one more Major title but needs to stay focused and avoid big mistakes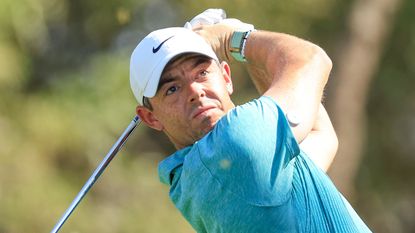 (Image credit: Getty Images)
It's often said that golfers need to loosen up and relax in order to play their best and win big tournaments, but Jack Nicklaus says Rory McIlroy needs to do exactly the opposite and retain his focus to start winning Majors again.
Nicklaus, who knows a thing or two about winning Majors, says there's no question McIlroy will add to his four Major titles, and win more than one more in his time, but says the odd lapse of focus has been what's cost him so far.
The last of McIlroy's Major wins was the 2014 PGA Championship, but he's been playing as well as ever when finishing last year as number one on both the PGA Tour and DP World Tour.
The Northern Irishman also went as close as he has come since 2014 when just being pipped to the Open Championship by Cameron Smith at St Andrews.
Nicklaus, who says McIlroy has the best rhythm in the game of golf, has no doubt more Majors will come his way, but he has to cut out those bad holes and stay 'on point' throughout the tournaments to get back in the winners' circle.
"He's going to win some more," Nicklaus told Sir Nick Faldo's new podcast about McIlroy's chances of adding more Major titles.
"He's got a great golf swing, he's got the best rhythm in the game, he uses his body better than anybody else.
"I love his attitude, but I don't think he's keeping his focus for some reason. I think Rory sometimes he just plays golf and sometimes he really can't just play golf.
"Rory sometimes gets caught up in just playing golf, then all of a sudden, it's where did that eight come from? He's too good for that, he's too good a player."
Nicklaus says being too relaxed can actually be a bad thing on the golf course in Majors – adding that he was never relaxed and enjoyed his rounds, instead taking enjoyment from playing well, and winning.
"Maybe he (McIlroy) tries to keep himself too relaxed. I was never relaxed, I always wanted to be on point, every shot – you have to be on point, you can't get relaxed and feel good and enjoy.
"You can't enjoy the round – you've got to play the round and when you've played the round well, that's your enjoyment. That's the fun. I loved the pressure, that's what you live for.
"I love Rory, he's a great guy and right now he's in the prime of his career. He's going to win more tournaments, more Majors, I don't think there's a question about that.
"And when he wins more he's going to win more than just one. But he's got to be able to not allow that (bad holes costing him) to happen to him."
Paul Higham is a sports journalist with over 20 years of experience in covering most major sporting events for both Sky Sports and BBC Sport. He is currently freelance and covers the golf majors on the BBC Sport website. Highlights over the years include covering that epic Monday finish in the Ryder Cup at Celtic Manor and watching Rory McIlroy produce one of the most dominant Major wins at the 2011 US Open at Congressional. He also writes betting previews and still feels strangely proud of backing Danny Willett when he won the Masters in 2016 - Willett also praised his putting stroke during a media event before the Open at Hoylake. Favourite interviews he's conducted have been with McIlroy, Paul McGinley, Thomas Bjorn, Rickie Fowler and the enigma that is Victor Dubuisson. A big fan of watching any golf from any tour, sadly he spends more time writing about golf than playing these days with two young children, and as a big fair weather golfer claims playing in shorts is worth at least five shots. Being from Liverpool he loves the likes of Hoylake, Birkdale and the stretch of tracks along England's Golf Coast, but would say his favourite courses played are Kingsbarns and Portrush.