Rick Shiels Exclusive: Golf Needs To Bridge The Gap Between The Range And The Golf Course
Rick Shiels tells Golf Monthly that there's a massive opportunity being missed to get golfers off the range and out onto the course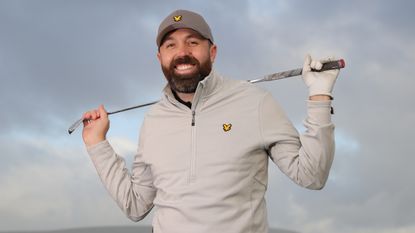 (Image credit: Future)
Golf YouTube goliath Rick Shiels told Golf Monthly that the biggest issue for the sport right now is getting prospective new players out of the driving range and onto the golf course.
In a wide-ranging exclusive interview with Golf Monthly, Shiels talks about many things including his best collaborations and ambitious plans for the future - but also about what he sees as a big problem getting new players out onto the course.
Shiels is one of the biggest online golf creators in the world, but his heart still lies in both product testing and coaching – although in-person lessons have had to be sacrificed as his profile and business have gone through the roof.
Now believing that "golf is cool" the sport is still struggling to convert interested new players from the range and simulators and out onto the course to play 18 holes – and providing a stepping stone or bridging the gap between the two could spark a huge wave of new golfers.
"I still think there's a massive missing gap in the pathway to get people getting onto golf courses, there's a huge opportunity that needs to be captured," Shiels tells Golf Monthly.
It's even something that Shiels is thinking of trying to do himself in his ambitious future plans – creating new facilities to encourage more people into golf.
"There's nothing in between and I feel there needs to be – and hopefully that's something I'll be able to help with in the future.
"There are golfers who just play on the driving range and they've never stepped foot on a golf course in their lives, and that's great, I'm not saying that's a bad thing, at least they're participating in golf.
"But between the driving range or watching on TV to actually getting through the door at a golf club (there's still a gap), it's getting easier, don't get me wrong, the barriers have started to lift at golf courses.
"And I don't think it's that, I think it's the actual golf aspect of it, so going from the driving range to playing 18 holes is very, very different.
"I feel like there need to be much smaller golf courses, a stepping stone from a driving range – maybe little nine-holers that have massive holes or places that have just three or four holes, proper sized holes, but you can play easily and there are no dress codes and you can just go and have fun.
"The amount of rounds that are being played in the metaverse at the moment is scary – hundreds of thousands of rounds a month.
"How do we get those people on a golf course? I'd love to give an answer, but I don't think there is one at the moment. I think there's a massive missing link that either the governing bodies can sort, or it takes someone with initiative (or maybe some sort of social media power!) that can generate these facilities. That's what's really going to help.
"I think we'll see a massive, massive changes, new golf courses will need to be built if we're going to get it right."
Golf is now cool - Rick Shiels
And on golf becoming cool – the perfect example from Shiels is that now even his wife would be impressed that he works in the sport.
"Golf has become cool, and I don't think it ever was. And I think over the last 10 years, maybe even longer, it's becoming cool," he adds.
"I met my wife 15 years ago and when she asked what I did she kind of rolled her eyes! She had an imprint of what golf was: flat caps, old men, pipes, plus fours. Now I introduce myself as a golf pro and it's like, "Oh wow, golf!" People have a different opinion of it.
"You're getting celebrities getting into golf, and some of the biggest names in sports outside of golf are into it. Some of the big Hollywood stars are into golf, some pop stars etc are into golf and they all post it on their social media and it's made golf cool.
"All of those things that have made golf feel traditional and stuck in the past are all being banished. It's in a different space and although I've got no hard-hitting facts on this, I've noticed that the type of people who come and watch my videos, it's totally different type of crowd."
You can also watch the full Rick Shiels exclusive interview below or on our YouTube channel.
Paul Higham is a sports journalist with over 20 years of experience in covering most major sporting events for both Sky Sports and BBC Sport. He is currently freelance and covers the golf majors on the BBC Sport website. Highlights over the years include covering that epic Monday finish in the Ryder Cup at Celtic Manor and watching Rory McIlroy produce one of the most dominant Major wins at the 2011 US Open at Congressional. He also writes betting previews and still feels strangely proud of backing Danny Willett when he won the Masters in 2016 - Willett also praised his putting stroke during a media event before the Open at Hoylake. Favourite interviews he's conducted have been with McIlroy, Paul McGinley, Thomas Bjorn, Rickie Fowler and the enigma that is Victor Dubuisson. A big fan of watching any golf from any tour, sadly he spends more time writing about golf than playing these days with two young children, and as a big fair weather golfer claims playing in shorts is worth at least five shots. Being from Liverpool he loves the likes of Hoylake, Birkdale and the stretch of tracks along England's Golf Coast, but would say his favourite courses played are Kingsbarns and Portrush.