Is Rory McIlroy Working Out Too Much?
The world no. 1 has plenty to show for his gym regime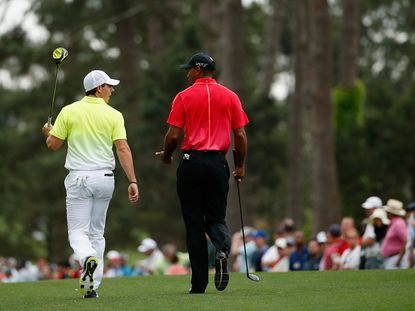 The world no.1 player is hitting the gym hard but after falling just short in both majors this year, is Rory McIlroy working out too much?
Rory McIlroy explains how he became world number one and why his training regime was crucial to that...
Rory McIlroy walked off the course at Augusta, disappointed.
Looking for the career grand slam, he finished six off the pace set by Jordan Spieth, and will now have to wait another year for his opportunity.
Where many golfers in this posistion might sulk, feeling bad for themselves, Rory McIlroy is likely looking to solve his problems in one place.
The gym.
A place he seems to be spending a lot of time lately.
While many say his body and physique looks amazing compared to the first time we saw him on tour, others aren't sold.
When speaking to The Telegraph, Sir Nick Faldo questioned Rory's workout routine.
"Throwing 200lb and 300lb weights around is not going to be good for your golf swing," Faldo said. "The heaviest weight I would ever lift was my body weight. You can play some pretty good golf when you have just got some decent shoulders on you and a strong neck and a strong pair of hands."
McIlroy has admitted he is obsessed with the gym but also has defended his constant lifting regiment by saying he knows he's a golfer and not a body-builder.
The world no.1 was been working with fitness expert Steve McGregor, cutting fat and adding muscle.
When speaking to repoter Connell Barrett, McGregor defended the new Rory we've seen on tour.
"The benefits? His clubhead speed has increased, he's driving it longer. He can hit it harder without losing balance. He looks more stable in his swing, and he's getting more yardage with less effort."
He sees himself as a golfer and an athlete. We're talking about getting to 175 pounds or more. Why? When you increase muscle mass, you're going to be hitting shorter irons into greens."
Despite the facts, American Ryder Cup Captain winner, Paul Azinger expressed concern for McIlroy.
"I am concerned about one thing," Azinger said in his role as ESPN analyst. "It is not a requirement to get in the Hall of Fame or to win all four majors to be as fit as [McIlroy] seems to be striving to be."
"I am wondering what's the motivation behind that. I just hope that he's not changing his body to his own detriment, because his body has changed since July last year."
Other analysts have drawn comparisons to Tiger Woods and his bulk up, crediting his fall from grace with his desire to be seen as a "proper" athlete, instead of just a golfer.
But Rory and his trainer are in agreement... This won't be bad for his play on the course. Together, they are working to create balance in Rory's body allowing to more balanced swings and longer distance.
And if a Masters title ever comes down to bench press competition, it never hurts to be prepared.
Will Medlock graduated from UEA with a degree in Film and Television before completing a Masters in Sports Journalism at St Mary's in London. Will has had work published by The Independent and the Rugby Paper.