Ryan Fox held off a world-class field and a host of Rome-bound Ryder Cuppers to claim the BMW PGA Championship on a topsy-turvy day at Wentworth, which was made all the more dramatic by a weather delay in the closing stages.
The 36-year-old from New Zealand held his nerve on the final hole after pitching to seven feet. Needing a birdie for victory following Hatton's four on the 18th 10 minutes earlier, he calmly rolled it into the center of the cup and punched the air in delight.
Moments earlier, Aaron Rai had seen his eagle effort graze the edge of the cup, which would have seen the Englishman get to -18 – which pretty summed up what had been a rollercoaster of a day in Surrey.
Play was suspended at 14:12 local time due to the threat of thunder and lightning, which caused a delay of a little over an hour-and-twenty minutes – but it made no difference to the man from Auckland, who now boasts a BMW Championship victory to go alongside the Alfred Dunhill Links Championship that he won last year.
For a long time it looked as though Tyrrell Hatton would get his hands on one of the most coveted trophies in the game, but a loose drive on the 15th ended up costing him dearly.
At one stage the 31-year-old had made seven birdies in 10 holes, which saw him pass the faltering overnight leader and man of the moment, Ludvig Aberg. What's more, the Englishman kept his foot on the pedal, only to make a loose swing at a crucial time, his drive on 15 going out of bounds.
Play was suspended shortly after Hatton had played a superb fourth shot from the fairway, which meant that when he came back out he would have some 10 feet left for a bogey – which, to his credit, he would make.
At one stage Hatton had a four-shot lead, but now he found himself tied at the top with Fox, who had been on quite the run himself, making four birdies in six holes from the 10th – and this after he made a triple bogey on the 3rd that looked to have ended his victory hopes fairly early on.
Sunday was a big test for Aberg, who started the day two shots clear. Sweden's new superstar showed he was human with a series of errors that saw him fall away on the front nine.
Despite that, Luke Donald would have been watching on and mostly likely enjoyed what he saw, with a number of his players thrilling the Wentworth galleries. One of those was Rory McIlroy who, after a slow start to the Championship, played the weekend in 12 under par. At one stage, it looked as though the Ulsterman might even be in with a chance of claiming an unlikely victory.
Heading to the par-5 17th, McIlroy was looking for a birdie or better in an effort to post a target. However, he only managed a par and when he failed to birdie the par-5 18th as well, he had to settle for a seven-under 65 and -13 total.
BMW PGA CHAMPIONSHIP LEADERBOARD
- 18 FOX
-17 RAI, HATTON
- 16 RAHM
BMW PGA CHAMPIONSHIP QUICK LINKS
Updates from:
Refresh
MORNING ALL!
Good morning everybody! Welcome to the final day's play at the BMW PGA Championship, where Ludvig Aberg is hoping to pick up another huge title on the DP World Tour circuit.
Because of the potential weather, play is getting underway earlier than expected, with the leaders teeing off at 10.30am BST. It's set to be a thrilling day of action, so sit back and relax as we take you through the day's play from Wentworth.
EARLY START
For those wondering why we are starting early at Wentworth, it is due to potential bad weather later on, with heavy rain and storms forecast for this afternoon or, as we call it, a British summer's day!
Leaders are off at 10.30am BST, so in just over 20 minutes time. Currently, FedEx Cup champion, Viktor Hovland, and European Ryder Cup debutant, Sepp Straka, are getting their final day's play underway at the first.
EARLY SCORES
ParBirdieBirdieEagle@McIlroyRory is making a late charge 👀#BMWPGA | #RolexSeries pic.twitter.com/qJzX0SH1uCSeptember 17, 2023
See more
Currently, the majority of the field are out on the course, with some low scores to be had! As of now, Rory McIlroy is -4 thru 7 and -10 for the tournament, with last week's winner, Vincent Norrman, -2 thru 5.
BIG NAMES STARTING STRONGLY
These players will need a strong start if they are to challenge at the top of the leaderboard and, for Tom Kim and Viktor Hovland, that's exactly what they've done, with both finding early birdies. At the first, Hovland sticks it close with his approach after a mammoth drive, with Kim putting it to 10-feet at the par 3 second for an early gain. Both are -1 for the day.
EARLY BIRDIE FOR RAHM
365 yard drive at the first for @JonRahmpga 🤯#BMPWGA | #RolexSeries pic.twitter.com/qLfWr7nb5TSeptember 17, 2023
See more
Following a 365-yard drive, yes - you read that correctly, Jon Rahm birdies the first to move to -13 for the tournament and three back of the lead. Up ahead, Viktor Hovland just leaves his birdie attempt short at the par 3 second, with Adam Scott birdieing the third to move to -10.
Back on the first tee, the leaders are off, with Tommy Fleetwood finding the right rough with a fairway wood, Connor Syme finding the left rough and Ludvig Aberg launching a long iron to the centre of the fairway. Everyone is now out on the golf course!
RYDER CUP STARS ARE FLYING
Well, the big names are firing already this Sunday! Following his birdie at the first, Jon Rahm holes a lengthy putt at the second for birdie. He is now -2 thru two and just two back of Aberg now.
Along with Rahm, Hatton has birdied the second hole, with Rory McIroy now -5 thru eight holes as he moves to -11 for the tournament. He is just five back, but will need to continue his hot streak!
BOGEY FOR THE LEADER
Big moment at the first as Ludvig Aberg misses a short putt for par. He found the bunker short of the green and, after a reasonable shot, misses on the left side to stay at -16.
In Tommy Fleetwood and Connor Syme's case, both make great pars after relatively poor approach shots. Fleetwood two-putted from over 50-feet whilst Syme makes up-and-down despite leaving 230-yards in for his second. The lead is now just one!
BOGEY FOR RAHM
After a hot start and moving to within one, Jon Rahm fails to get up-and-down at the par 4 third after a mud ball with his second shot. In the group, Tyrrell Hatton follows up a great drive with an equally great second, he leaves himself a 10-footer for birdie and duly converts to move to -2 for the day and two shots back of Aberg.
THREE PUTT FOR SYME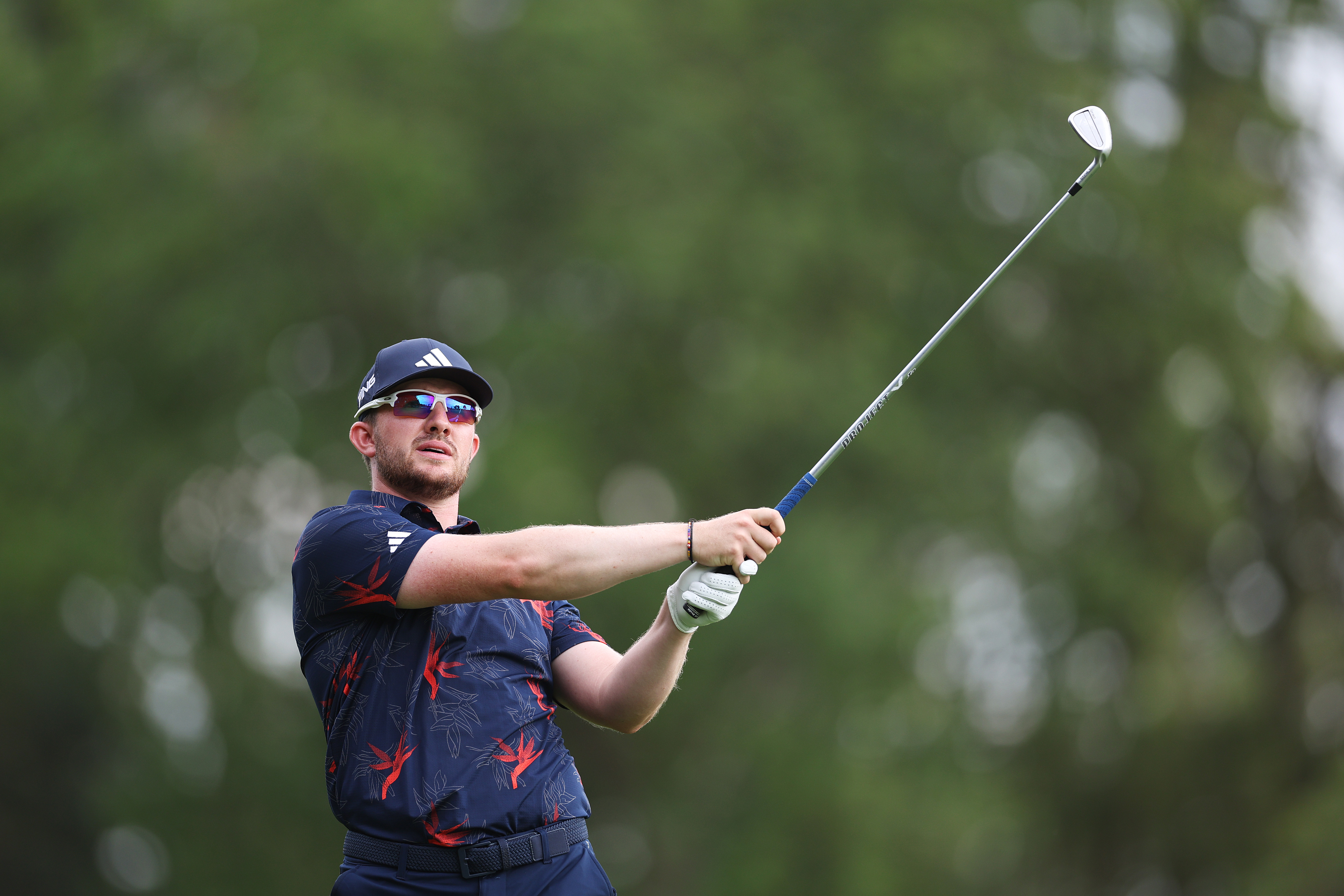 Golf is a strange, strange game! After making a stunning up-and-down at the first, Connor Syme produces an excellent tee shot on the par 3 second that goes straight over the flag. The Scot fluffs his first putt though and then fails to convert the second. He now moves to two back.
Elsewhere, Adam Scott is enjoying his morning, with the Aussie -3 for the day thru seven, whilst Rory McIlroy fires a -5 front nine of 30 to sit at -11 for the tournament.
FAVOURABLE WIND
The wind has somewhat changed at Wentworth, helping the players significantly on the more difficult front nine. At the par 5 fourth, which has been playing as one of the easiest holes of the week, Viktor Hovland, Sepp Straka and Marcus Helligkilde all make birdies.
In the group behind, Tyrrell Hatton finds the green and will have a mid-range eagle putt, so you would think a guaranteed birdie at worst. Rahm meanwhile finishes in a near identical spot to the Englishman and will have an eagle putt also.
EUROPE ON TOP
This leaderboard is looking insane! Currently, Aberg leads by one at -15, but following birdies from Jon Rahm and Tyrrell Hatton, the European Ryder Cup pair are just one and two shots back!
At the par 5 fourth, Aberg has found the fairway, with a great chance to put the ball close and make a potential eagle. Big few moments coming up you feel...
HOW DID THAT NOT DROP?!
NEAR ACE FOR @TyrrellHatton! 🤯That would've taken him to the top of the leaderboard.#BMWPGA | #RolexSeries pic.twitter.com/j6VR3CirNRSeptember 17, 2023
See more
Wow! Hatton is in the zone here! Firing a seven-iron at the 204-yard par 3 fifth, his tee shot strikes the centre of the flag and somehow doesn't drop in the hole. That's the second time he has done that this week! A guaranteed birdie means he will move to within one of the leader, but with Aberg in good shape on the par 5 fourth, it may not be for long.
BOGEY FOR RAHM
Jon Rahm gets unlucky at the par 3 fifth, with his tee shot hitting the downslope and running through the back. He fails to get up-and-down and moves back to -13, two shots back of Aberg, who hits a poor approach shot on the par 5 fourth but follows it up with a stunning shot from the bunker, he should tap-in for birdie.
ABERG AND FLEETWOOD FIND FIRST BIRDIES OF THE DAY
Well, it's taken a few holes, but both Ludvig Aberg and Tommy Fleetwood find their first birdies of the day at the par 5 fourth. Aberg now extends his lead back to two shots, with Fleetwood moving back to -14 for the day and into a share of second
RORY HAVING A DAY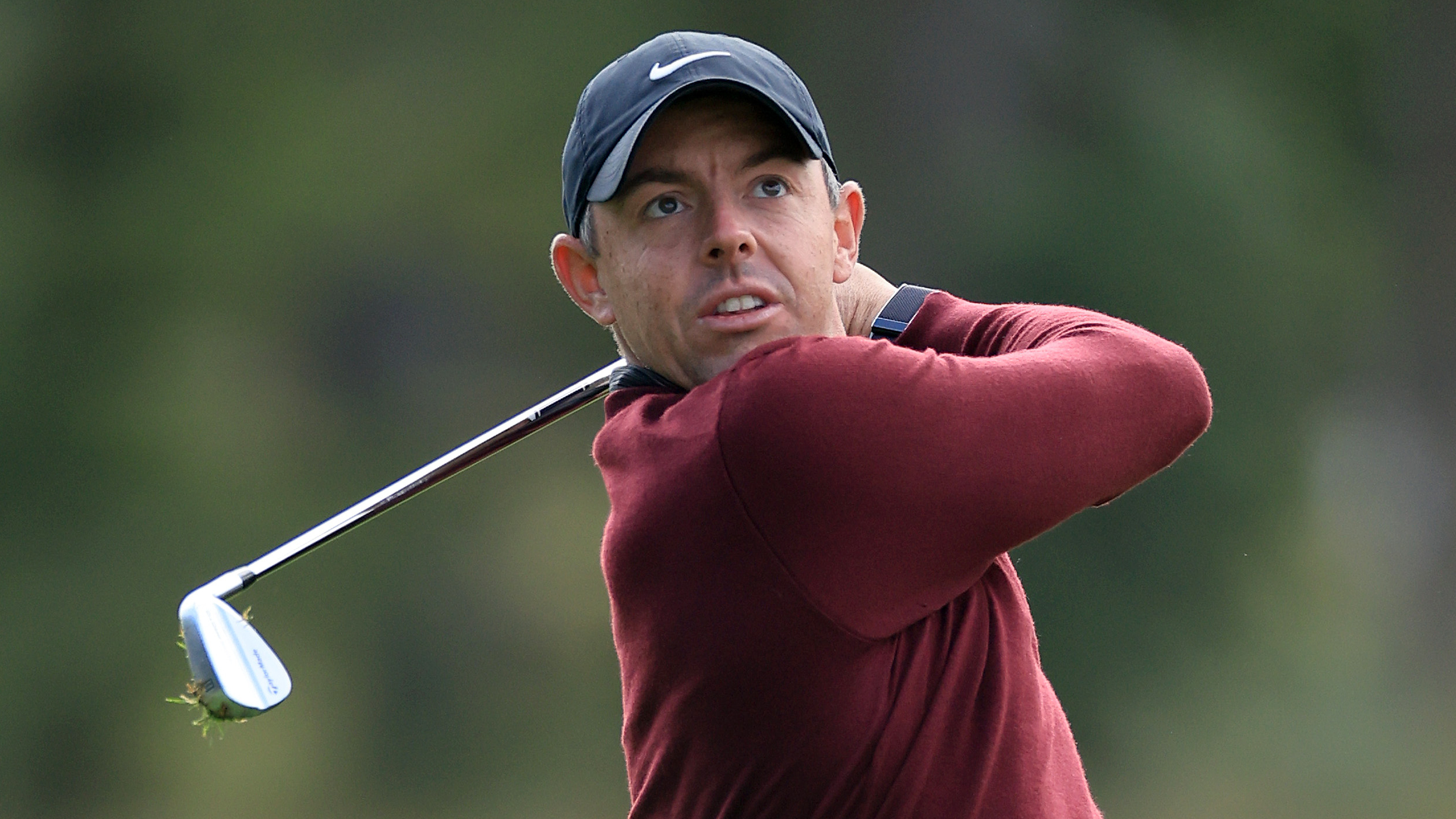 Once again, it appears to be the case of too little too late for Rory McIlroy, who is flying around Wentworth on Sunday. He has just birdied the par 5 12th to move to -6 for the day and -12 for the tournament. He is four back of Aberg.
HOLE OUT FOR HATTON
Just as his tee shot somehow doesn't drop on the par 3 fifth, Hatton has just holed out from the greenside bunker on the par 4 sixth for a fourth birdie in six holes! Incredible start from the Englishman, who now leads after Aberg makes a double bogey at the par 3 fifth following a poor chip.
OUR NEW LEADER
.@TyrrellHatton chips in from the bunker to take the lead! 🔥#BMWPGA | #RolexSeries pic.twitter.com/cEd2MGCcMCSeptember 17, 2023
See more
RAHM STRUGGLING
After a hot start, the wheels have started to slightly fall off for Jon Rahm, who has made three bogeys in his last four holes. His playing partner, Hatton, is on fire right now though, with the Englishman firing yet another excellent approach into the green at the par 4 seventh. He will have around seven-feet for a fifth birdie!
This is getting very interesting and the leaders aren't even into the back nine. Hatton is currently two clear. Aberg hasn't got off to the best of starts but he's still right there - he's now the chaser. Rahm now five back - and he looks angry.
Good signs for Team Europe...
Five birdies in six holes 🔥@TyrrellHatton leads by two. #BMWPGA | #RolexSeries pic.twitter.com/BwXpDw1jOGSeptember 17, 2023
See more
Aberg on 7 gets a hard hop and we're about to see how good his short game is. Can he keep it on the top level? Rai on the 8th, just three back, in perfect position. Back to Aberg... and he gets too cute. Had to take a chance and he's only moved it a few feet. His par putt trundles a few feet past and he'll drop at least one.
Hatton leaves himself some work to do putting off the green on 8. Gives it a go and leaves himself a few feet for par. Meanwhile, Aberg makes double with a short miss - his second double of the day, proving that he is actually human. He's now four back.
Three strokes with the putter for Hatton and he drops his first shot of the day. Fleetwood now just one back. It's looks tricky out there. Plenty in with a shout here.
RORY 2 BACK
Birdie on 15 from Rory and he's just two shots back. He's going to run out out holes, surely. His attempts to go eagle hunting at the Irish didn't go well, but that's what he's going to need if he's to get his hands on the trophy. Hold on to your hats... big drives coming up.
LOWRY TO -11
Lowry not out of it, either. The Irishman, one of Luke Donald's picks for Rome, gets to within four.
SYME IN BIG TROUBLE
The Scot is playing a lot of golf shots on 8. Trees, provisional, water.... this could be a big number. We'll get back to you...
BOGEY FOR HOVLAND
Tee shot to blame - back to -12. It's going to be worse for Syme who's back in a cart after finding his first ball on 8 in amongst the brambles. He'll be playing his fourth. Rory is a little disappointed with his approach on 16. He'll have a lengthy one for another birdie. Two big drives coming up. Can he set a target... -16 would make it interesting.
SYME TEARING UP MONEY
Oh dear. Shot four goes left into the water. His sixth is very good, and he may 'escape' with a 7.
DEFENDING CHAMP ON THE MOVE
Lowry an inch or so from an eagle on 12, but another birdie (his second in a row) gets him to -12 and just three back.
SCOTT TO -11
Adam Scott rolls one in and the former Masters champion is also in the mix, just four back.
6 in 10 for hatton
Long putt for Hatton goes in on 10 and that's six birdies in 10 holes. Restores his two-shot advantage.
MAN OF THE MOMENT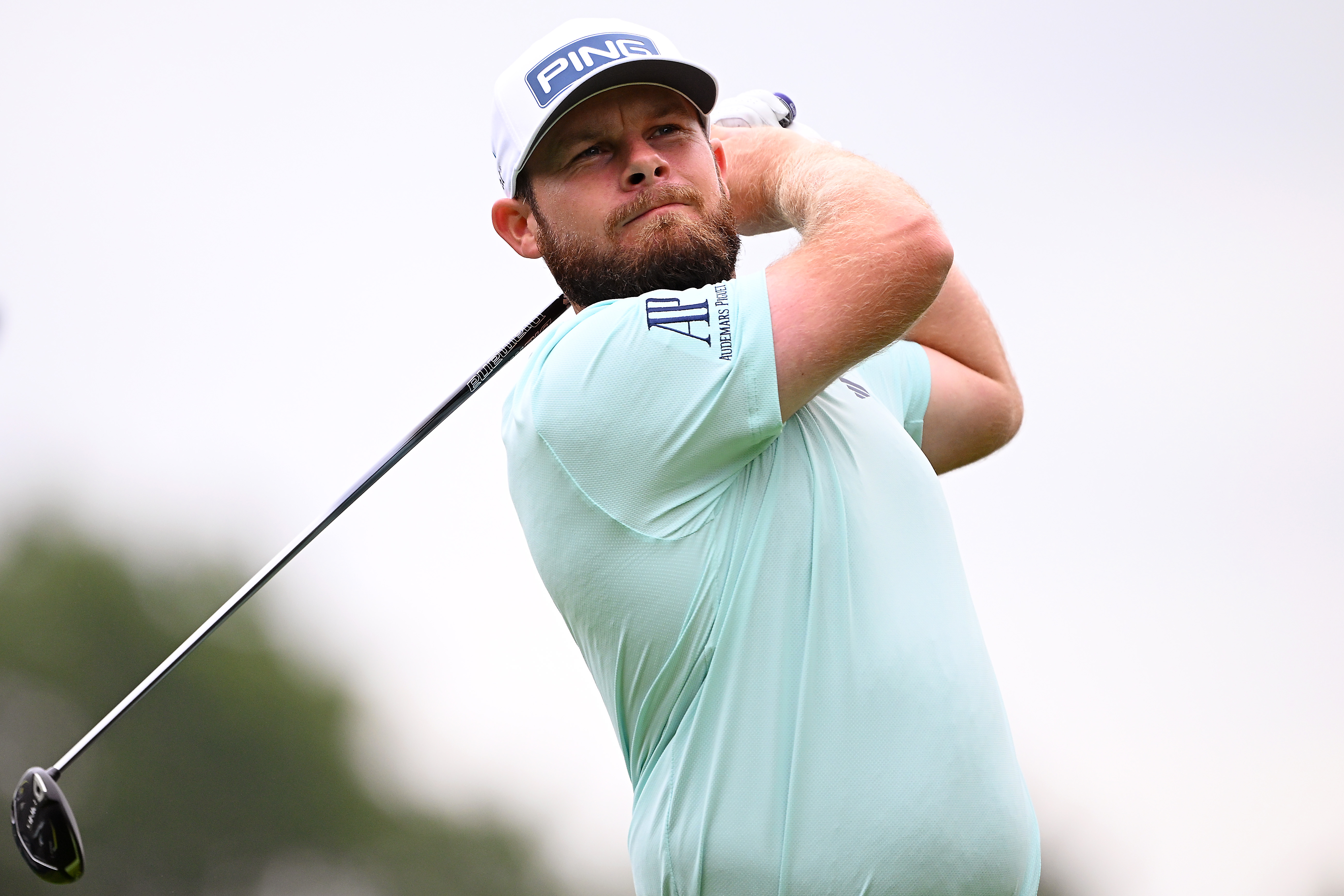 Hatton looking good as he heads into his back nine. He's got a two-shot lead over Tommy Fleetwood.
RORY BOOMS ONE ON 17
Here we go then. Rory smashes one down 17 needing at least a birdie. Make no mistake, deep down he'd have been irked by all the Aberg chat these last few days, not openly, of course, just keen to show everyone that he's been there and done it - and he's still the one to beat.
RORY ON 17...
263 yards for Rory's second into 17. Doesn't quite follow the line he wanted, a yard off to the right and he'll have a tricky and-and-down to to to -15.
Hatton, meanwhile, will have a good look at another birdie on 11.
FLEETWOOD BACK TO -13
Short par putt missed for Tommy after he gets a little aggressive with his birdie effort. Hatton's lead is now three.
LOWRY HAT-TRICK, HATTON BY 4
Leaderboard constantly changing. Lowry into T2 with his third birdie effort in a row. Tyrrell drains another at 11 - that's seven birdies in 11. He takes the tournament by the scruff of the neck and leads by four.
PUTTING PROBLEMS FOR TOMMY?
It s a long game exhibition but Fleetwood doesn't look happy on the greens. Expect to see a few drills and training aids on the putting green at Marco Simone.
FLYING FOX
Ryan Fox to -14 and T2. He's joined by Rai. Hatton's lead is cut to three.
HEAVY RAIN SETS IN
The rain is very heavy now. It doesn't look much fun out there, unless your name is Tyrrell Hatton, who looks like he's playing a different course to everyone else. Has a makeable birdie putt on 12 to stretch his lead to four.
RAHM NOT GIVING UP
Don't rule Rahm out. He makes eagle at 12 to get within four of Hatton. He won't be giving up just yet. He's been sloppy so far today, but he's back on the move now.
MCILROY CHARGE FIZZLES OUT
Rory won't be happy with how the last two holes have played out. He would have been looking to take advantage of the closing par 5s to set a number, but it's just not happened. Still, a wonderful final day from the Ulsterman who will head to Rome in fine form. There may have been a few questions asked had he stuttered at Wentworth, as he did early on - but his game looks in pretty decent shape. Rest up and see you in Rome, Rory.
RAI DROPS BACK
Fox now T2 on his own after Rai bogey. McIlroy taps in for par on 18. He looks a little disappointed as he walks off, but he's a player with very high standards and it wasn't quite vintage stuff from him this week.
FOX -15, T2
Now we might have a battle on our hands. Ryan Fox is -15 through 12 and just two shots back. Just too many good players in the chasing pack for someone not to come out and have a go.
Fleetwood wants to be that guy but his attacking mode might cost him on 12. Thins one out of a fairway trap and it doesn't look too good where he is. Some of these errors are being forced by Hatton's lead. It's only a 'W' that matters for a lot of these guys, so they're having a go at everything to try and chase the leader down.
RAHM 3 BACK
The Spaniard with a birdie on 13 and he's now just three back.
SHINKWIN PITCHES IN
Callum pitches in to make his third birdie in four holes and suddenly he finds himself at -14 and just three back with five holes to play.
Good news - bad weather forecast to leave us soonish.
RORY UPBEAT
Rory tells Sky Sports he will head to Rome happy enough with his game. Says he managed his misses better on the weekend and drove the ball a little better. Still smarting about his finish with two pars on the par 5s. He'll be more annoyed if the winning score is -15. - and that doesn't look on. Hatton leads by two at -17.
OH, TYRRELL!
Left on 15 where there's OOB. Hatton is reloading. Fingers crossed he's had a lit of luck.... stay tuned.
RAHM ON THE MOVE
.@JonRahmpga with a birdie at 13! 😎He moves to within three. #BMWPGA | #RolexSeries https://t.co/aClm5OqXvI pic.twitter.com/zKafmNxiV7September 17, 2023
See more
FLYING FOX
Have we used that heading yet? Well, he is. -16, one back. Could be leading soon as Hatton looks to be in big trouble...
NEW LEADER?
Hatton's provisional is in play. That could be one very costly drive on the 15th. He's playing four from the fairway after a perfect 'second' drive. Can he escape with a bogey five? Quite possibly. That's a superb shot, 8-10 feet to drop just one. There's thunder about - and we're not referring to Hatton's mood.
PLAY SUSPENDED
Thunder is in the air (and lightning threat). In we go. Updates to follow...
SHORT DELAY EXPECTED
Could be as little as 45 minutes. Make yourself a brew, have a couple of roast potatoes, have a chip in the garden...whatever. Just don't turn off. This could be a thrilling finale.
FLYING FOX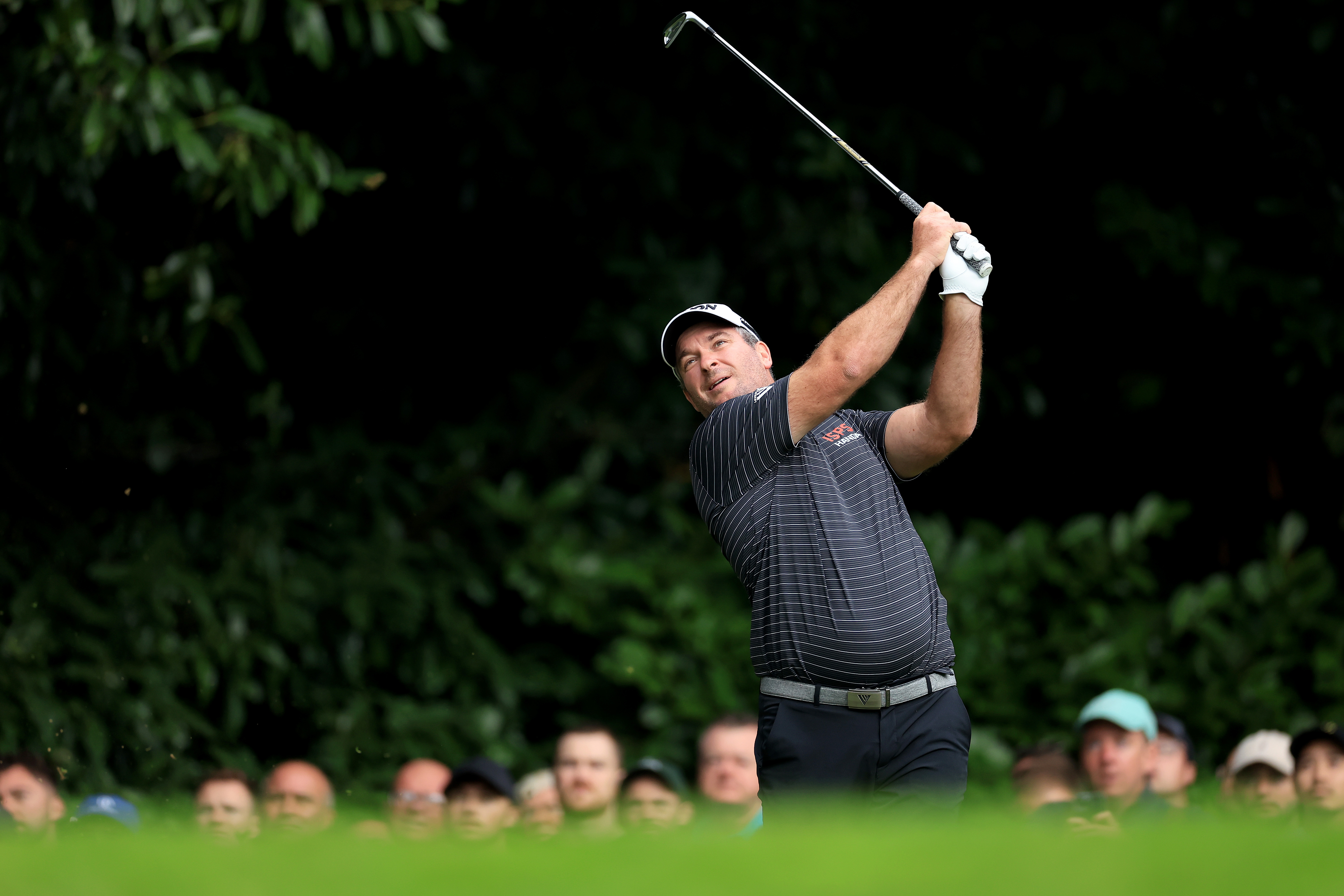 Sorry, no more Flying Fox headlines. It won't be long until he finds himself in the lead, or a share of, after this weather delay.
15.15pm restart
Ok, so the news is good. We'll be back out at 3.15pm for the conclusion of what's shaping up to be a very exciting finish.
LEADERBOARD UPDATE
Here's how things stand. Play will recommence at 15.15.
1 HATTON -17
2 FOX -16
3 RAI -15
T4 SHINKWIN -14
T4 RAHM -14
T6 MCILROY -13
T6 LOWRY -13
T6 HOVLAND -13
T6 ABERG -13
T10 DU PLESSIS -12
T10 KIM -12
T10 SCOTT -12
T10 FLEETWOOD -12
T10 SYME -12
15.35 RESTART
Still good news - the restart time is 15.35. So we're going to lose a little over an hour. No danger of not getting this done, it's just playing havoc with our plans for a roast dinner.
FASTEN YOUR SEAT BELTS
What'll it be? A sprint to the finish, or does the winner just make the least mistakes. 17 and 18 are going to be fun, that's for sure...
EUROPE UPDATE
A good example of cream rising to the top. Nine of Luke Donald's Ryder Cup team for Rome are in the top 20.
PLAY RESTARTS
Ok, so off we go again. An hour and 20 minutes or so lost, but we're about to get underway again. Can Hatton limit the damage and bounce back? Will Rahm continue his change? Or will the Kiwi land the title? This Championship is wide open.
WIDE FROM FOX
Loose drive from Fox on 15, not a nice tee shot to have after a weather delay. Rahm up at the green comes up short with his birdie effort. Aberg, bogeys 14 to drop back to -12 and surely his race is run.
TIE AT THE TOP
-16 Fox and Hatton, who makes a very good bogey after that drive.
SHOT OF THE WEEK?
'Go, Foxy'. The Kiwi with a contender for shot of the week with a beauty into the 15th. He'll have a decent look at a birdie to take the lead. What a shot that was from where he was.
HERE COMES RAHM
Rahm gives himself a good chance for birdie with a bold approach at 16. It would create some roar if it dropped.
BIG SAVE
Par putt from Shinkwin at 15 is huge. Remains too back. Meanwhile, Hatton could bounce back straight away at 16. He fires in a dart straight out of the divot in the middle of a fairway.
FOX LEADS
Birdie from Fox. Now then, now then.... it's game on. Can Hatton birdie 16? All of a sudden he's the chaser.
APOLOGIES FOR THE BAG LANGUAGE
Pretty sure a few Kiwis were responsible for the 'words' of encouragement there. Lovely stuff. "Go on, Ryan," they said.
RAHM MAKE IT
He's a street fighter is Rahm, moves to -15 with a lovely putt at 16. Who wins this? It's tight.
9 (NINE)
A nine from Lowry. No more words needed.
FOX IN THE ZONE
Another dart at 16. He'll have that for his eighth birdie in 11 holes. It's soft out there and the course is there for the taking - but this is some display.
WIDE!
Hatton wide on 17 - but he's Ok. Good enough lie. 17 not in range right now what with the heavy air and soft fairways. Good news for Rai, who gets to -16.
CHANCE GOES FOR FOX
Tentative birdie effort on 17 and it'll just be a par for Fox. Shame, the approach deserved better. It's not the time to back off (says a 10-handicapper).
RAI TO -16
Rai gets to -16 with a lovely birdie. It's looking like it's between three players: Fox -17, Rai & Hatton -16
THE SHOT FROM OUR CHAMPION?
.@ryanfoxgolfer takes the lead in dramatic fashion 😮#BMWPGA | #RolexSeries pic.twitter.com/zphewrBoNNSeptember 17, 2023
See more
FOX IN CONTROL
Foxy smokes one down 17, a difficult driving hole. A nice one, too, from Rai. My money is on Fox - looks very good right now. One more twist?
FOX CLOSING IN
What do 17 and 18 have in store for us? Fox has one hand on the trophy for sure. Rai and Hatton may need to force it at some stage.
PUT THE OVEN ON
Stick the chicken in and you can sit down for your roast at 6pm. We're nearly there. Fox with one-and-a-half hands (you know what I mean) on the trophy. Is this a good sign for the All Blacks. A Fox/New Zealand World Cup double, perhaps. Was anyone on that?
SO CLOSE
A par for Fox on 17 and he heads to 18. Can he afford to make do with a par? That putt on 17 was tracking...
DECISION TIME FOR HATTON
Can he have a poke at 18?
HATTON LAYS UP
Gives himself a chance of birdie with a perfect lay-up. Needs the birdie badly. Rahm has 206 yards. He's thinking eagle. The 6-iron is a beauty. That tee shot was massive by the way. He has an eagle putt. Late drama here. Isn't there always with Rahm?
RAI ON 18
Rai is at -16. It's a lovely drive. Still, don't think he's in range to take the par-5 on.
HATTON IS ALIVE
That's some approach from Tyrrell. He'll have a 12-footer for a birdie on 18. Fox, meanwhile, finds a gap between the bunkers with his tee shot. Deep breaths everyone... deep breaths.
EAGLE FOR RAHM... NO
A great effort drives slightly wide, so Rahm can only get to -16. All eyes on Hatton...
HATTON ON 18 - MAKES IT!
What. A. Putt. Silence on the 18th followed by roars.
TIED AT THE TOP
-17 for Hatton and Fox after that timely birdie from the former. Fox knows he now needs to make a birdie to win this thing without going to a playoff. Rai, meanwhile, hits a superb approach onto the green. He'll have a putt to get to -18. Long one, but it's a chance. How do these players smoke a fairway wood like that! Just beautiful.
A PUTT FOR THE WIN?
Beauty from Fox. Seven foot for the birdie and it'll probably be for the win unless Rai drops a bomb for eagle.
SO SO CLOSE!
Rai, my word! Lips out for eagle. How did that miss? Over to you, Foxy.
FOX WINS BMW PGA CHAMPIONSHIP
Ryan Fox is your champion. Holes the putt. Well played, sir. Well played.
WINNER WINNER CHICKEN DINNER?
Ryan Fox wins the BMW PGA Championship 🏆 #BMWPGA | #RolexSeries pic.twitter.com/HXljQe75U5September 17, 2023
See more
Are you not entertained?
A gladiatorial performance from Fox. Now for Rome. We'll be there to bring you all the latest news, as well as a live blog. Bring it on!