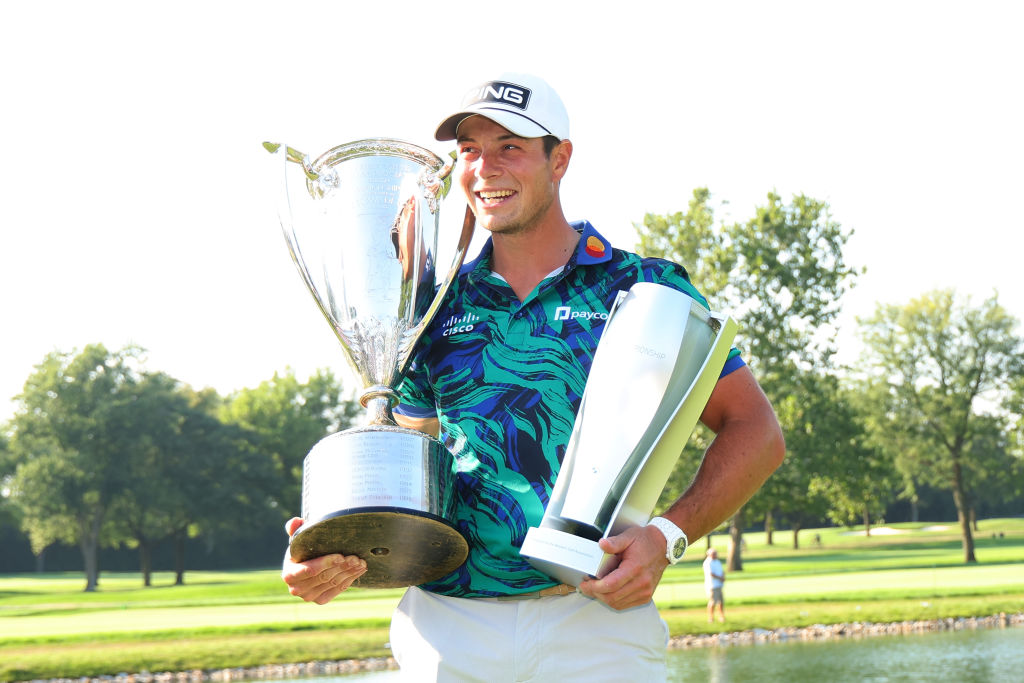 By shooting the the lowest final round in FedExCup Playoff history, the lowest round of his career and the Olympia Fields course record, Viktor Hovland won the BMW Championship in thrilling style. He came home in 28 shots with seven birdies and two pars. He only had one putt longer than 15ft on the back nine and carded a 61.
Scottie Scheffler had begun his final round well, and was putting fine early on, helped perhaps by sending his approach shots so close. He spent much of the final day in the solo lead, or sharing it with Fitzpatrick. At one point the final pair were four strokes ahead of the field.
But when Scheffler's putting got shakier it allowed Hovland, who had started the day tied in 5th and three shots back, to rise through the field and at one stage it became a three-way tie for the lead. But then Hovland powered on through to the summit alone.
The joint overnight leaders, Scheffler and Matt Fitzpatrick, finished in a tie for second after rounds of 66.
Scheffler goes in the Tour Championship top of the FedExCup standings and so will start at -10. Hovland is second in the FedEx Cup standings, so will start at -8.
BMW CHAMPIONSHIP FINAL LEADERBOARD
-17 Hovland
-15 Scheffler, Fitzpatrick
-12 McIlroy
-11 Homa, Harman
-10 Im
-9 Henley, Schauffele

Refresh
Roderick Easdale will be taking you through the final round of the 2023 BMW Championship.
Plot lines galore
Welcome to our live blog of the final day of the BMW Championship. Not only are we witnessing the final day of of a straightforward competition to win the BMW Championship ($3.6 million to the winner and this trophy as well) going on, we have a contest to get into the Tour Championship; we also have a jostling for positions in the FedExCup standings which determine what handicaps the qualifiers will start off with in that event. Those three aspects are all intrinsic to the competition. But there is an external element this year in that it is the final qualifying event for automatic qualification for selection for the Ryder Cup. Several players in the field are still able to play themselves in to, or out of, the qualifying spots depending on how they do today.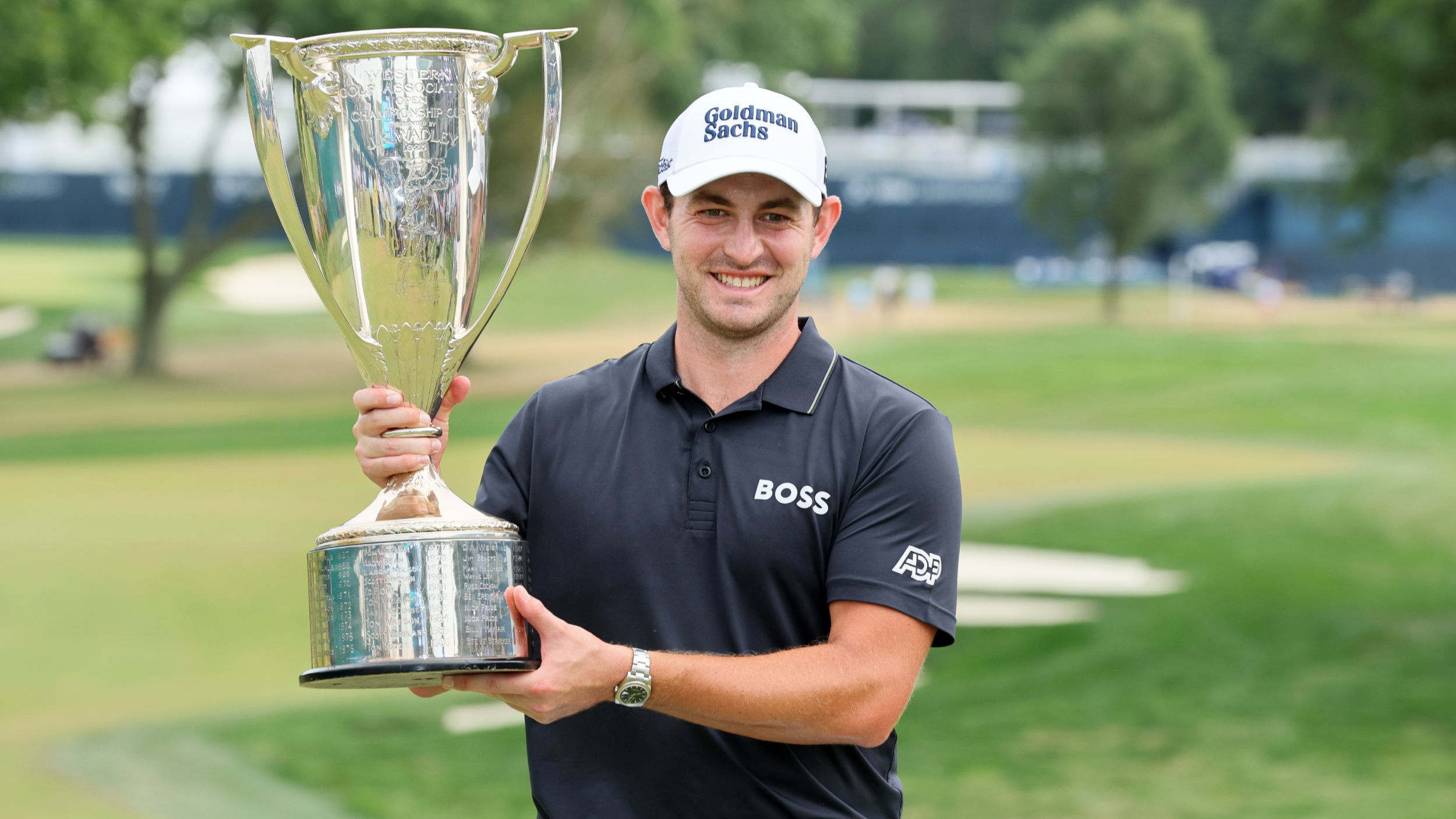 The story of this year's BMW Championship so far
The simplest bit of the complicated entwining storylines is that that strand that is simply about who win the BMW Championship. Well so far it has gone like this:
Day one: It rained a lot. Rory McIlroy only managed to find three fairways all round. He also managed to go round in a bogey-free 65. He shared the lead at the end of the day with Brian Harman who holed a 40ft birdie putt on 16 and chipped in for another birdie on 17 en route his own 5-under 65.
Day two: Max Homa made six birdies on the back nine in his eight-under par 62, a course record. He ended the day two shots ahead.
Day three: A 64 from Scottie Scheffler took him to joint top of the leaderboard with Matt Fitzpatrick (66). Sam Burns equalled Max Homa's course record 62 of the day before, but this only raised him to T7.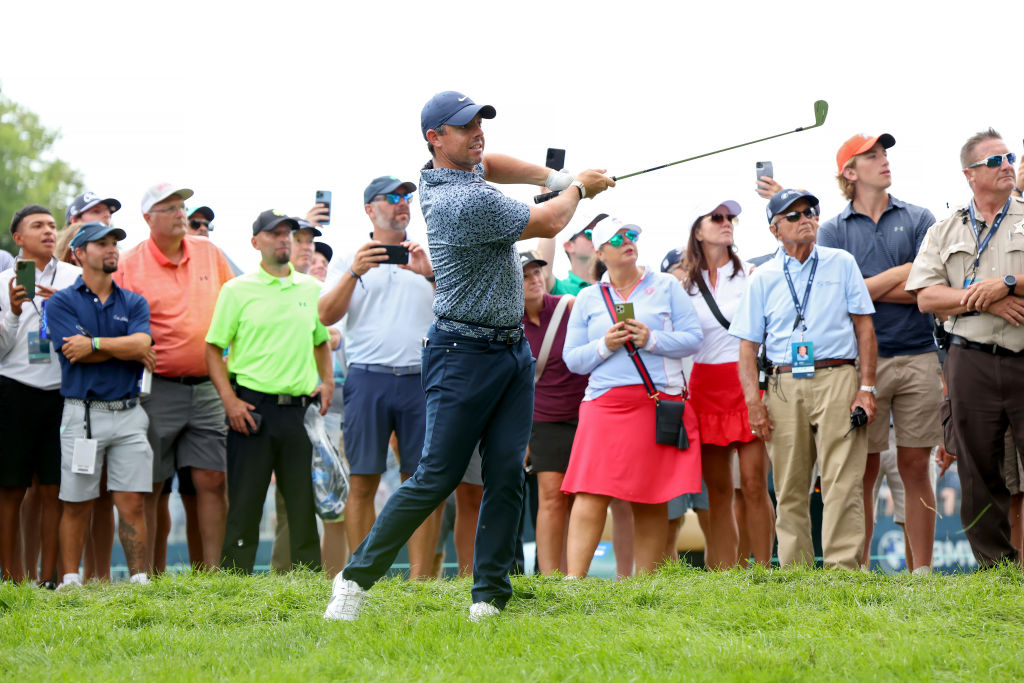 When the leaders are due out
These tee times are in local time, CDT.
It is currently about 11.30am CDT if you need to translate it to your time zone. Or to put it another way, the last pairing will be teeing off in about an hour and 20 minutes.
12.06pm: Xander Schauffele (-7), Justin Rose (-7)
12.17pm: Sam Burns (-7), Denny McCarthy (-7)
12.28pm: Viktor Hovland (-8), Rory McIlroy (-8)
12.39pm: Brian Harman (-10), Max Homa (-9)
12.50pm: Scottie Scheffler (-11), Matt Fitzpatrick (-11)
Glover begins final round well
He makes a birdie on the 1st hole. It was a tap-in birdie, moreover, after a superb approach shot. This has moved him up two positions on the leaderboard to T13.
Sahith Theegala starts birdie-birdie
The top 30 in the FedEx standings go through to the Tour Championship. Sahith Theegala is currently in number 31 spot.
Hoge through the turn in -4 today
The first four holes of the back nine offer some scoring opportunities, too. This tournament they have played as the 12th, 15th, 11th and 16th easiest holes respectively.
Tom Hoge has risen 13 places so far today. But, coming it at 48th in the FedEx standings, he is going to have to rise some more to be playing next week.
Hard Ryder decisions
Lucas Glover is back to level par today through the first three holes having made bogey on the 2nd hole after he airmailed the green when playing out of a greenside bunker. There is a lot of interest in how Glover fares today.
One of the sub plots to the tournament is Ryder Cup selection. This tournament is the final one of the qualification period. Six players qualify for each team and six more get picked by the captains. Scottie Scheffler, Wyndham Clark and Patrick Cantlay are the only three who have already qualified for the USA team.
One of the issues being debated across the media is how much do you go for the tried and proven, and how much do you pick on form. This is especially being raised when it comes to whether Lucas Glover should be in the USA side.
A few weeks ago, well prior to the Wyndham Championship to be exact, Lucas Glover was on no-one's radar for Ryder Cup selection. He was a 43-year-old who had never played in the Ryder Cup and who was 112th in FedEx Cup points table and 118th in the world rankings. Even to get into the FedEx Playoffs he needed to finish in the top two at the Wyndhams. He won. This moved him to 49th in the FedEx. The first of the playoffs, the St Jude Championship, he also won. This moved to 4th in the FedEx standings and 30th in the world rankings.
Do you pick on recent form, in which case Lucas Glover is an obvious pick. Or do you take a longer-term view, the old "form is temporary, class is permanent" argument and leave out Glover for someone who is performing worse than him at present?
In a weird way, Ryder Cup selection would complete a sort of circle for Glover, well maybe a lopsided oval. He won the US Open in 2009, but did not get selected for the next Ryder Cup, in 2010. He did play the 2009 Presidents Cup. Ten of the 12-man team qualified he and Hunter Mahan were Fred Couples' two captain's picks. Now could Glover play in a Ryder Cup in a season in which he did not even play in any of the Majors?
Glover is 16th in the Ryder Cup qualification table and his only hope of qualifying automatically is if he finishes first in the BMW Championship. Even then, he will need results to go his way elsewhere in the field.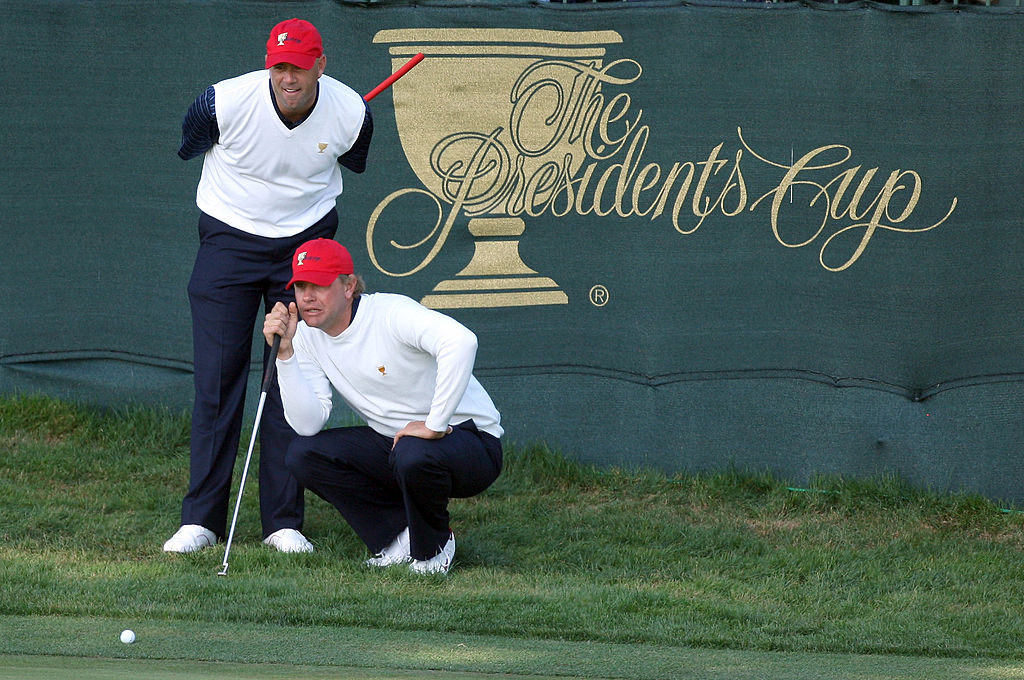 Rose has just been introduced on 1st tee
Xander Schauffele got introduced as the reigning Olympic gold medallist. Justin Rose got introduced based on something he won 12 years ago. Admittedly it was the BMW Championship.
They should ban cameras from the range
Last few minutes of the television coverage has been mainly of McIlroy hitting balls on the range. What is the desire from producers to show players warming up when the tournament is going on? We see little enough of the actual action as it is.
Update: We then went to an advert break, after seeing Rose find the bunker on his approach on 1. Now we have come back from the break... to be shown Scheffler on the range.
Rose didn't get up and down from the bunker so he drops a shot on what has been the easiest hole so far this week.. He is now 31st on the projected FedEx points table. Just a reminder: top 30 proceed to East Lake next week.
There is a lady whose job is...
...to stand at the front of the grandstand behind the 1st tee facing the spectators holding up her hands as a sign to people in grandstand to be quiet. I hope she does not like golf as she will have had her back to the play all day. Or maybe in about 20 minutes' time when everyone has teed off, she can wander off and watch some of the action? Or perhaps she hates golf and so that is why she was picked her for this particular bit of stewarding?
Straka has finished his round... and perhaps the playoffs
He went round today in 66. This leaves him currently 33rd in the FedEx points table. He went out in a sprightly 30, but could only come back in 36, with eight pars and then a bogey on 18.
Brooks to qualify for Ryder Cup?
Another Ryder Cup subplot to this tournament concerns Brooks Koepka. He is currently 5th in the qualification table. The top six in this will qualify at the close of this tournament. Qualification points are awarded at the BMW Championship in the form of 1pt per $1,000 won in prizemoney,
Brooks Koepka, who is not playing the BMW Championship as he is a LIV player, cannot add to his Ryder Cup points qualification total. (All his points have come from the Majors). But all bar one (that one being Justin Thomas) of his immediate chasers are here in Illinois.
Max Homa will overtake Koepka if he wins at least £572,390. To get this amount of prize money he will need to come at least solo 9th.
Where those below Koepka need to finish to rise above him:
Max Homa: solo 9th or better
Xander Schauffele: solo 8th or better
Jordan Spieth: solo 3rd or better
Cam Young: two-way tie for 2nd or better
Collin Morikawa and Keegan Bradley: solo 2nd or better
Sam Burns, Rickie Fowler, Denny McCarthy, Lucas Glover and Kurt Kitayama: 1st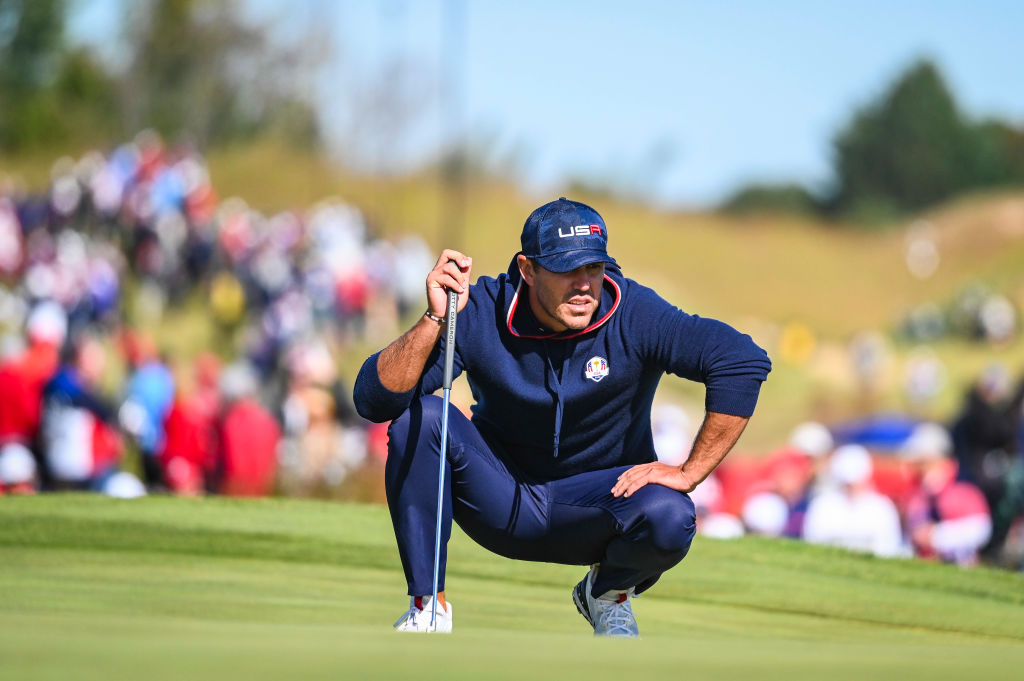 Some early finishers who will miss the cut for the Tour Championship
Kurt Kitayama has finished his round. He went round in -2, for a final +4. He is currently T42 and is projected to miss the cut for The Tour Championship. He is 35th in the FedEx rankings.
Seamus Power and Lee Hodges, who started 35th and 36th in the FedEx table, have finished their round and have slipped further down the points table. They will be getting next week off, too.
Rahm in the clubhouse
He shot 67 today, and is level par for tournament. He is T34 and second in the FedEx table.
Talking of the clubhouse
It was certainly built on an Olympian scale.
Olympia Fields Country Club was founded in 1915, and ten years later, when all the parts of the plan had come to fruition, it had four 18-hole golf courses, making it the first 72-hole private golf course in the country. It also had world's largest private clubhouse (it covered 2.5 acres) with a dining room that seated 800 and a cafe that seated 600. The locker room, whch is bigger than many club's actual clubhosues at 10,00sq ft, was designed to provide facilities for 1,200 golfers. When the club opened it had 500 members. By 1940 it had 1,400 members.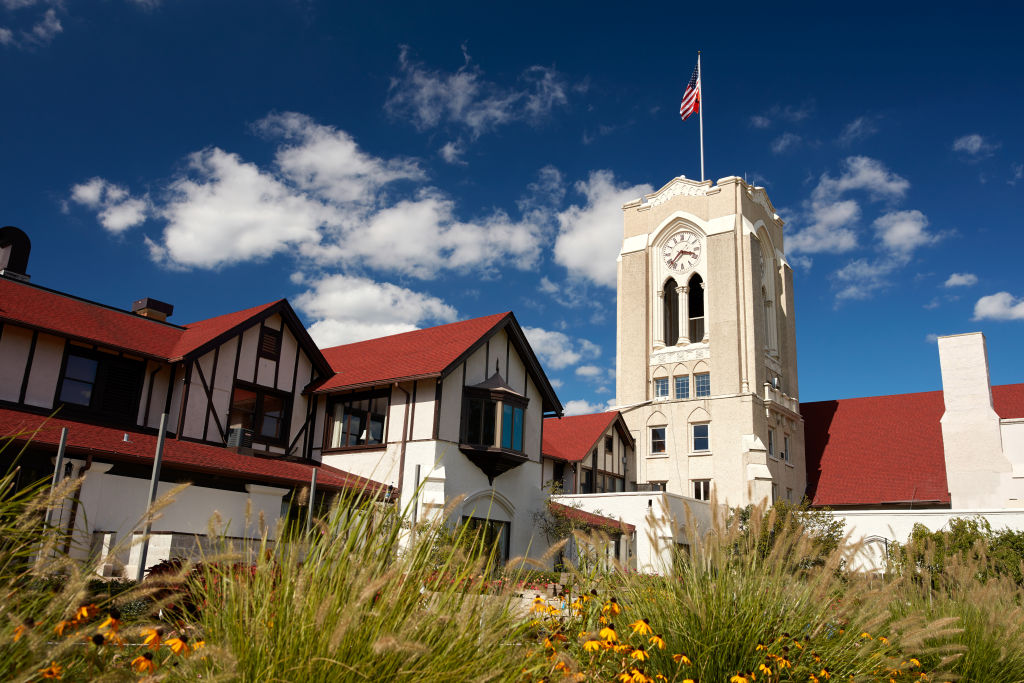 Luck of the Irish?
"You're kidding me," said Rory McIlroy as he watched his drive off the 4th head towards out of bounds on the left. But his ball hits a tree and bounces back into the rough.
Scheffler takes solo lead
He makes birdie on the 2nd courtesy of a 153-yard approach shot to within 9ft.
Grillo in the clubhouse
He is round in 67 and lies T32. But more importantly he is now 28th in the FedEx rankings. He had been 33rd after his 11th hole today, but a birdie on 14 took him to 30th; par on 15 to 29th and par on the last to 28th.
Scheffler nearly holes his approach on the 3rd
It pitches beyond the hole and rolls back but just past the hole. His approach was from 144 yards; his putt from 17 inches. Birdie. Playing partner Fitzpatrick also makes birdie, but his putt was 20ft.
That approach by Scheffler
Can't get much closer than this 😳Scottie Scheffler stays dialed @BMWChamps. pic.twitter.com/Z13Jra6hsuAugust 20, 2023
See more
Spieth finishes his round
He now lies 30th in the FedEx table. He bogeyed the last, as had Straka earlier. Straka lies 31st but is in the clubhouse. However McCarthy, Rose and Theegala are 32-34 and they are out on the course.
Back to co-leaders
A Fitzpatrick birdie after his approach on 4 left him a 3ft putt, draws him level with Scheffler
Hatton finishes bogey-bogey
He had a tantrum and a bit of club throwing on the 18th when he made a mess of his second shot from a tricky spot. His back nine is as ugly as this display, with bogeys on 10, 11, 17 and 18 and a double bogey on 15, set off by birdies on 12 and 16. He is round in a one-over 71, but lies inside the magic 30 cut off point - he is 29th.
Leaders trade birdies on par-3 6th
Fitz hits to 4ft; Scheff to 6ft. The top two are now four shots ahead of the field.
The course
This tournament is being played over the Olympia Fields' North Course. There used to be four courses at Olympia Fields, called 1, 2, 3, and 4. (The 80ft clock tower above the clubhouse was designed so that one of its four faces could be read from the 1st tee of each of the courses.) Willie Park Jr was brought in to make some tweaks to the three existing courses that the club had, and they liked his work so much he was asked to design the club's fourth course.
Willie Park Jr had been born in Musselburgh, Scotland, the second son of a four-Open champion Willie Park Sr. He was to win the Open twice himself. His uncle, Mungo Park won it also. Willie Park Sr, having accepted a commission to design a course in the Scottish Borders but was unable to do the work himself, he asked his son to do it instead. This set Willie Park Jr off on a highly successful career as a course architect.
However he had many business interests. He took over his father's clubmaking business and expanded it so much that he had a factory employing 40, with 20 more employees working in retail outlets in Edinburgh, Manchester and London. He designed new clubs, such as the lofter and bulger, and golf balls. He also wrote two bestselling books on golf.
He also became known for his work in designing inland golf courses. He designed what is now known as the Old Course at Sunningdale and the highest ranked course in Golf Monthly's Top 100 Courses that is not a links.
Keith Cutten, in The Evolution of Golf Course Design, writes: "In 1901, when both Sunningdale (Old) and Huntercombe opened to rave reviews, Willie Park Jr significantly elevated the standard of inland golf course architecture in Britain... These two projects secured Park's success, enabling him to become one of the first full-time golf course architects."
After the First World War, Park moved to North America. He is credited with designing at least 60 courses in the US and Canada. His course for Olympia Fields, which opened in 1923, was one of his last designs, and he reckoned quite possibly his best, writing to the club that: "I have examined thousands of places adaptable for the ideal golf course, both in Europe and America, but I have never seen a more natural setting for a championship course. I am satisfied now that your number IV course is the equal of any golf course I have ever seen and I know of none that is superior, either in beauty or natural terrain."
There was an intention to have a fifth course at Olympia Fields. This never happened, and financial pressures reduced the courses to two when land was sold off in the 1940s to clear the club's debts. A new course was constructed from courses 1, 2 and 3, but the Course 4 was left intact, as the best on the property. It was renamed the North course and the new course was named the South Course.
The club says that "The North Course remains steadfastly faithful to Park's original design, with precious few changes over the decades other than deepened bunkers and additional length." Features of the layout include narrow fairways and small greens protected by greenside bunkers. Butterfield Creek winds its way through the course, and is part of the design of seven of the holes. There is little by way of elevation change across the course with it highest and lowest points having only a 42ft difference in height.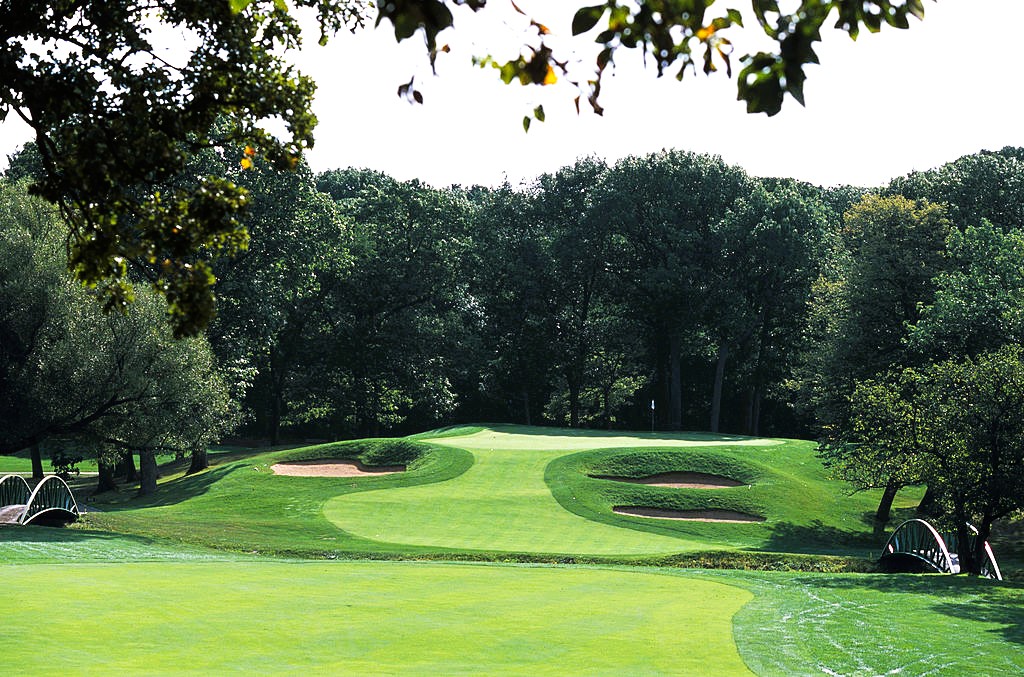 Henley just misses the course record
Two men have already shot 62 this week, and a par on the last for Henley would have made it three. But he made his first bogey of the round. He has to settle for 63 and the clubhouse lead. He takes this from Tom Kim, who also shot a 63 today after he birdied the final four holes. Henley is T7; Kim T12.
Fitz three putts 9th
He drops back to second place at the turn. He only found two front-nine fairways. Back-to back birdies on 10 and 11 have moved Hovland up to a shot off Fitzpatrick and two off the lead.
Kirk in the house
Yet another of the Bubble Boys has finished his round, He shot 71. He was 28th in the FedEx table after 15 holes, then a bogey on the par-3 16th took him to 31, and now he is 32nd.
How the bubble stands as of now
26 - Day
27 - Grillo
28 -Theegala
29 - Hatton
30 - Spieth
----
31 - Straka
32 - Kirk
33 -McCarthy
34 - Rose
35 - Kitayama
Scheffler and Fitzpatrick trade birdies again
Scheffler had a 5ft birdie putt on the 10th; Fitzpatrick one of 12ft.
Transporting to the past
Ironically for the host of a tournament sponsored by BMW, it was the railway that was key to the success of Olympia Fields. Olympia Fields may be a modest one-island-platform station on the Metra Electric Line, but it is a five-minute walk from the entrance to the golf club.
"The train was critical to the club in the early years, as that was the only way for members to get to the club from the city," Olympia Fields former Director of Golf Brian Morrison has explained. "Without the train, there would be no club."
Taking of railways, Joohyung Kim is known as Tom because of Thomas The Tank Engine, an anthropomorphised tank engine in the children's books by Revd W. Awdry. Kim was given the nickname Thomas because of his love for Thomas The Tank Engine, "As I grew older, some people started calling me Tom and I thought it was just shorter and more simple. I think by the time I was 11 I just went by Tom."
On subject of names, Rev W, Awdry's Christian name was Willbert, which he was given as it combined the names of his father's two favourite brothers, William and Herbert.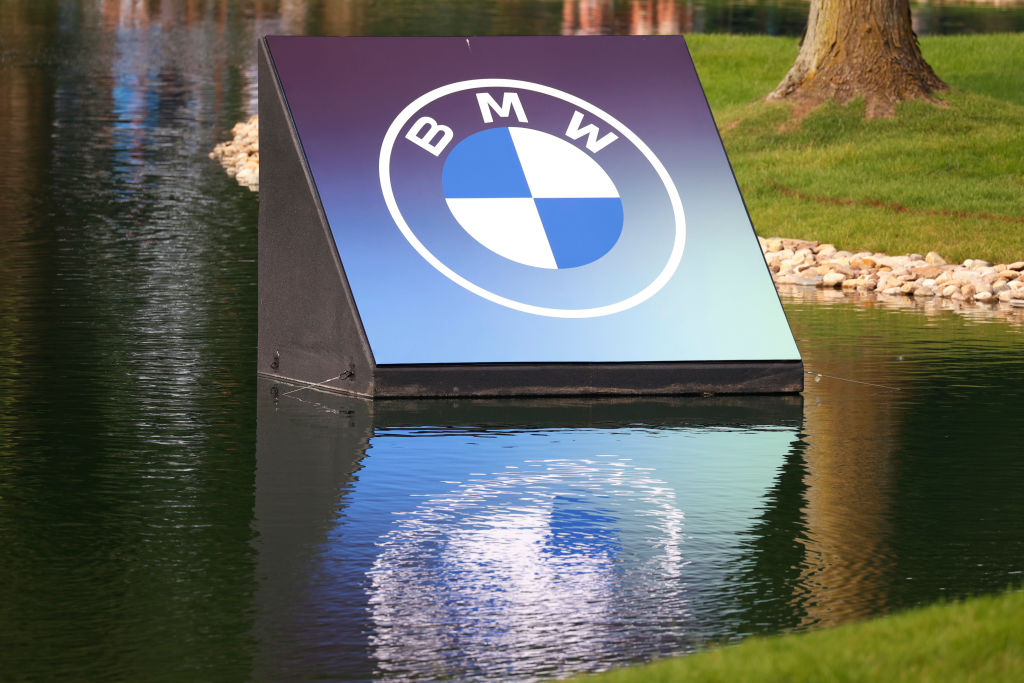 Another bubble boy has played all 72
It's Sahith Theegala. He finished birdie-birdie-birdie-bogey. After those four holes he was 33-29-29-29 in the FedEx rankings.
Cantlay can't
Cantlay has gone 68-68-71-67 and lies T15, three shots behind clubhouse leader Russell Henley (T8). So Patrick Cantlay's effort to win the BMW Championship for a third year in a row has ended unsuccessfully.
But there is neither shame nor surprise in this. Cantlay is the 19th player to have an opportunity to win the same PGA Tour event three times running since Steve Stricker did so when he won the John Deere Classic for the third consecutive time in 2011. None of the other 17 players managed it either.
Scheffler two putts from six feet on 11
It's back to co leaders.
Hovland makes it three at the top of the leaderbaord
He has played each of the five holes at the start of the inward nine in 3 shots. His birdie on 14 has catapulted him from 7th to 2nd in the FedEx rankings.
Scheffler out alone in front again
His 16ft birdie putt drops on 12.
Scheffler now two shots ahead
After he sinks a 24ft putt for birdie on 13.
Caddies
Caddies are are essential part of Olympia Fields experience as "guests are not allowed to walk and carry their own bag at any time." You even have to have a caddie here if you are not walking but going round in a buggy. But in these circs they take on the roles of forecaddies instead. When the club had four courses it also had 1,000 caddies.
Olympia Fields' caddie dress code requires that they "wear a caddie bib with the OFCC logo, a name tag, a white shirt and a caddie hat. Khaki pants or shorts are to worn when providing services on club property. They are also to have a ball mark repair tool each round. Caddies planning to provide caddie services at OFCC can purchase these items as a package each season for $100.'
Augusta National has a dress code for its own caddies – those white jumpsuits – which it also imposes on outside caddies during The Masters. But OFCC has not imposed their code of the caddies in the BMW Championship –which has saved the caddies $100 each by the sounds of it.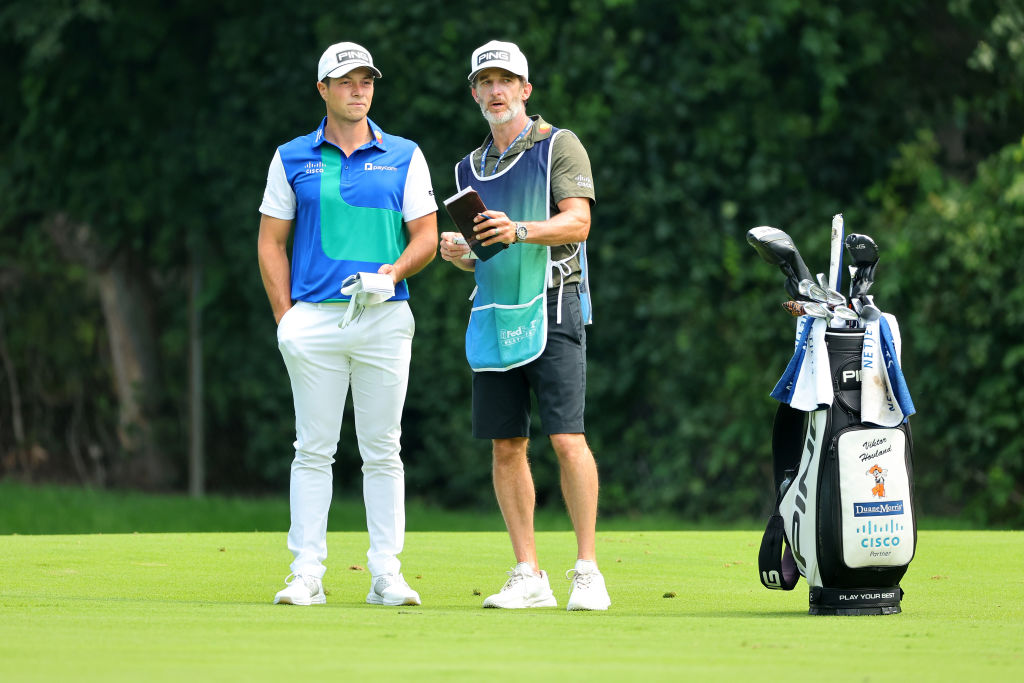 Hovland with another birdie
That is five in the six holes on the back nine. He looks to be Scheffler's main challenger, especially as Fitz has just played an approach which got the spectators up off their seats in the wrong way - to avoid his ball.
We have a new clubhouse leader
It's Sungjae Im. He has gone 68-68-68-66 and is T6.
Hovland is -7 for his round
He has two holes to play. They are tough holes - the 17th has played the 7th hardest this week, and 18 has been the hardest hole. But a par and a birdie and he ties the course record. He is a stroke behind Scheffler. Fitzpatrick made bogey on 14 after his ball ended up under a spectator's chair and is now two shots back from Hovland and three off the lead.
Scheffler duffs a chip on 15
It lands not on the green but on the thicker fringe and dies pretty pronto. He can only par the second (and last) of the par 5s. Fitz makes a birdie, and so pulls to within two shots of the lead.
Scheff and Fitz playing darts on 16
Two excellent birdie chances coming up.
Record in sight
Hovland had birdied the 17th. He is now co-leader with Scheffler. For the moment anyhow, as Scheffler has that extremely gettable birdie putt coming up.
Scheffler misses his putt; Fitzpatrick does not
Scheffler's was measured at 7ft 3in. Fitzpatrick's at 5ft 5in.
That record round is in Viktor's grasp
Hovland has left himself an definitely sinkable birdie putt on 18. We are talking what about 6ft? 7ft tops?
Hovland's birdie putt drops
It is only the 7th birdie on that hole today and with it he has set a new course record of 61. He has come back in 28.
Hovland leads on -17, a shot ahead of Scheffler. Hovland the favourite now.
The putt was measured at 6 ft 7in by the way.
Scheffler needs eagle on the last to force a playoff
Scheffler's birdie putt on 17 does not show much interest in going near the hole, and he has a four-footer coming back for par which he sends past on the right. Fitz had already made his par. (So Fitz needs an eagle, too!)
Viktor is victor
Scheffler played first. He had a wedge shot of 146 yards for his eagle. It is straight at the flag but comes up shy and spins back. Fitz had a shot of 137 yards, which goes beyond the flag and spins back past the flag by about 2 or 3 feet. The final pair is now putting for second place.
And our runner up is...
Jointly Scheffler and Fitzpatrick. Fitz's birdie putt hit the rim. Had it gone in he would have sent Hovland into first place on the FedEx standings and Scheffler down to second.
So Scheffler will start the Tour Championship with a two-shot start
The Tour Championship or TOUR Championship as the PGA Tour like to style it (no I don't know why, perhaps they just like being different - or annoying) is essentially a handicap competition. But it is one with a difference as the best players are further advantaged, so its not like the monthly medal at you club. (Told you - the PGA Tour like to be different.)
The chap who is top of the FedEx points table, who we now know is Scottie Scheffler gets 10 shots lopped off his 72-hole stroke-play score in the Tour Championship. The bloke in 2nd (Hovland) starts at -8 and the one on number 3 (McIlroy) starts at 7-under; the No. 4 player (Rahm) at 6-under and the chap in fifth (Glover) 5-under. Players 6-10 start at 4-under; those 11-15 start at 3-under; 16-20 at 2-under; players 21-25 at 1-under; and players 26-30 start at level par.
That back nine by Hovland
Viktor Hovland has become the first golfer since Kevin Streelman at the Travelers Championship of 2014 to shoot a back nine 28 in the final round to win on the PGA Tour. Hovland's back nine was seven birdies and two pars.
That Scheffler missed putt on 17
A bogey on No. 17 for Scottie Scheffler puts him two back heading to the last. pic.twitter.com/ERUl9fw6qKAugust 20, 2023
See more
Who Is In The Tour Championship and with what shot advantage?
Scheffler: -10
Hovland: -8
McIlroy: -7
Rahm: -6
Glover: -5
Homa, Cantlay, Harman, Clark, Fitzpatrick: -4
Fleetwood, Henley, Bradley, Fowler, Schauffele: -3
Kim, Im, Finau, Conners, SW Kim: -2
Moore, Taylor, Schenk, Morikawa, Day: -1
Burns, Grillo, Hatton, Spieth, Straka: level par
Victor Viktor