LIV Golf 'Trying To Buy The Game' - Jack Nicklaus
Jack Nicklaus tells Sir Nick Faldo that he never played for money in his day, with LIV Golf trying to buy the modern game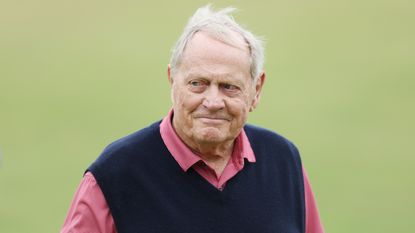 (Image credit: Getty Images)
Jack Nicklaus says that LIV Golf are using their huge wealth to try and "buy the game" of golf, although he doesn't blame any of the players for deciding to join Greg Norman's new venture.
In an interview with Sir Nick Faldo for his new podcast, the 18-time Major champion says the Saudi-backed outfit have splashed so much money on LIV Golf in an attempt to "buy respectability" within the game.
Nicklaus has no issue with players opting to cash-in and join up with LIV Golf, but is not too happy with how it has shaken up the game – even if changes the PGA Tour are making would have come sooner or later.
"I don't fault the guys who have gone to LIV," Nicklaus told Sir Nick's Round Table Chats on YouTube. "You have to make a choice, between playing golf for a short period time, for a lot of money, to put away for your family, or do you have the loyalty to play regular golf, then the senior tour and into retirement.
"It's a quick hit and that's their call, and I don't fault that. But I don't think it's been good for the game of golf, the PGA Tour was forced to react and I don't like the way we've automatically created a secondary tour within the main tour, we've created a second layer.
"But times change though, so you go with the times. The future of LIV will depend on how these legal cases are handled.
"It's money trying to buy the game, it's trying to buy respectability, and I don't think that's what it's all about.
"Somebody said they're trying to buy the ability to sit on the veranda at Augusta National sipping Mint Julep with the membership and be accepted. It's trying to gain acceptability within the mainframe of the game of golf."
Nicklaus - We never played for the money
Nicklaus revealed in an interview with the Fire Pit Collective that he turned down "in excess of $100m" to work for LIV in a similar capacity to Norman - who did not take too kindly to that news.
The ever-increasing prize money within professional golf is all a far cry from back when Nicklaus was hoovering up Majors and dominating the game, but he insists that financial gain was not the motivating factor when he was playing.
"During my era, I did what I did, I won a few tournaments and there wasn't much money, although we thought it was good money then," Nicklaus told Sir Nick.
"My lifetime earnings including both tours was about eight million or something like that – 10 guys make that now every year! There's a lot to be said about today's era, but I wouldn't trade what I did – I loved it.
"The game of golf we played was because we loved the sport, we never played for money – money was a side thing that because we won on the golf course we could use our names to go and make a living – today the guys make a living on the golf course, which we didn't."
Paul Higham is a sports journalist with over 20 years of experience in covering most major sporting events for both Sky Sports and BBC Sport. He is currently freelance and covers the golf majors on the BBC Sport website. Highlights over the years include covering that epic Monday finish in the Ryder Cup at Celtic Manor and watching Rory McIlroy produce one of the most dominant Major wins at the 2011 US Open at Congressional. He also writes betting previews and still feels strangely proud of backing Danny Willett when he won the Masters in 2016 - Willett also praised his putting stroke during a media event before the Open at Hoylake. Favourite interviews he's conducted have been with McIlroy, Paul McGinley, Thomas Bjorn, Rickie Fowler and the enigma that is Victor Dubuisson. A big fan of watching any golf from any tour, sadly he spends more time writing about golf than playing these days with two young children, and as a big fair weather golfer claims playing in shorts is worth at least five shots. Being from Liverpool he loves the likes of Hoylake, Birkdale and the stretch of tracks along England's Golf Coast, but would say his favourite courses played are Kingsbarns and Portrush.