Jordan Spieth Shows Why He's Box Office Viewing As He Starts 2023 In Style
An outrageous flop shot, betting chat with the crowd and a missed two-foot putt for Jordan Spieth's first round of 2023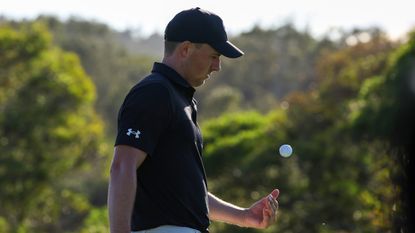 (Image credit: Getty Images)
Jordan Spieth is well known for being box office viewing but even for him his first round of 2023 was especially entertaining both on and off the course with some sublime shots accompanied with some nice interaction with the crowd.
Spieth pulled off one of the best flop shots you'll see all year when short-sided and in a collar of rough just outside a greenside bunker, hoisting the ball miles into the air and landing it soft on the green and, predictably, sending it into the hole!
It's a shot mere mortals would not even attempt and a shot that even hardened pros would think twice about, given the difficulty tariff on it meant that disaster was lurking.
Not Spieth though, who thrives off going for the Hollywood shots and the more he tries them the more they seem to come off.
It was the on-course highlight of Spieth's six-under round at the Sentry Tournament of Champions in Hawaii that saw him tied for 11th after the opening 18 holes.
In entertainment value, though, Spieth is the number one as he showcased on the 12th green at the Plantation Course at Kapalua on the island of Maui, after hearing some unusual murmurings from the crowd.
With a smaller crowd at the Hawaii events than other PGA Tour tournaments, conversations can be picked up easier by the players, and Spieth knew exactly what a couple of fans were discussing.
"Guys, please," was Spieth's first response as he lined up a par putt. But when he made the putt he gave a more comical admonishment to the gamblers in the crowd who had been betting on the action.
"I appreciate the exchange of money," Spieth added. "I'd be doing the same thing, but I could just hear you gambling right off the back of the green."
When the fans apologised, Spieth gave them a fist bump and said "all good, you're good" as he wandered off the green with a chuckle.
Spieth being Spieth though, just for good measure, the American threw in a missed two-foot putt for par in his round as well for his only bogey over a very enjoyable first round of the year for his legion of fans.
Paul Higham is a sports journalist with over 20 years of experience in covering most major sporting events for both Sky Sports and BBC Sport. He is currently freelance and covers the golf majors on the BBC Sport website. Highlights over the years include covering that epic Monday finish in the Ryder Cup at Celtic Manor and watching Rory McIlroy produce one of the most dominant Major wins at the 2011 US Open at Congressional. He also writes betting previews and still feels strangely proud of backing Danny Willett when he won the Masters in 2016 - Willett also praised his putting stroke during a media event before the Open at Hoylake. Favourite interviews he's conducted have been with McIlroy, Paul McGinley, Thomas Bjorn, Rickie Fowler and the enigma that is Victor Dubuisson. A big fan of watching any golf from any tour, sadly he spends more time writing about golf than playing these days with two young children, and as a big fair weather golfer claims playing in shorts is worth at least five shots. Being from Liverpool he loves the likes of Hoylake, Birkdale and the stretch of tracks along England's Golf Coast, but would say his favourite courses played are Kingsbarns and Portrush.