Brandel Chamblee Hits Back At Claude Harmon 'Paid Actor' Claims
Golf Channel analyst Brandel Chamblee says Claude Harmon wants to "profit from evil" as he hit back on "paid actor" comment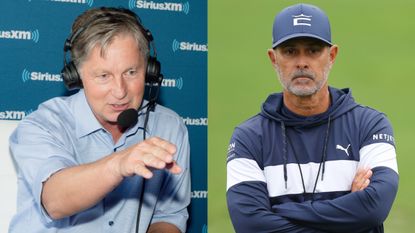 (Image credit: Getty Images)
Brandel Chamblee is never one for taking criticism lying down, and he's responded to being called a "paid actor" by Claude Harmon III in typical fashion with a lengthy Twitter post outlining his objections to LIV Golf.
In a long and staunch defence of his position on Saudi Arabia funding LIV Golf, Chamblee slammed Harmon for being happy to "profit from the evil" by defending the new tour.
While some of Harmon's comments went a bit overboard, the point still got across, and Chamblee has answered saying that the "farrago of whataboutisms" against him are merely diversionary tactics to excuse LIV Golf's Saudi Arabian funding.
"Much like sportswashing, its sole goal is to obfuscate," Chamblee wrote of Harmon and similar criticism.
"Of course it is usually accompanied by an ad hominem attack most notably by calling someone a hypocrite or most recently as directed at me, a paid actor to recite my lines.
"The accusation that I am just a proxy for the opinion of my employer is a curious one to me. No one for whom I work with or for has ever tried to influence what I am going to say.
"I'd like to think that they trust whatever opinion I have, whether it agrees with their's or not, I've done the research to back it up. Which is more than I can say for those who suggest that because there is evil everywhere, all evil is relativized and unless all of it can be addressed at the same time and in the same way, it should all be ignored.
"Especially, as in the case of the person who called me a paid actor, if they can somehow profit from the evil. This is where the debate crashes headfirst into the nexus of politics, sports and narcissistic greed.
"Where those who want to escape it most often cloy at whataboutisms, to stop the discussion with a pejorative accusation because they don't want their motives to be discovered. "
The farrago of whataboutisms that inevitably accompanies any discussion on sportswashing, attempts, in answering a condemnation with an accusation, to impugn the credibility of the accuser and to distract from having to deal with the complexities of the question. Much like…May 24, 2023
See more
In what was a pretty epic interview from Hamon, he let rip on a few topics and with everyone from Tiger Woods to Will Zalatoris on the receiving end.
Brooks Koepka's PGA Championship victory raised all kinds of questions about LIV Golf and the validity of Greg Norman's new tour - with Harmon backing that claim and hitting out at what he said was hypocrisy from its critics.
Chamblee was in that camp, being labelled a "paid actor" for Golf Channel and labelled a hypocrite by Harmon due to NBC showing the Olympics from Russia and China.
But the Golf Channel analyst isn't interested in debate about whether LIV Golf is a valid tour, or whether it's been good for the PGA Tour, as it detracts from his main objection of the source of funding.
"To raise the question whether LIV has been good for the PGA Tour is to miss the very human and most important point of the whole issue of sportswashing.
"It is bad for the people who continue to be oppressed by the man who funds LIV Golf.
"So while Brooks Koepka's win at the PGA Championship was impressive, it should not distract us from the simple fact that LIV players are being used for the benefit of some very bad people and to the detriment of a great many more good people.
"That LIV Golf, with its inability to develop stars and seeking to buy them like high performance cars, is undermining the dignity intrinsic in golf.
"Dignity that was most profound in watching the play of Michael Block, the club professional who stole the show at the PGA Championship with his gratitude and joy and of course with his incredibly sharp game.
"He was a stark reminder of what is missing in LIV Golf and even what will be missing in the PGA Tour's no cut, small field, designated events next year.
"Because golf has always been and hopefully will always be, more about hope than heroes."
Paul Higham is a sports journalist with over 20 years of experience in covering most major sporting events for both Sky Sports and BBC Sport. He is currently freelance and covers the golf majors on the BBC Sport website. Highlights over the years include covering that epic Monday finish in the Ryder Cup at Celtic Manor and watching Rory McIlroy produce one of the most dominant Major wins at the 2011 US Open at Congressional. He also writes betting previews and still feels strangely proud of backing Danny Willett when he won the Masters in 2016 - Willett also praised his putting stroke during a media event before the Open at Hoylake. Favourite interviews he's conducted have been with McIlroy, Paul McGinley, Thomas Bjorn, Rickie Fowler and the enigma that is Victor Dubuisson. A big fan of watching any golf from any tour, sadly he spends more time writing about golf than playing these days with two young children, and as a big fair weather golfer claims playing in shorts is worth at least five shots. Being from Liverpool he loves the likes of Hoylake, Birkdale and the stretch of tracks along England's Golf Coast, but would say his favourite courses played are Kingsbarns and Portrush.