Tiger The Ultimate Money Up Front Guy - Harmon Takes Aim At Woods In LIV Defence
Claude Harmon III says Tiger Woods was the ultimate in getting money up front, using that example to defend LIV Golf after Brooks Koepka's victory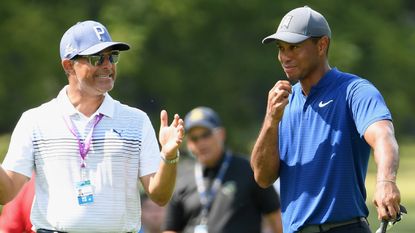 (Image credit: Getty Images)
Nobody escaped Claude Harmon III's tirade against all and any LIV Golf critics – even including Tiger Woods who was labelled as "the ultimate guy who got all the money up front" as Brooks Koepka's coach defended the Saudi-backed tour.
Harmon revelled in Koepka's PGA Championship victory at Oak Hill, and in a fiery interview with Golfweek he took the opportunity to hit out at all those who questioned the legitimacy of Greg Norman's new tour.
The Golf Channel's Brandel Chamblee and Golfweek's Eamon Lynch got clobbered by Harmon, as did Will Zalatoris although not for anything he's done – more the media hype over him.
And not even Tiger escaped, with Harmon using the 15-time Major champion to illustrate his defence of LIV Golf players getting so much money up front – which was used as a slight against the new tour.
"If I'm critical of you guys in the media, you guys portrayed this as (Brooks) took the money and then Tiger came out with his comment, you know, Tiger, the ultimate guy who got all the money up front," Harmon told Golfweek.
"I mean, I was around then. He flew to his first professional golf tournament on Nike's private jet, and he wasn't paying for it."
Harmon says that Koepka's win at Oak Hill busted a myth about LIV Golf that players would not be motivated to play well because they'd already been paid – which he says is directly opposed to what happens in other sports.
"This goes a long way to debunking the LIV myth, which is everybody got paid, you're not going to care, and if you get paid you're going to phone it in," he added.
"Nobody thinks that way with Lamar Jackson, with Dak Prescott, with the NBA. Why is golf different? Why do we want golf to be not like everything else? That's what I fundamentally don't get.
"But how you guys all thought that these guys just weren't going to show up and be great players is beyond me. I think it is an interesting Jedi mind trick that they played on you guys and you guys fell for it.
"Because you guys were all, 'These guys were all washed up. They took the bag. They're insignificant. They play against no competition.' And that's just not the case.
And Harmon insists he's not just a LIV Golf fan boy, saying he backs the new tour because he wants pro golfers to get paid what they're worth.
"I want LIV to succeed and I want LIV to work because I am pro-professional athlete," he said. "I don't think Rory McIlroy should go anywhere in the world without somebody paying him, including Memphis and Memorial. That's how good he is.
"Jon Rahm, Scottie Scheffler, if you're in that category, you shouldn't be going anywhere without being paid because it's how good you are."
Paul Higham is a sports journalist with over 20 years of experience in covering most major sporting events for both Sky Sports and BBC Sport. He is currently freelance and covers the golf majors on the BBC Sport website. Highlights over the years include covering that epic Monday finish in the Ryder Cup at Celtic Manor and watching Rory McIlroy produce one of the most dominant Major wins at the 2011 US Open at Congressional. He also writes betting previews and still feels strangely proud of backing Danny Willett when he won the Masters in 2016 - Willett also praised his putting stroke during a media event before the Open at Hoylake. Favourite interviews he's conducted have been with McIlroy, Paul McGinley, Thomas Bjorn, Rickie Fowler and the enigma that is Victor Dubuisson. A big fan of watching any golf from any tour, sadly he spends more time writing about golf than playing these days with two young children, and as a big fair weather golfer claims playing in shorts is worth at least five shots. Being from Liverpool he loves the likes of Hoylake, Birkdale and the stretch of tracks along England's Golf Coast, but would say his favourite courses played are Kingsbarns and Portrush.