Singapore Swing: The Asia-Pacific Amateur Championship
Fergus Bisset reports from the Asia-Pacific Amateur Championship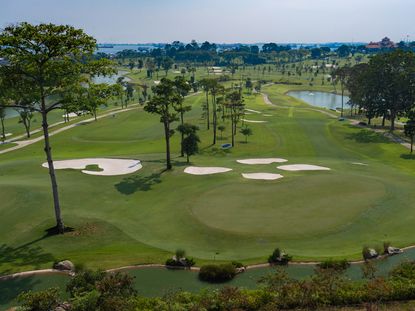 (Image credit: AAC)
Golf Monthly Newsletter
Golf tips and expert instruction, golf club reviews and the latest golf equipment.
Thank you for signing up to . You will receive a verification email shortly.
There was a problem. Please refresh the page and try again.
Fergus Bisset travels to Sentosa GC in Singapore this week to report for GM on the 10th Asia-Pacific Amateur Championship. He'll keep us up to date in this blog.
Singapore Swing: The Asia-Pacific Amateur Championship
A selection of superb courses
Yesterday I had a chance to sit down and chat with Sentosa's General Manager and Director of Agronomy Andy Johnston. He is an extremely knowledgeable chap and a very nice one too. His background is in both turf science and in architecture. He worked with Arnold Palmer on the design of numerous courses around the world and then with Gene Bates on many more – 100s in total!
Andy's career makes for a fascinating story in itself and I'll cover it more in an extended article when I'm back from my travels.
Johnston is clearly a master of agronomy though and what he has done at Sentosa with both the New Tanjong and Serrapong courses is quite incredible. The cutting-edge techniques he has employed have not only served to deliver tournament-quality playing surfaces all year round here but have also enabled the club to become one of the most environmentally conscious in all of Asia. From ground-breaking maintenance programmes to eliminating plastic, Sentosa is at the forefront of environmental sustainability.
Again, I'll cover all this in more detail in a future piece but, as a taster – here's a video of Andy describing the detail that goes into preparing the courses at Sentosa:
https://vimeo.com/293512307
….
Staying with superb courses, yesterday evening we dined at one of Singapore's finest restaurants: Candlenut. Delivering a modern take on traditional Straits-Chinese or Perankan cuisine – head chef Malcolm Lee has earned a Michelin star.
I'm no Jay Rayner but I would say the meal we had – a selection of tasters, then a selection of main courses – offered up an explosion of flavours. From zinging curries of Waygu beef, crab and chicken to wok fried King Tiger Prawns and baby squid in squid ink, there was almost too much for my amateurish palette to take in.
To add to the taste medley, I then had a dessert that featured chocolate ice cream, chilli and, seemingly, some sort of popping candy… it was quite incredible. I had to go through to the adjoining bar afterwards for a swift Balvenie 12-year Double Wood to restore some semblance of order!
Safe to say, the food in Singapore is pretty bloody good and I'm already looking forward to my lunch at the club, which has proven to also be excellent over the first couple of days.
Numbers to note and a trip on a boat
As day two of the Asia-Pacific Amateur Championship gets underway, Yung-Hua Liu of Chinese Taipei is making an early move. He's two-under through his first three holes today and seven-under overall: pretty impressive numbers. Here are some more interesting numbers to consider from the AAC:
There are seven former AAC participants who are currently in the top 100 of the professional, Official World Golf Ranking. They are:
Hideki Matsuyama (No. 21) Cameron Smith (No. 32) Satoshi Kodaira (No. 48) Siwoo Kim (No. 56) Ryan Fox (No. 82) Cameron Davis (No. 99) CT Pan (No. 100)
The week of the first AAC in 2009, there was one player in the field ranked in the top 50 (from Australia). This week there are 10 players in the field in the top 50, with 6 countries represented (Australia, Thailand, China, Chinese Taipei, New Zealand, Japan). Note: There are 11 total players in the top 50 from the Asia-Pacific (one from Australia is not competing this week).
There are 14 players in the field this week ranked in the top-100 on the World Amateur Golf Ranking.
39 Countries are being represented in the 2018 AAC with 120 participants in total. There are 41 countries in the Asia-Pacific Golf Confederation.
The player from Cambodia (Vanseiha Seng) who has competed in all 10 AACs shot his lowest round ever in the event yesterday. He shot a 3-over 73, which is also the lowest round by a player from Cambodia.
.............
Yesterday evening we took a trip to Singapore's Boat Quay to sample some of the city's superb nightlife and soak up the striking night-time cityscapes. It's a pretty impressive place with a mix of towering modern skyscrapers and older, colonial style buildings. Boat Quay itself is an example of that juxtaposition between old and new. Formerly the busiest port in Old Singapore, the shops and restaurants along the front have been preserved in the style from when the port was at its busiest, in the late 19th century. But surrounding are massive, thoroughly modern buildings housing banks and other businesses. It's a cool blend.
There are also the hotels, the biggest of them being the incredible Marina Bay Sands. It's enormous with a mind-boggling 2,561 bedrooms, its own shopping mall, a museum and two theatres. It cost an eye-watering $8 billion to build.
It's a striking edifice, topped by a 340-metre-long "SkyPark" platform with a 150m infinity swimming pool. That sounds pretty cool, but we were reliably informed that it can get rather busy. With up to 5,000 guests staying there at any one time, we wondered if you have to book a "tee time" to take a dip!
We enjoyed exceptional canapes and drinks in the rooftop bar at the Michelin starred Braci restaurant on the waterfront. As one does... I soaked in the tremendous views while sipping on a martini, imagining I was starring in a James Bond film (minus the threat of baddies!)
We then took to the water for a spectacular boat ride around the quay to really get a feel for the scale of the buildings that surround it. Again, quite James Bond but, again, no threat of being dragged into the propeller of a tanker ship or fired upon by a gunboat.
All in all, it was a brilliant and slightly surreal evening, just a little removed from an autumnal Aberdeenshire. Not as far from home as my nearest neighbour in the media centre though – he's from New York and has just told me that his journey here, via LA and Hong Kong was 22,000 miles. We got in to the course at 9am this morning (Friday) and he pointed out to me that back on the west coast of the U.S, that's 6pm Thursday.
First impressions
After a very smooth flight into Singapore's spotless international airport, I've arrived at Sentosa Golf Club – venue for this year's Asia-Pacific Amateur Championship.
In typically Scottish fashion, I made it just in time to enjoy yesterday evening's cocktail reception at the club to celebrate the start of the, 10th instalment, of this increasingly prestigious competition. As well as sampling some rather excellent food and drink, the players gathered to listen to Ian Pattinson – Chairman of the R&A, Fred Ridley the chairman of Augusta National Golf Club, together with Asia-Pacific Golf Championship chairman Mr Kei Muratsu speak eloquently and inspiringly on the championship and the opportunities it presents. The representatives from the founding partners then treated us all to a short-game masterclass, pitching with illuminated, multi-coloured golf balls to an illuminated pin some 40 yards onto the putting green. The players then had a chance to show us all how it was done and they put on a rather impressive light-show.
A good evening was had by all and I very nearly missed the last bus back to the hotel. In fact, I was the only person in the last bus and the driver was a little miffed at having to wait for me. I apologised profusely and made the point, as noted above, that I am Scottish and that when free food and drink is available, I have a duty to make the very most of it.
Now, the fun and games are out of the way and the golf takes centre stage. The early starters are proving the quality of the field here at Sentosa GC.
At this point, the superbly named Lloyd Jefferson Go from the Philippines leads the way after an opening round of five-under-par 65. He had reached seven-under but dropped shots at his final two holes, the 8th and 9th. This is the 23-year-old's sixth appearance in the event and his best finish came back in 2015 when he was tied eighth. He played College golf in the U.S. for Seton Hall University and was twice a Big East player of the year.
"Yes, delighted to get off to a fast start," he said. "I think I made the most of an early tee time. It's definitely best to get out there when it isn't quite so hot. For the last nine holes I had to get under the umbrella. I'm from the Philippines though so I am used to the heat."
I've been out for a stroll around the course and have made a few initial observations:
1 – It is hot. For me anyway, it's very hot. I've watched golf in some fairly warm locations and I judge the relative heat by how many bottles of water I'm stealing from the players' ice-buckets on each tee… This is a one-per-hole heat - I'm having to be extremely surrepitious.
2 – The course is in immaculate condition. I'd heard from various sources at the drinks reception last night that the New Tanjong at Sentosa has been prepared and presented brilliantly but, being the cynical old hack I am, I was reserving judgement, as you hear people saying that at almost every tournament venue. Having seen it though, the reports can be confirmed. It's turned out beautifully, and it's clearly rewarding good play.
3 – The standard of play is, indeed, very good. I've seen it at the Latin America Amateur Champs over the last few years and things have certainly moved on since I last visited this event eight years ago. There's strength in depth at the event here in Singapore. At the time of writing, 30 players are at par or better on what looks to be a pretty tough golf course.
I'm going to watch some golf this afternoon and to try my hardest to stay hydrated. Those ice-buckets better watch out.
Preview
Eight years ago, I travelled to Japan for the second instalment of the Asia-Pacific Amateur Championship (AAC). The event was played at Kasumigaseki Country Club in Kawagoe near Tokyo, it's where the 2020 Olympic Golf Tournament will take place and where Donald Trump recently had a knock with Japanese Prime Minister Shinzo Abe.
Even in its relative infancy, I was impressed by the level of organisation at the 2010 AAC. The significance of the event to all those participating was clear, and the level of play in the competition itself was superb. An 18-year-old Japanese player took the title that year with a tremendous four-round-total of 15-under-par. Hideki Matsuyama went on to defend his title the following year and then to become one of the very best golfers in the world.
14-year-old, Guan Tianlang of China won the fourth edition of the AAC in 2012, while Lee Chang-woo from South Korea claimed the title the next year in China.
Australian Antonio Murdaca won in 2014 at The Royal Melbourne Golf Club then, in 2015, Chinese No. 1-ranked amateur golfer Jin Cheng fired a course-record eight-under 62 en-route to winning the AAC at The Clearwater Bay Golf & Country Club in Hong Kong.
Australia's Curtis Luck overturned a seven-stroke deficit to secure a one-shot victory over compatriot Brett Coletta at the eighth Asia-Pacific Amateur Championship held at Jack Nicklaus Golf Club in Korea.
Last year, 17-year-old Yuxin Lin became the third Chinese AAC champion, closing with a birdie and an eagle in the final round to win by three shots at Royal Wellington Golf Club in New Zealand.
A key reason for the prestige of the AAC is the prizes that are on offer. Organised by the Asia Pacific Golf Confederation (APGC) in conjunction with The R&A and The Masters Tournament, the winner of this year's tournament receives: An invitation to compete in the 2019 Masters Tournament plus direct entry into The 148th Open Championship at Royal Portrush in 2019. He will also receive an exemption into The Amateur Championship to be played at Portmarnock.
The runner(s)-up receive a place in The Open Qualifying Series with the opportunity to qualify for Royal Portrush.
These incredible opportunities mean the AAC attracts a strong field with the top amateur players from the 41 countries affiliated to the APGC making up the 120-man entry list. Each country can send two players with the remaining spaces being filled by those ranked highest on the World Amateur Golf Ranking. Each country can send a maximum of six players, although the home nation is allowed 10.
This week sees the 10th running of the AAC at Sentosa Golf Club in Singapore. Last year's winner Yuxin Lin of China plays again, as does his compatriot and 2017 runner-up Andy Zhang. There are some excellent amateur golfers in the field:
Min Woo Lee of Australia is the top ranked player. He is currently 10th on the World Amateur Golf Ranking (WAGR). Sadom Kaewkanjana of Thailand is 11th. Also from Australia – David Micheluzzi is 13th on the WAGR with Andy Zhang of China 15th and New Zealand's Daniel Hillier 19th. Takumi Kanaya is the top-ranked Japanese player at 21st on the WAGR.
Things have changed considerably since I first went to Japan to report on this event in 2010. At that time, very few of the field were ranked in the top-100 on the WAGR, the winner Matsuyama was outside the top-500. Going into this event there are 18 players from the Asia-Pacific region ranked in the top-100. That reflects the changing dynamic of global golf and the success which this event has had in encouraging elite amateur golf to flourish across the region.
What about the venue for this week? First opened in 1974, Sentosa Golf Club became the host of the Singapore Open in 2005, which is now the SMBC Singapore Open, as well as the HSBC Women's Champions since 2012. The club is home to two golf courses and is located on the resort island of Sentosa, surrounded by scenic views of the Singapore Harbour and Singapore Straits.
The 2018 AAC will be conducted on The New Tanjong Course. Originally designed by Frank Pennick in 1972 with the help of Singaporeans Dennis Lee and Alan Choe, The New Tanjong was redesigned in 2016 by Andrew Johnston and Matt Swanson.
I've never been to Singapore but I'm very much looking forward to visiting – It's a pretty small place, the main island being just 30 miles across and 17 miles from north to south. But the population is almost 6 million, so I'm prepared for it to be just a touch busier than rural Aberdeenshire. I'm prepared for it to be just a touch hotter too with forecasted temperatures around the 33 deg C mark for the duration – that's pretty standard I think as Singapore is almost on the equator and has no distinct seasons.
I'm picturing towering, glinting skyscrapers and bustling streets but I've also heard there are lovely gardens to explore and wonderful food to sample…. I'll keep you up to date with all that as I go along.
I head off tomorrow via Amsterdam and, with only an hour to make my connection at Schiphol, I'm a little nervous about everything running smoothly… All being well, I should be in Singapore by Wednesday afternoon ready for the tournament starting on Thursday. I'll keep you posted...
Fergus is a golf obsessive and 1-handicapper. Growing up in the North East of Scotland, golf runs through his veins and his passion for the sport was bolstered during his time at St Andrews university studying history. He went on to earn a post graduate diploma from the London School of Journalism. Fergus has worked for Golf Monthly since 2004 and has written two books on the game; "Great Golf Debates" together with Jezz Ellwood of Golf Monthly and "The Ultimate Golf Book" together with Neil Tappin (also of Golf Monthly)... Fergus once shanked a ball from just over Granny Clark's Wynd on the 18th of the Old Course that struck the St Andrews Golf Club and rebounded into the Valley of Sin, from where he saved par. Who says there's no golfing god?