Goodwood Revival Golf Challenge
Rob Smith steps back in time to take part in the Goodwood Revival Golf Challenge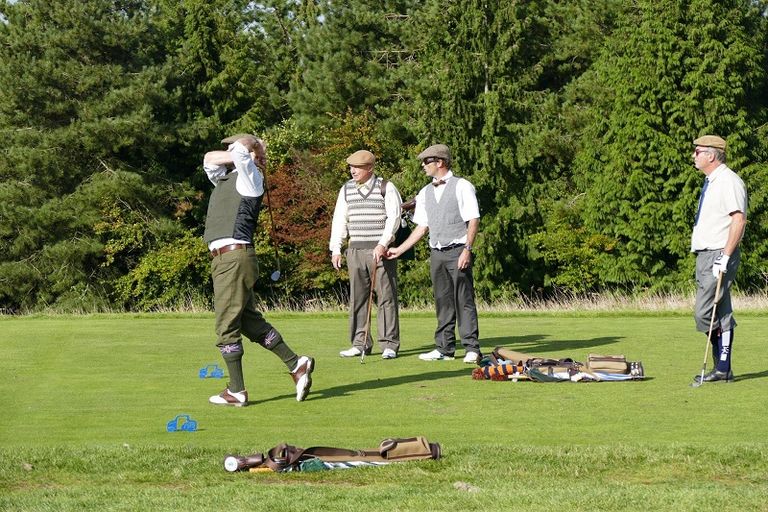 GM Contributing Editor Rob Smith steps back in time to play with hickory shafts, jiggers and mashie niblicks at glorious Goodwood
Goodwood Revival Golf Challenge
Having struggled in the past to score well on the Downs Course at Goodwood using my own clubs, I was a little nervous about playing in this year's Revival Golf Challenge which saw me tasked with reliving history by playing in traditional period attire - in my case, a checked shirt, dodgy tartan bow tie and a pair of cords - with original hickory shafted clubs.
The event is now in its eighth year, and I was one of around 60 golfers turning back time over the undulating James Braid course. The event is a great tribute to the architect and 5-time winner of The Open Championship whose work features in both the Golf Monthly Top 100 and the Next 100. Indeed, the James Braid Society were in attendance, including their captain, former Golf Monthly editor, Malcolm Campbell.
Braid was an icon of the game during his career; admired for his elegance, tweed cap and Norfolk jacket, accompanied by collar and tie, as well as for his golf. Essentially, the opposite of me.
Using stick thin bags filled with brassies, spoons and niblicks with whippy shafts and small persimmon heads, this was going to be a real challenge.
As a golfer of some 35 years' standing, this was the first time I had used such equipment. And as someone whose swing needs all the help that the latest technology can offer, I was relieved to at least finish most of the holes.
Playing from the Blue tees, which are still near enough 6,000 yards, scoring was tough. Having said that, it was both a treat and an education to use these beautifully restored clubs that were provided by South of England Hickory Golf.
There were prizes for the highest points and the best-dressed golfers, but needless to say, I failed to trouble the scorers in either category.
According to the club's very friendly and welcoming General Manager, Stuart Gillett, "Revival Golf is an unforgettable and serene day. It is a joy to see Goodwood transported back to a special era of golf. The event has gained popularity year on year and run in conjunction with the Goodwood Motorsport Revival only enhances the unique environment of the weekend."
However, I thoroughly enjoyed an excellent and very different day out, played in high spirits and with great enthusiasm. It makes me even more in awe of the incredible talents of the pioneers of golf.