What Does Danish Golf Do So Well?
Solheim Cup star Emily Pedersen on the secret behind Denmark's rise through the golfing ranks in recent years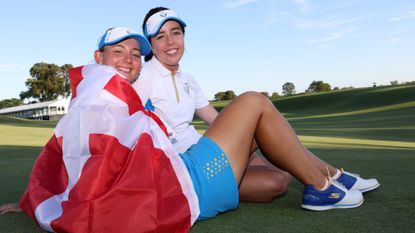 (Image credit: Getty Images)
Later this year we will see the Solheim and Ryder Cups being played within a few weeks of one another. At Finca Cortesin in Spain Emily Pedersen will likely make her third appearance, alongside her compatriot Nanna Koerstz Madsen. In the men's game Thorbjorn Olesen, twice a winner in the past nine months, is making a concerted move to making Luke Donald's side in Italy. Then we have the Hojgaard twins, Rasmus and Nicolai, who are already being talked about as possibles for Rome. They turn 22 in a couple of weeks.
The rise of Danish golf has been one of the talking points in the game for some time and, for a country with something like 150,000 registered golfers, they are now a phenomenal force. We spoke to Pedersen to see what the country and the federation excels at and what lessons could be learnt from them.
What does Danish golf do so well?
I think one of the things is that all the coaches work together across the board and they always go on training camps together. They're so good at getting help from outside and listening to other coaches and they are very open-minded. Thomas Bjorn has been having a few meetings with the federation so they're trying to use his experience but, as a whole, the Danish Golf Union are so good at trying to constantly learn and develop and that's helping the players a lot.
When did you get involved with the Danish Golf Union?
I was on the national team at 12. When you have reached the level of a national team you will always have at least one practice camp every year where the junior boys and girls, men's and women's teams, and the pro ladies and men will get to practise together which is great. We will also have individual camps with the pros and amateurs but I think it's quite unique to be able to see what everyone else is doing and it's a great motivator. So you will have a 14-year-old watching the Hojgaard twins and how they're practising and it's the same with the girls and women and spending time with us.
How is the transition handled from the amateur to the professional game?
They keep us in the team when we turn pro. Ten years ago they created this pro team so, for your first couple of years as a professional when you might be in the hunt to get to the Olympics, you will still get a lot of support from federation. A lot of us are using them as coaches so that's great to keep the momentum and it gives you a bit of a safety net when you turn pro which is brilliant. It's already a big thing to turn pro, it's your job, and it is a big help to have people to lean on and ask and be around.
Is that period the hardest to keep things moving forward?
It is a big time. Your everyday life has been comfortable and now you're on your own and this is your job. You have school from 8-4 and then scheduled practice and then you have to learn how much to work out, practise, prioritise your time and when to rest. You have all day and 12 hours to manage. It's nice to have a bit of guidance and people to lean on from people who have done it before.
What's the attitude to junior golf like in Denmark?
Women's junior coaches will ask me and my coach what we did at that age. There is a lot of support and a lot of good youngsters who travel in a team. The main thing is that everyone is open-minded to expand on what they're doing and to share it with others. I'm always happy to share my experiences – everyone is doing it differently and that can inspire people.
What was it like as a girl golfer growing up in Denmark?
We always had this girls' only tour which is encouraging girls of all ages and handicaps to go to these tournaments. So, if you're off 20 or you're off scratch, you can go. I would also practise with the guys and learn to compete. The guys can be a bit more competitive around the short game and they would always do that and that really improved my game and mindset. I grew up with JB Hansen, Lucas Bjerregaard was also around, and there were a lot of strong players. I was already a pro by the time the Hojgaard twins came through.
Thomas Bjorn has also been great. He's not in the federation but he helped me get a management deal and is the kind of person who I could always call or message to ask for some advice and he's super open. Thomas is a big personality and the biggest name in Danish golf so for him to want to help is great.
When did you first hear about them?
I only actually heard about them when they won the Eisenhower Trophy in 2018. I asked my coach who they were and they kind of popped out of nowhere. Then they took off and now they're doing so well. I've played with them since and they're both massively impressive. You forget how young they are but they act quite mature for their age on the course and handle themselves so well and they know what they want. They have always wanted to do it and their self-belief shines through so much and that's part of the reason that they're so good and obviously they're super talented. Nicolai is one of the longest hitters on any tour but they both handle themselves so well and that makes them stand out a bit. They're super professional.
You came through with Nanna Koerstz Madsen and Nicole Broch Larsen, how much does having peers with you help?
Competition is great, especially when you're close to someone. That helped us all at the beginning, now I don't compare myself to them as much but as amateurs and when we came out we pushed one another on. Nanna now has a fiancé and Nicole is married so the older that you get, the more you want your own space but that was huge when we all turned pro.
How would you summarise the Danish mindset?
In general quite hard-working and we're quite critical of ourselves, that is a very Danish way. We're a little bit like it's never good enough and to constantly strive to get better is a very Danish mentality.
Mark has worked in golf for over 20 years having started off his journalistic life at the Press Association and BBC Sport before moving to Sky Sports where he became their golf editor on skysports.com. He then worked at National Club Golfer and Lady Golfer where he was the deputy editor and he has interviewed many of the leading names in the game, both male and female, ghosted columns for the likes of Robert Rock, Charley Hull and Dame Laura Davies, as well as playing the vast majority of our Top 100 GB&I courses. He loves links golf with a particular love of Royal Dornoch and Kingsbarns. He is now a freelance, also working for the PGA and Robert Rock. Loves tour golf, both men and women and he remains the long-standing owner of an horrific short game. He plays at Moortown with a handicap of 6.