What is the golf string game?
Instead of getting shots for your handicap you get a set length of string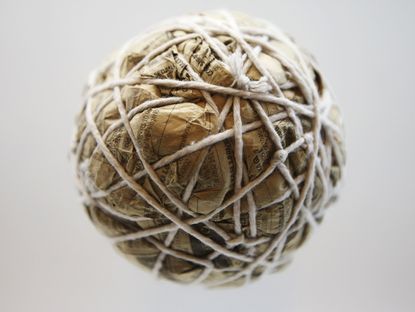 (Image credit: Getty Images)
Instead of getting shots for your handicap you get a set length of string...
The golf string game goes under several different names, String It Out, String Ball or the closed up Stringball being some of the other ones.
Unlike such games as Skins (opens in new tab), Wolf (opens in new tab) or Rabbit (opens in new tab), which basically involves adding a different scoring system to a normal game of golf, String Golf or Stringball involves a new way of playing.
In the golf string game players instead of being awarded shots on the basis of their handicaps are awarded a length of string, normally a foot per shot of handicap.
In the golf string game players are allowed to move their ball to a more advantageous spot without losing a stroke. When they do so, they simply measure the distance they have moved the ball and cut this length off their piece of string.
Players can move the ball as often or as far as they like so long as they have a remaining bit of string to allow this. They can also move in it any direction.
Thus if a player's shot lies just out of bounds, they can move the ball back in play. Similarly a ball can be extracted from a hazard with no penalty by dint of the bit of string.
Variations on the rules exist, as so often in fun golf formats. Some do not allow the string to be used when the ball rests on the green. Others do.
On the green is the time when the string becomes most handy. Missed that tricky putt by 6 inches - well you no longer have as you can just whip out the string, and cut off 6 inches of length and hey presto that last putt is now in fact holed.
Allowing the string to be employed on the green also makes the game more tactical. Do you give yourself that 4ft putt when it that length of string could bring you four 1ft putts instead later? But will you leave yourself four 1ft putts?
If the string is only allowed to be used off the green it can tend to be more a 'get out of jail free' card for extraction from hazards rather than a tactical weapon.
Contributing Writer Golf courses and travel are Roderick's particular interests and he was contributing editor for the first few years of the Golf Monthly Travel Supplement. He writes travel articles and general features for the magazine, travel supplement and website. He also compiles the magazine's crossword. He is a member of Trevose Golf & Country Club and has played golf in around two dozen countries. Cricket is his other main sporting love. He is the author of five books, four of which are still in print: The Novel Life of PG Wodehouse; The Don: Beyond Boundaries; Wally Hammond: Gentleman & Player and England's Greatest Post-War All Rounder.