"Once It's Over I'll Sleep For A Month!" - Troon Head Greenkeeper Q&A
We sat down for a Head Greenkeeper Q&A with Royal Troon's Billy McLachlan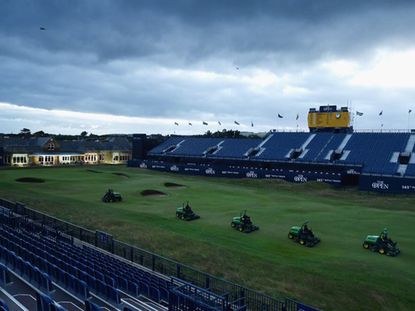 Golf Monthly sat down for a Head Greenkeeper Q&A with Royal Troon's Billy McLachlan, to see how his team's preparations went, what they're doing during The Open, and how they'll recover the course once it's all over
During a very busy week at The Open, Golf Monthly got the chance to sit down for a Head Greenkeeper Q&A with Royal Troon's Billy McLachlan.
We spoke about how his team's preparations went during one of the wettest winters on record, discussed his daily diary during Open week, and asked about how his team will recover the course once it's all over.
As you might expect, it's been a challenging six months...
Golf Monthly: So tell us about the type of preparation you had to do?
Billy McLachlan: "Well I've been at Royal Troon for 35 years, and this was the wettest winter and spring that I've ever seen.
"The Open is obviously always hard to prepare for as there are certain things you're worried about, you don't want to do anything silly with the greens, or the bunkers and tees, but this year we had to do weeks and weeks of work just to recover the course. Then we'd get another deluge and it'd be flooded again.
"All the guys up and down the west coast of Scotland had a super wet winter, so the water table got really high. It meant some of the fairways got puddles and flooded, then they'd drain a bit, before it'd rain and they'd fill up again."
GM: How bad did it get?
Billy: "It went on well into February, so we had to get a pump that we'd leave on for a few hours, but then it'd fill up again when it next rained. So we ended up with three two-inch pumps. One pumped from the 15th fairway 200-yards away to the shoreline. We thought it'd ease off, but it just kept on coming.
"Those pumps get rid of around 200 gallons a minute. We must've pumped out millions of gallons over the months when the water table was getting topped up with rain."
GM: What problems did that cause?
Billy: "The issue that creates is you're tailoring what you do to manage that, rather than the course care. It was really soul destroying for the guys, as there were times they were pumping the water out, but the forecast was dropping below freezing at night, so they had to move it all or wrap up the pipes so they didn't freeze, which takes a huge amount of effort and time. So it was a big uphill battle."
GM: Did that then have a knock-on effect into the spring?
Billy: "Once we got by that, we had to recover those areas, and we were left with some really bad bits. Credit to the guys who did the work, and who were getting nervous about the work. Some wanted to re-turf it, but we just held fire and gave it a bit of time. If we decided to re-turf anywhere you'd be able to see it, so it was important to be patient and not to worry about it.
"Our members have also been brilliant. They've played off mats all winter, and had all sorts of restrictions, so they've been fantastic. Our committee have also been brilliant and very supportive. It doesn't matter how much work we do, if they don't all help like that then there are more divots and the like.
GM: Did much else have to change for the members?
Billy: "Course traffic slowed down to just members and their guests, and then just members, and then there were pretty much two weeks where we just had the course to ourselves. It makes a big difference as you don't have to worry about getting in the way of people, which is great.
"We also took a lot of sand out the bunkers, which was an exceptionally big job. I wasn't sure about it at first, but now I agree with it. I was worried that our older members would really struggle with the big steps in and out of the bunkers, because with less sand in they're much deeper.
"But with less sand in they do play better, so it'll be a call for the committee as to whether we refill them or not, as some of them have two-foot steps in and out, and the only way some of the old guys could get in would be to roll in!"
GM: So once all the big jobs like that were done, what came next, did you get some extra help?
Billy: "There are usually 17 in our team, covering 36 holes and the par 3 course, which has been destroyed by the various off-course aspects, such as the car parks and marquees.
"We then double the greenkeeping staff. Each of the other Open venues sends us one for the week leading into the practice week. Then we got local help too, plus all the BIGA greenkeepers who walk with each group to rake the bunkers.
GM: How're your new larger team then split during the tournament week?
Billy: "I had to work out, something like, six to mow the fairways, 10 to cut the greens, three on the tees. We've probably got too many now, but the last thing you want to be is caught short.
"The main difference between a normal week and an Open Championship week is that an Open week is a lot more intense. We get extra machines for the week, and we couldn't operate that many every day with our team of 17. As well as not being able to staff them, if we cut the grass that often in the long term it'd kill it and the weeds would take over.
GM: All going well that leads to a brilliant tournament, but it must be carnage afterwards?
Billy: "Once it's all over I'm going to sleep for a month!
"At the moment there are certain areas we've been doing path maintenance on for years that are now just mud, but it is what it is.
"Other years we've been lucky, where the paths just go dry and dusty, but when this all goes next week I think it's going to be a very sad walk. Like there's a path down by the 7th we've been repairing since I was a boy, and this year was the first time it was totally covered in grass and looking great, and now it's just mud.
"It'll take us well into next year to fully recover, but that all depends on what type of weather we get at the back end of the year. Ideally we'll get a mix of 20°C sunshine and showers, so the course can dry out, but then the healthy grass can grow, but we'll have to wait and see!"
Jake O'Reilly specilaises in equipment coverage, and joined the Golf Monthly team in 2013. Before this he graduated from the University of Huddersfield with a Sports Journalism and Media degree, and worked at a number of British golf magazines. Follow Jake on Twitter
@jake0reilly