The Big Interview: Alex Noren
We talk to talented Swede discusses winning on the European Tour and his hopes for the future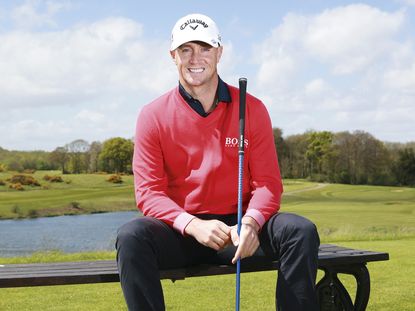 The talented Swede discusses winning on the European Tour, expectations at home, recovering from injury and hopes for the future
The Big Interview: Alex Noren
You spent a year on the Challenge Tour after turning pro. How useful was that experience as a stepping-stone? When I was in high school, I thought that maybe I'd be good enough to try European Tour Q-School when I was 18. I decided to go to college instead, and then I tried Q-School straight after that. I was actually tenth going into the final round and shot 78 to just miss out on my card. Maybe that was the best round of my life. I played badly, but it was good that I shot 78 because I don't think I was ready for the main tour at that stage. I'm sure I would have got many punches! Instead, I finished high up on the Challenge Tour, got some good experience and earned my card for 2007 that way.
Tell us about your first European Tour victory at the 2009 Omega European Masters… It was a big win and it felt really important to me. People back home in Sweden were telling me they thought I had a good career ahead of me, and they thought many things about me, but I didn't think as strongly about myself as they did. When I won the European Masters it was a confirmation for myself that I could do it. People can say all sorts of things but ultimately you need to prove it to yourself.
Related: Alex Noren's putting tips
How did the media in Sweden react to your win at the Nordea Masters in 2011? They reacted like they thought I was going to conquer the world. They tried to blow things up without really doing their research. Anyone out there can win a tournament; to then go out and win a lot is a different story. I knew I had a bunch of stuff that I needed to work on to play at the top level. A win proves you have stuff going for you, but I'm a realist. I didn't really take in what the media said because they didn't do their research. You need to be careful what you think of yourself.
You had a couple of decent, albeit winless, seasons after that, but then struggled with your wrist. Could you give us the full story on that? It was very frustrating. I was starting to have problems with my wrist at the end of 2013 and it got really bad when I hit something in Turkey in November and had to withdraw. It wasn't until the first week of April in 2014 that I could start hitting balls again. It felt okay, but I still had a lot of complications. I practised for two weeks and had problems. Then I'd stop, try again and the same thing just reappeared. There were a lot of problems after the surgery with scar tissue, inflammation, that sort of thing. I played in Spain in May 2015 and it was alright, but then I hit a root at Wentworth. The European Tour doctor told me I shouldn't play, and eventually I decided to just wait until January.
So how did you occupy your time? At first I just did a bunch of other stuff, which was really nice. I was just hanging out with some good friends, playing table tennis, that sort of thing. But I did start feeling like a bum. I wasn't doing anything really. It was kind of depressing. My whole life I've worked hard to try and improve and all of a sudden I wasn't able to. It was very frustrating. And I wasn't really taking care of myself because I knew it was so long until I could start practising again. Then I was hungry to come back, but the wrist didn't really allow me to practise the way I wanted to.
Did the lay-off lead to changes in your game? The work I do on my game now is more structured. I've also really cut down on the coaching side, and now I don't have that many people telling me what to do. I think about things more myself now. I've started reading books and being more of a student myself, as opposed to being told what to do. When that happens you have the option to blame other people, and I don't think that's a good scenario. I still have coaches, but not full-time. Now it's more like I'll take advice from one person and buy a few hours from another. I get coaching as and when I need it.
How did the injury change your goals, and what are they for the next few years? I've never had any goals. I just loved competing in everything and golf happened to be something I was pretty good at compared to some other stuff! I love competing, and if someone does something better than I can, I want to learn how to do it. I think success comes as a by-product of really enjoying what you do.
Do you ever see yourself moving to play in the USA full-time? I've spent quite a lot of time over there now and the more I'm there, the more I like it. But at the same time, I love the European Tour. I love the people, I love the tournaments, I love the crowds and I love the fact you can go all over the world. I really feel like I'm more knowledgeable about the world, and not just in a golfing sense. You can't really do that if you only play in America. But at the same time there's a lot of great tournaments in America, and I'd like to play more over there.
David joined Golf Monthly in 2015 as a content editor for the magazine and regularly contributes to the website. He has worked in magazine publishing and editing since 2003. He is a keen golfer and up until recently was a member of Blackmoor Golf Club in Hampshire. He has covered various big events and tournaments for GM, the highlight of which was witnessing Tiger Woods win his 15th Major at Augusta in 2019. Email: david.taylor@futurenet.com