What is the right golf shoe for your swing?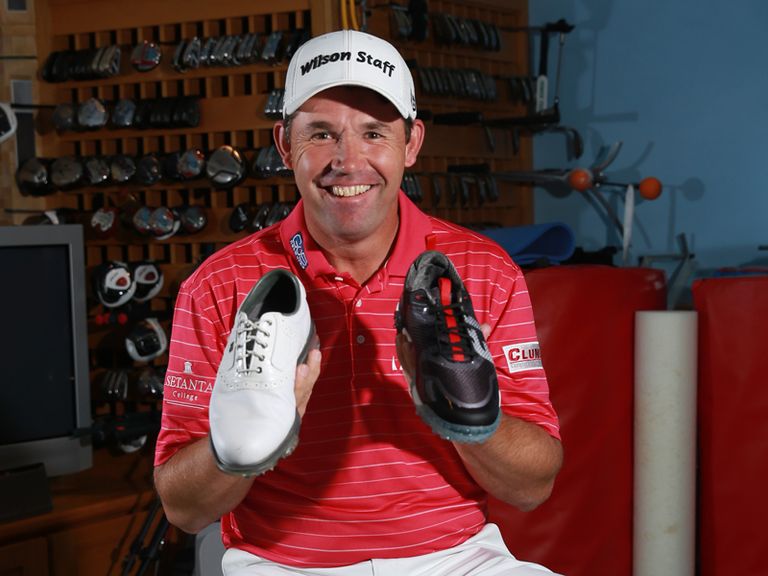 Golf Monthly Newsletter
Golf tips and expert instruction, golf club reviews and the latest golf equipment.
Thank you for signing up to Golf Monthly. You will receive a verification email shortly.
There was a problem. Please refresh the page and try again.
In this exclusive article we ask, what is the right golf shoe for your swing? We travelled to the home of Padraig Harrington with FootJoy to find out whether a new fitting tool could help us find out
Whether competing on Tour or picking up a club for the first time, golfers are often told by coaches that power comes from the ground. The way in which your lower body interacts with the floor, harnessing the stability of the ground, has a huge impact on the speed and balance with which you swing the club. This basic concept lies at the very heart of the game. Looking at the golf swing in this light the question, what is the right golf shoe for your swing becomes an important one to answer.
As we all know, each golf shoe manufacturer offers a range of different models to chose from. Some are very stable and well-structured and others are more mobile and lighter offering the player a greater range of movement. Given how important your interaction with the ground is, FootJoy set out to discover whether different types of shoe affected the dynamics of different swings. Just as you would be fitted into exactly the right driver for your game, could a player be fitted into a specific shoe to improve his or her performance? And so a new technology developed in partnership between FootJoy and BodiTrak was created to research the theory.
BodiTrak is a company that specialises in pressure-mapping systems with links to the medical industry. It developed a way of measuring where a person's pressure points were while lying in bed. By monitoring it and altering the pressure of these contact points, BodiTrak could help prevent bedsores.
The boffins at BodiTrak also believed their technology could have applications within the sporting world and soon a partnership between FootJoy and BodiTrak was born. The question they were looking to answer was simple - does the type of shoe you wear affect the efficiency of your swing? By measuring how a player applies forces through the ground and collating endless data from different swings, they were able to prove that it does.
This new technology is now set to be used by FootJoy as a fitting tool for shoes. Essentially it features BodiTrak's technology within a mat that's linked to a tablet. The sensors detect exactly how your weight moves during the swing and from just three drives provides the information required to suggest the player wear either a more structured or mobile shoe.
To test the effectiveness and accuracy of the data provided by the new system, Golf Monthly were invited to the home of FootJoy ambassador, Padraig Harrington.
The FJ Performance Fitting System, as it is now called, was set up in the swing studio of the three-time Major Champion. After warming up, Harrington would hit three shots wearing his current shoe – the 'structured' FootJoy DryJoy Tour. The images from the FJ Performance fitting system showed how the Irishman's weight moved first to his right side and then left through impact. He was averaging 115mph clubhead speed, 300 yards of carry and a total driving distance of around 315 yards.
How the FootJoy Performance Fitting System works
He then moved into the most mobile shoe within the FootJoy range – the Freestyle. Again, three drives provided the data required to make a meaningful comparison. The results were unequivocal – his clubhead speed dropped a couple of miles per hour with the overall average distance dropping to 309 yards.
Despite the more mobile shoe offering Padraig a greater range of movement, it was the structured design that offered him the most powerful base from which to swing.
Padraig's Perspective
This is a very simple piece of kit tied up to an iPad. It basically shows the pressure you put on the ground when you are swinging and from that they can tell whether your ankle and foot need more mobility or more stability from the shoe.
Through the work I had done previous at the Titleist Performance Institute I had known for years that I needed more stability in my shoe. In fact, I was a part of the design team behind FootJoy's XPS-1 shoe, part of the encouragement to go down the road of building a real stability performance shoe.
I was hoping the guys today would tell me the mobile shoe would give me another five miles per hour because 1) I'll get an extra five miles per hour out of it and 2) it's so easy to wear, you feel like you are wearing a pair of trainers around the golf course. But no, stability was the way to go and we could see it in the three or four miles an hour speed difference between the two shoes. That's what it could be for anybody out there.
If you get this right between stability or mobility for your left ankle when you are swinging the golf club that has a knock on effect through your whole body. For instance, if you have too much stability in your ankle then your knee ends up being too mobile. That could hurt your knee, hip, lower back – it all kicks on up through the swing. So finding the right shoe is better for you not just your speed but also your own comfort and a lack of injury through wearing the right shoe for you. We're all different.
Golf Monthly Verdict
Over the last 20 years, customisation has become an essential part of the equipment buying experience. It makes sense that if you are going to spend money on new golf gear, it's exactly right for your game. As such, it is no surprise that FootJoy has decided to investigate how different shoes in its range suit different swings. What we liked about the whole experience was the simplicity – within three shots you'll know whether your swing leans towards mobile, structured or somewhere in between. For Padraig it was, and always has been, stability. But those responsible for the research say there are just as many people out there for whom the results would be the other way round. A better interaction with the ground means more distance and can even help players avoid injury.
Knowledge, they say, is power and this new fitting tool provides golfers with more knowledge about how they swing the club. Armed with this information you can answer the question - what is the right golf shoe for your swing?
In his current role, Neil is responsible for testing drivers and golf balls. Having been a part of the Golf Monthly team for over 15 years and playing off a handicap of 3, he has the experience to compare performance between models, brands and generations. For 2022 he thinks the main trend in drivers is: "In a word, consistency. Whilst all the brands are talking about ball speed (and the new drivers are certainly long), my biggest finding has been how much more consistent the ball flights are. Mishits don't seem to be causing the same level of drop-off or increase in the spin numbers. This means that more shots seem to be flying the way you want them to!" As far as golf balls are concerned the biggest development is in the, "three piece, non-Tour, urethane-covered section. For regular golfers, these models offer superb performance at both ends of the bag without denting your wallet quite as much as the premium Tour-played options."
Originally working with the best coaches in the UK to produce instruction content, he is now the brand's Digital Editor and covers everything from Tour player interviews to gear reviews. In his time at Golf Monthly, he has covered equipment launches that date back well over a decade. He clearly remembers the launch of the Callaway and Nike square drivers as well as the white TaylorMade driver families, such as the RocketBallz! If you take a look at the Golf Monthly YouTube channel, you'll see his equipment videos dating back over a decade! He has also conducted 'What's In The Bag' interviews with many of the game's best players like Rory McIlroy, Dustin Johnson and Jon Rahm. Over the years, Neil has tested a vast array of products in each category and at drastically different price-points.

Neil is currently playing: Driver: TaylorMade Stealth Plus Fairway Wood: Titleist TSi2 Hybrid: Titleist TS3 Irons (4-9): Mizuno JPX 919 Forged Wedges: Titleist Vokey SM7 46˚, 50˚, 54˚, 60˚ Putter: Odyssey Triple Track Ten Ball: Titleist Pro V1X