A Quest To Transform My Game In 2017: Part 3 – The Club Fitting
Having had a few lessons it's time for the next part of the journey: a full TaylorMade club fitting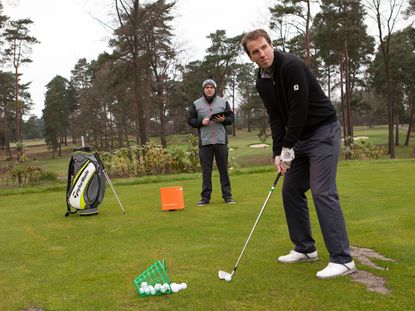 Having had a few lessons now with North Hants head pro George Porter, it's time for the next part of the journey: a full TaylorMade club fitting
I've had a few sessions with George now and I think things are starting come together. The new grip feels normal and I'm definitely getting more consistent with my strikes.
I've found having an exact idea of why things go wrong has been one of the most helpful aspects of the experience. Being able to visualise what the clubhead should be doing has made a massive difference. It's now time for the next part of the journey – the club fitting…
I had no idea what to expect when I turned up at West Hill GC for the fitting with Matt Byrne from TaylorMade. I suppose my biggest fear was I'd be straight into hitting balls and wouldn't do myself justice.
My current set is a mixture of a Callaway FT 9 driver inherited from my brother and a sample-set of 2016 TaylorMade M2 Tour irons I picked up at work. I've never been advised on what I should be using and certainly never considered getting a fitting.
After an initial chat with Matt it turned out my irons had stiff shafts and it soon became clear that they weren't ideal for me. Looking back, I perhaps should have thought more about what I was using but I was wooed by the shiny new clubs available at work.
Anyway, I initially got warmed up hitting my old 7-iron. Matt then very casually offered me a few alternatives from his vast collection of heads and shafts. I was barely aware of the TrackMan and the fact that every shot was being recorded and analysed. It was a real eye-opener to see the initial findings on Matt's monitor.
When Matt settled on a set-up we were both happy with – the new M1 irons – I could immediately feel the difference. Whether being more warmed-up was a factor or not, I don't know, but having historically hit my irons so inconsistently, the sound and soft feel when I hit the centre of the club felt like a big improvement.
The comparison below shows the numbers for the old 7-iron (top) versus the new M1 version. As you can see, the change was quite significant:
Matt also explains a bit more about the exact set-up and process in the video below:
As Matt says, he felt I was more suited to an M2 fairway wood rather than a hybrid and the 7-wood he offered felt easy to hit. It also seemed to fly a lot further than anything I was used to hitting off the deck. He assured me that this would eventually become my favourite club. Only time will tell...
Then we moved on to the driver, but things didn't go so smoothly. I've always been reasonably confident on the tee and on a good day I'd hit a decent number of fairways. This wasn't a good day, though, and I was erratic to say the least!
I seemed to save the better shots I hit for my old driver so Matt suggested we revisit this part of the fitting at a later date. He was confident the irons would suit me for a good few years to come but if he gave me a driver, the set-up would need to be changed as my lessons progressed.
Overall, the thing I took away from the experience was how knowledgeable and professional Matt was. He was very easy to get along with and that put me at ease immediately. It made it feel like I was down the driving range on my own hitting a few balls.
Going into the session I believed that every shot I hit would matter and I had to be on top form, but this wasn't the case. Matt has seen enough swings in his time to build a picture of the kind of player I was very quickly and then use the range of shots I hit to narrow the choice down.
Using the clubs
The clubs were delivered a couple of weeks later and I went straight to the range. It did take a few sessions to feel comfortable hitting them but once that was the case I felt my progress really accelerated.
One of the first things I noticed taking these lessons was that I suddenly had a lot more to think about standing over the ball. Now, a few weeks into the process, this seems to have calmed down and I'm more confident in my swing and the outcome. The new clubs have only added to that and it feels like I've unlocked a whole new side of the game. It's now time to start putting it into action where it matters and make some positive steps forward on the course.
Photography: Mike Prior
Get the Golf Monthly Newsletter
Tips on how to play better, latest equipment reviews, interviews with the biggest names and more.
David joined Golf Monthly in 2015 as a content editor for the magazine and regularly contributes to the website. He has worked in magazine publishing and editing since 2003. He is a keen golfer and up until recently was a member of Blackmoor Golf Club in Hampshire. He has covered various big events and tournaments for GM, the highlight of which was witnessing Tiger Woods win his 15th Major at Augusta in 2019. Email: david.taylor@futurenet.com