Paul Lawrie: long road to the top
After some early teething problems as a pro, I got my career on track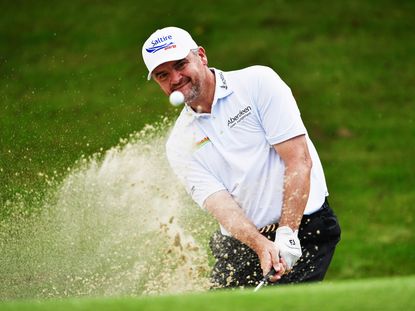 (Image credit: Getty Images)
After some early teething problems as a pro, I started to work really hard on my game and, with the help of some great coaching, got my career on track
I've just been watching my son, Michael, and others in action in the Scottish Boys Championship at Murcar, where he played nicely in his first-round match from tee to green, but struggled on the greens. Michael is off scratch, and the boy he was playing against, Thomas Boyd, was a 4-handicapper. Thomas played better than that, Michael was a bit poorer than his normal standard and it became a good game. That's match play, isn't it?
Michael was 1dn playing the last and birdied that to go to extra holes. He then hit a lovely shot into the 19th and birdied that too. It was a strong finish, and having come through that, I know he was secretly fancying his chances a bit having got to the quarter-finals last year – although he would never come out and say that. But in the end, he went out in the quarter-finals again, losing to John Paterson of St Andrews in another close game.
That's it for him now as he's too old for the boys next year, but he's done better than me as I was never good enough to play in a Scottish Boys when I was young. My handicap was always too high. I've done well since, of course, which highlights that everyone matures or comes through at a different age. I played a lot of football when I was young, but didn't really play a lot of golf, and when I did I wasn't all that good. I'd got down to 5 when I turned pro at 17, but at that time, I think the limit to get in the Scottish Boys was about 4, or maybe even lower. This year they opened it up to handicaps of 8.4, but were still 20-odd short of a full field.
I don't know if it's because it was up in Aberdeen away from the central belt, and that makes it trickier for families with regard to accommodation and travel. It can be quite expensive if your boy does well and you're up there for a few days. But it is worrying that there are not enough boys of 8.4 handicaps or lower in Scotland to play in it, so you would hope other factors were involved.
My father got me into the game. He was a keen golfer, as was my older brother when we were young, but I wanted to be a footballer – that was my initial dream. When I realised I wasn't going to do that, I turned to golf. I started working hard and hitting a lot of balls and playing a bit, and even though I turned pro off 5, I won the first pro event I played in. I was one of those guys who was a bit better than his 5 handicap. You get that quite a lot, don't you – 3-, 4- or 5-handicappers who are better golfers than that on their day.
Ian Poulter was the same – he turned pro off 4, but I understand he was actually better than that but just couldn't play in many qualifying competitions. I didn't play an awful lot either. I certainly didn't play as much as some do now – they play three medals a week and 25 to 30 events a year, and I would never have played anything like that. So I was similar to Ian – I was better than 5 but just didn't play a lot in official tournaments.
Related: Ian Poulter's swing sequence
I remember when I turned pro at Banchory, they used to have these 'Beat the Pro' competitions on a Saturday. One of the pros or assistants would go out, the members would pay a quid or so, and it was a matter of their net score beating the pro's gross score. If it did, they won a golf ball – that was the deal.
I'd only been an assistant two weeks and Doug, the pro, thought it would be a good idea to put me out for experience. I can't remember my actual score, but it was a lot and just about everyone beat me. And if you didn't, you should have! I think I shot about 85, and if you're not going to beat net 85, you're struggling.
That was a great lesson for me, because when Doug came in the next day he called me into the office and I thought I was in for a bit of a dressing down. But he actually said, "Look, this is a fantastic learning curve for you. You need to work at your game, you need to put some time in. I'm going to be putting you in these 'Beat the Pros' now and again, and you can't be shooting 85 against the members!"
I started working really, really hard at my game, and can assure you it didn't happen again – shooting that kind of number in 'Beat the Pro'! I used to get coaching from David Thomson, who is the pro up at Skibo Castle, and Bruce Davidson, who was the pro at the King's Links in Aberdeen. They were great to learn from, and I was fortunate to always have people like that encouraging me when I was young. They, and others, were part of the inspiration for the Paul Lawrie Foundation.
- The Cardinal range of golf clothing and accessories created by Paul Lawrie and his family launches this spring. Look out for more information about the new collection at www.cardinalgolf.co.uk
David joined Golf Monthly in 2015 as a content editor for the magazine and regularly contributes to the website. He has worked in magazine publishing and editing since 2003. He is a keen golfer and up until recently was a member of Blackmoor Golf Club in Hampshire. He has covered various big events and tournaments for GM, the highlight of which was witnessing Tiger Woods win his 15th Major at Augusta in 2019. Email: david.taylor@futurenet.com