Is cheating a problem at Golf Clubs?
Golf's integrity depends on the honesty of its players. How common are instances of deliberate rule breaking?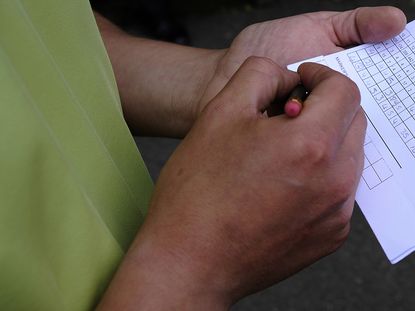 (Image credit: Getty Images)
Golf's integrity depends on the honesty of its players. How common are instances of deliberate rule breaking?
Honesty is golf's cornerstone and, perhaps more than any other sport, golf depends on self-regulation. This is why such a cloud forms over those suspected of wilful cheating. Upheld accusations can lead to individuals being ostracised from the sport and can even impact on their position outside the game.
So cheating is understandably something of a sensitive subject in golf. For this article the clubs we spoke to wished to remain anonymous, indicating the taboo nature of the topic.
Below we ask, how prevalent is "cheating" in amateur golf in the UK and how should it be dealt with if suspected?
Firstly a distinction should be made between accidental and deliberate cheating.
In the vast majority of (if not all) club competitions completed across the country this year, the rules will be infringed. Someone will misunderstand how a drop should be taken; another may clip a branch from a tree while practice swinging before an awkward shot. These individuals will not knowingly have broken the rules and it's not correct to say they've cheated.
However, it's every competitive golfer's duty to have as good an understanding of the rules as possible and, with a pocket-sized "Rules of Golf" produced by the R&A, that easily slips into any golf bag, there should be no excuse.
Deliberate cheating is when a golfer knowingly and willfully breaks the rules in order to lower his of her score: A ball thrown down in the rough or kicked from under a tree, a five claimed when six shots have been taken. This is the type of behaviour that is so wholly unacceptable in golf.
The R&A say these deliberate breaches of the rules, "remain rare." The English and Scottish Golf Unions also confirm that, although they produce clear disciplinary procedure guidelines, there are few instances of clubs going to this level to deal with accusations of cheating.
There have been only a very few cases of alleged cheating at a club level that have appeared in the press. The best known in recent times was at Nairn Golf Club where a prominent member was suspended for a year after the committee upheld an accusation he had incorrectly marked his ball during a singles match. In the 1990s, a member of Sherwood Forest Golf Club took two fellow members to court after they had accused him of cheating.
Publicised cases are certainly infrequent, but almost every club has stories of deliberate rule breaking. Golf Monthly's website forum regularly throws up threads about the issue of cheating and how to deal with it. A post a while back titled "Cheats?" asked people if they had seen cheating on the golf course. It swiftly received 28 responses, 18 of which recounted detailed, eye-witnessed accounts of deliberate rule breaking.
It seems likely that instances of club-level cheating are commonplace, but the vast majority never come to light, sometimes because the evidence is not sufficient (it's often one man's word against another) other times because the accused is simply not challenged.
Many who witness an infringement of the rules will choose to ignore it. They tell themselves it doesn't matter: "he's only cheating himself."
This isn't true. If someone breaks the rules, knowingly or otherwise, it can affect everyone in the event. That person may go on to win a prize or to post a score that lowers the Competition Standard Scratch.
"It can also escalate," says Martin Yates, a former member of the R&A's Rules Committee. "If an individual thinks he's gotten away with breaking the rules deliberately, he'll be encouraged to do it again."
Challenging someone who has deliberately cheated is undoubtedly difficult, particularly if you're the only person to have witnessed the infringement.
Some may be willing to confront the individual at the time of the incident; others might refuse to sign the individual's card at the end of the game. In these cases the accuser must be prepared to stand by what they've seen. It's understandable when people who play golf for fun choose not to put themselves in a position where they could face testifying in club disciplinary hearings, or even in court.
In some instances, informing the secretary/manager of a suspected infringement may be the most appropriate action. As an independent party, they can make the individual aware of the suspicion without a direct accusation.
Sometimes it may be a fairer course of action to give an individual a chance to modify their behaviour than to destroy their reputation permanently. A secretary GM spoke to talks of a particular case.
"One of our most promising young golfers played each week with a couple of old boys who, frankly, had no idea what he was getting up to or what he was scoring. There was a lot of chatter in the clubhouse and it fell to me to broach the subject. I invited the youngster into my office and simply said, 'Now I don't know if you've been getting up to anything you shouldn't have, but there are suspicions.' I simply made him aware and gave him the chance to rectify the situation. There were never any complaints about him again and he went on to be one of our best players."
Grant Moir, a director of Rules at the R&A confirms that when rare willful breaches of the rules do occur a golf club committee has recourse. "In circumstances where deliberate breaches do occur, in addition to the penalty under the specific Rules itself, Rule 33-7 enables the committee to apply a penalty of disqualification in view of the exceptional circumstances surrounding the case," he says.
One way that certain types of cheating can be prevented is through vigilance.
"I play a good deal of competitive golf," says Martin Yates. "I must say that in recent years I've detected an increasing number of my playing partners are unaware of my score. Too frequently I hear the question, 'what did you have there?'
Golf is, of course, an individual game but in my opinion it's also your responsibility to pay attention to what your playing partner is doing when you're marking his card."
At most clubs, tales of juniors with a liberal attitude to the rules abound. Below is an anonymous example from a club Golf Monthly spoke to.
A club manager had to disqualify a good young player from a junior open after he witnessed him surreptitiously dropping a ball in the rough on the final hole. When challenged, the youngster (who would have won the event with the score he signed for) claimed he had taken a free drop from a staked tree. But, the club manager checked with the head greenkeeper to confirm there were, in fact, no staked trees on the 18th hole.
As juniors look to emulate the huge success and reap the rewards secured by young players like Rory McIlroy, it's perhaps explicable that some look to accelerate the process, to try and lower their handicap to reach certain tournaments for example.
"But it's at a junior level that education on the importance of integrity in the game should be instilled," says Martin Yates. "And it's generally possible to be a little more direct when dealing with suspicions of cheating in the junior game and to quickly put a stop to it."
What we think…
Know the Rules Instances of accidental rule breaking will always occur, but every competitive golfer should make it a priority to gain as comprehensive an understanding of the rules as they can. Always carry a rulebook as backup.
Is it rare? It's undoubtedly rare for incidents of cheating at club level to become public knowledge, to escalate as far as a home union or even court.
But anecdotal evidence would suggest deliberate cheating has occurred at most clubs in the UK. It's either ignored or the evidence isn't sufficient to make a solid accusation. In other cases it's dealt with discreetly by the secretary or committee.
What should you do? If you witness accidental cheating (i.e. a misunderstanding of the rules,) it should be easy to point out the mistake and the individual concerned ought to be thankful for the correction.
If you witness a deliberate cheat in competition you owe it to the field to take action: Either to confront the individual at the time, to refuse to sign his card (and to explain why) or to make the club aware of the incident.
It may not be necessary for you to personally drag the individual's name through the mud. The shock of being caught may be enough to ensure they never do it again.
Is it a problem? Golf remains the most honest of games and the overwhelming majority of participants play with the utmost integrity. Yes, almost every club has had incidents but these are generally dealt with quickly and efficiently with a view towards education. Only in extreme cases is it necessary to hand out reputation-destroying punishments.
Fergus is a golf obsessive and 1-handicapper. Growing up in the North East of Scotland, golf runs through his veins and his passion for the sport was bolstered during his time at St Andrews university studying history. He went on to earn a post graduate diploma from the London School of Journalism. Fergus has worked for Golf Monthly since 2004 and has written two books on the game; "Great Golf Debates" together with Jezz Ellwood of Golf Monthly and "The Ultimate Golf Book" together with Neil Tappin (also of Golf Monthly)... Fergus once shanked a ball from just over Granny Clark's Wynd on the 18th of the Old Course that struck the St Andrews Golf Club and rebounded into the Valley of Sin, from where he saved par. Who says there's no golfing god?