How To Play More Golf In 2018
Stop agonising about how infrequently you play and make 2018 your most active golfing year to date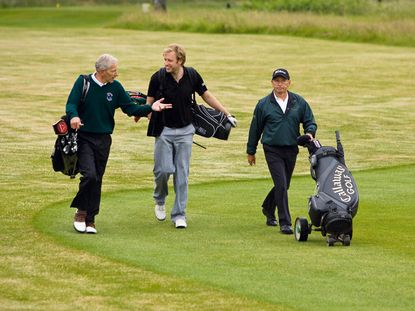 Stop agonising about how infrequently you play and make 2018 your most active golfing year to date. Here, we give advice on how you can get the very most from your game this coming year
How To Play More Golf In 2018
Golf is a compelling sport: the complexities, the unpredictability, the struggle to achieve and improve.
For anyone ever bitten by the golfing bug, there's nothing quite like playing this game.
But an often-heard lament among UK golfers is they "just don't get out there enough."
Yes, time and financial constraints can be problematic, but these might be overcome with a little planning and flexibility.
Here's some advice to help you make 2018 your most comprehensive playing year ever.
Related: UK&I's Top 100 Golf Courses
Take every opportunity
Golf clubs are more proactive than ever when it comes to organising competitions and social golfing get-togethers. If you're a member, find out about these, get down there and enjoy them.
By playing regularly with, or against, a group of like-minded golfers you'll feel more inclined to find time to head to the course. Not only will you be practising your game, but you'll also be making friends.
If you're not a member, you'll find clubs and facilities are extremely keen to welcome visitors with increased flexibility in terms of timing, price and open events.
Keep your options open
If you're considering joining, or re-joining, a club but are concerned about value for money, look what local facilities are offering.
Increasingly, many clubs will offer flexible membership schemes that could more efficiently fit your requirements. There might be five- or three-day membership options, transitional membership categories or fee structures where you purchase credits to play. You're the consumer so shop around and see what suits best.
Related: 5 of the best picturesque par-3s
Plan ahead
In order to play as much as possible without impacting on other elements of your life, it's important to do some forward planning.
If you're a member of a club, sit down at the start of the year with the fixture list. Highlight the events you'd really like to play in and put them in your diary.
Look for other events, weekends, months even, when there aren't so many things to play in, or that you're not so interested in, and try to set them aside. Make plans for family holidays and other non-golfing activities that coincide with these quieter periods.
If you're a nomadic, itinerant golfer, it's possible to do something similar at the start of the year. Look for weekends you know you'll be free and make early plans with like-minded pals to put those days aside for some golf, near to home or further afield. You can find time for golf, it just requires organisation.
Include your family
An important thing to remember is that golf doesn't have to be just about you. Being a member of a golf club should be a benefit for your family and friends.
Most clubs will organise dances, dinners, prize-givings, speakers, musicians, quiz nights and more.
These provide an opportunity to show your other half, your parents or just your non-golfing friends the lively social side of golf club membership.
It's not all jacket and tie and bridge evenings these days; at most clubs there are plenty of chances to have a few drinks and a good time. If you're playing at the weekend, organise for the family to come and enjoy lunch and make use of the other facilities. You'll play more if golf seems more widely appealing.
Although golf club membership has significant perks over and above just playing, it's not for everyone. And, the itinerant golfer has more choice than ever when it comes to finding an array of venues to play at sensible prices.
If you'd like to visit a selection of different courses through 2017, websites like teeofftimes.co.uk will show you brilliant options for potentially discounted rounds and last-minute offers at a range of tracks; from the most prestigious clubs in the country to some of the lesser-known venues.
Continues below
Expand 20 Golf Courses To Play In 2018
20 Golf Courses To Play In 2018
Broaden your golfing horizons and find inspiration for…
Expand New CONGU Category 5 And 6 Handicaps Come Into Effect
New CONGU Category 5 And 6 Handicaps Come Into Effect
Men and women can now have a competition…
Expand 10 Ways To Hit The Ball Further
10 Ways To Hit The Ball Further
Here are 10 simple ways you can hit…
Take a break
Make plans to take a golfing break. If you earmark a long weekend or perhaps even a week away with golfing pals, at home or abroad, you'll have something to target.
With a playing holiday on the calendar, you'll be inspired to get your game in shape, visit the driving range, play a few more rounds than you might have done otherwise and maybe even get some lessons. yourgolftravel.com (opens in new tab) provides a brilliant service for the golfing traveller.
At its website you can, very simply, choose what type of break you're looking for, punch in the requirements and peruse a wide range of competitively priced options.
Work on your game
Something that's bound to encourage you to play more golf is seeing a notable improvement in performance. There's nothing quite like heading out for a round with a realistic expectation you will play well. The most effective method of causing this expectation is by obtaining advice. Book yourself in for a series of lessons with your local pro and you will progress.
Related: Golf Monthly swing tips
Read some books on golfing strategy or mental approach, subscribe to a magazine like Golf Monthly, watch some golf on TV or attend a tournament to gain some inspiration; re-ignite the spark that made you fall in love with the game.
Towards the end of 2018, look for a local winter 'Alliance' to join. These organisations exist across the country and are designed to allow the golfer to continue playing competitively through the colder months. Most will be relatively cheap to join and will hold weekly meetings around local venues. Keep your eye in, be sociable and maybe even pick up the odd prize.
With just a little thought and effort, you can make the very most of being a golfer in 2018.
Consider possible membership or green-fee options, organise your calendar early and look to include family and friends in club events, plan a golfing holiday, get a series of lessons, read about golf, watch golf; just indulge your passion. Like most things in life, the more you put into golf, the more you will get back.
Keep in touch with Golf Monthly on Facebook, Twitter and Instagram
Fergus is a golf obsessive and 1-handicapper. Growing up in the North East of Scotland, golf runs through his veins and his passion for the sport was bolstered during his time at St Andrews university studying history. He went on to earn a post graduate diploma from the London School of Journalism. Fergus has worked for Golf Monthly since 2004 and has written two books on the game; "Great Golf Debates" together with Jezz Ellwood of Golf Monthly and "The Ultimate Golf Book" together with Neil Tappin (also of Golf Monthly)... Fergus once shanked a ball from just over Granny Clark's Wynd on the 18th of the Old Course that struck the St Andrews Golf Club and rebounded into the Valley of Sin, from where he saved par. Who says there's no golfing god?