Golfing yips - what are they?
Golfing yips is most associated with putting but they can affect any part of a golfer's game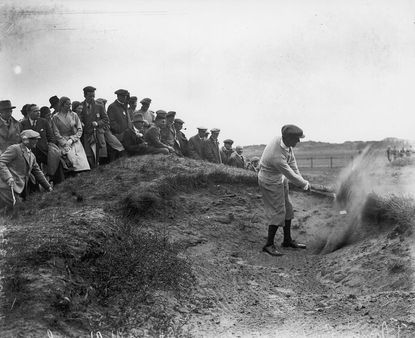 (Image credit: Getty Images)
Get the Golf Monthly Newsletter
Thank you for signing up to Golf Monthly. You will receive a verification email shortly.
There was a problem. Please refresh the page and try again.
Golfing yips is most associated with putting but they can affect any part of a golfer's game. It is caused by a breakdown in messages between brain and muscles, leading to involuntary jerking when playing a shot.
Golfing yips is a loss of fine motor skills which makes a seemingly simple action hard to complete satisfactorily. It manifests itself in involuntary wrist spasms which sabotage the attempt, offer causing a jerking movement.
Golfing yips are often equated to missing short putts regularly and in eccentric ways, and a subsequent loss of confidence with these shots. But the yips can appear in other shots as well.
Golfing yips are probably the best known type, but the yips can affect players in other sports as well, such as darts and snooker. Cricket is another, when it particularly affects left arm spin bowlers.
The yips is still imperfectly understood from a medical and physical standpoint. But there exists a broad consensus that the yips happen as a consequence of the message between brain and muscles getting scrambled.
Neil Tappin, reflecting on Ernie Els' yips at the 2016 Masters described yips experienced on the green as 'like a bolt of electricity working through your hands at the moment of impact, altering the direction of the putter face'.
The yips often appear when a golfer is playing a pressure shot, so sometimes it is called choking. But the yips are not caused by pressure situations, only that pressure situations are more likely to reveal it.
Some sportsmen have overcome the yips by making a change in technique or grip. But some are permanently defeated by it.
Those who have had the golfing yips and overcome them include some greats of the game. For example, Bernard Langer's multiple-Major wining career, on both the regular and Senior tours has been a constant battle against his putting yips
Yips is a term coined by Tommy Armour after he carded a single-hole score of 23 after a nightmare 17th hole during the 1927 Shawnee Open.
Other words that have been used to describe the yips are the waggles, the staggers, the jerks and whisky fingers.
Get the Golf Monthly Newsletter
Tips on how to play better, latest equipment reviews, interviews with the biggest names and more.
Contributing Writer Golf courses and travel are Roderick's particular interests and he was contributing editor for the first few years of the Golf Monthly Travel Supplement. He writes travel articles and general features for the magazine, travel supplement and website. He also compiles the magazine's crossword. He is a member of Trevose Golf & Country Club and has played golf in around two dozen countries. Cricket is his other main sporting love. He is the author of five books, four of which are still in print: The Novel Life of PG Wodehouse; The Don: Beyond Boundaries; Wally Hammond: Gentleman & Player and England's Greatest Post-War All Rounder.