Golf World Records
There are dozens of golf world records out there just waiting to be broken...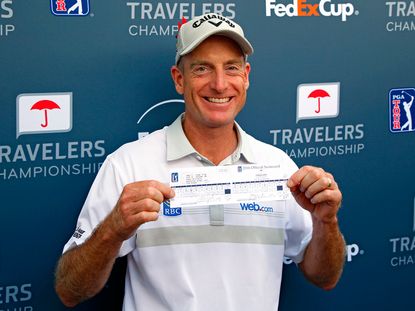 (Image credit: Getty Images)
There are dozens of golf world records out there just waiting to be broken. David Taylor takes a look at some of the most impressive along with a few of the more bizarre…
While it's unlikely you'll find yourself beating Jim Furyk's record-breaking round of 58 at the Travelers Championship, there are hundreds of other ways to etch your name into the golfing history books. Here are a few of the more interesting…
Fastest ever round (team) – 13 Minutes 42 Seconds
With the slow play debate still raging and no real solution in sight, we could learn a thing or two from Farnham Golf Club in Surrey. They currently hold the record for the fastest completed 18 holes at a staggering 13 minutes 42 seconds. Admittedly this did involve 80 members strategically placed around the course but it is still must have taken some doing.
Perhaps a more realistic target is the record for the fastest ever fourball of 1 hour 4 mins 24 secs. Ben Crosby, Andrew Crawford, John Lyon and Russell Hayhoe sprinted their way into the record books at Ponteland Golf Course, Northumberland, on 19 June 2005.
Longest Drive in competition - 515 yds
Amazingly, you have to go all the way back to 1974 to find the longest drive in a professional competition. Even more amazingly, it was achieved by 64-year-old Mike Austin playing in the US National Seniors Tournament, at the Winterwood Golf Course (now the Desert Rose).
To put it in perspective, he did have the benefit of a 35mph tailwind and the course in Las Vegas is well over 2,000m above sea level but it was still a mighty blow with a persimmon club.
Just to prove that distance is not everything, the drive left him 50 yards past the green on the 450-yard par 4. He pitched back onto the green with his second and three-putted for a bogey.
Perhaps the approach of Cristian Sterning would have been more appropriate. The Swede holds the record for the longest golf carry using just one hand – 282yds.
Related: Joe Miller wins World Long Drive Championship
Longest Putt - 125 yds
Fergus Muir successfully sank a putt measuring 125yds on the Eden Course at St Andrews Links in 2001. The shot was made using hickory shafted putter directly from the tee on the 5th hole after the 66-year-old saw his two playing partners go through the green in a howling wind.
As for the longest televised putt in history, that can be claimed by swimmer Michael Phelps who holed a 159ft put for eagle on the par-4 6th at Kingsbarns in the 2012 Dunhill Links.
https://www.youtube.com/watch?v=k90jhSSf_hI
Longest Hole in the World - 964 yds
If you've ever stood on the tee of a particularly long par 5 wondering how you're ever going to reach the green in three, spare a thought for the members of Satsuki GC in Sano, Japan. This is the home of the world's longest hole, the par-7 7th, which measures 964yds.
As for the longest course in the world, this can be found at Jade Dragon Snow Mountain Golf Club in Lijiang, China. This par-72 monster measures 8,548yds with the longest hole, the par-5 5th, coming in at 711-yards.
Most holes played in a year - 14,625
Canadian Chris Adam has played the most holes of golf in a calendar year. He managed 14,625, all at the King Kamehameha Golf Club in Wailuku, Hawaii. He played 809 full rounds and seven half rounds over the course of 2012.
Another Canadian, Robb James, holds the record for the most holes played in 24 hours. Using a cart he managed 851 holes at Victoria Golf Course (9-hole course, 3,002 yd), in Edmonton, Canada, on 21-22 June 2004. He hit 45 birdies and 430 pars, four low rounds of 68 and a high of 87.
Related: Jordan Spieth breaks five world records
The lowest score over 18 holes – 55
Jim Furyk made headlines this year for his amazing 58, the first ever on the PGA Tour, but he still has a way to go to beat Australian Rhein Gibson. He managed a 55 at the River Oaks Golf Club in Edmond, Oklahoma, on 12 May 2012 (6,700yds par 71). The round included 2 eagles and 12 birdies.
The most albatrosses in a single round of golf is two, achieved by American Norman L. Manley at the Del Valle Country Club course in Saugus, California in 1964. This feat was equalled by compatriot Patrick Wills at the Laurel Hill Golf Club in Lorton, Virginia, in 2015, where he managed two hole-in-ones on the par-4 7th and 10th.
One-club wonder
The lowest 18-hole score using only one club was a two-under-par 70 by American Thad Daber using his 6-iron at the 1987 World One Club Championship at Lochmere Golf Club in North Carolina.
Youngest player to make a hole-in-one
While you'll struggle to match many of the records listed here, I'm afraid the ship has definitely sailed on this one. Christian Carpenter managed a hole-in-one aged 4 years 195 days at the Mountain View Golf Club, Hickory, North Carolina, in 1999.
Carpenter's record-breaking continued aged 12 when he shot 54, the lowest 18-hole score on a short course for a male golfer. The round took place in 2007 at Henry River Golf Club, which measures 5,953yds and has a par of 70. He has since turned pro so watch this space...
And the most bizarre record goes to…
American Michael Furrh who created the world's longest usable golf club at 8.56m (28ft 1in) long. He hit the ball a distance of 59 yards in order to prove its usability and in doing so raised money for breast cancer awareness.
https://www.youtube.com/watch?v=eCe-AxEgevo
David joined Golf Monthly in 2015 as a content editor for the magazine and regularly contributes to the website. He has worked in magazine publishing and editing since 2003. He is a keen golfer and up until recently was a member of Blackmoor Golf Club in Hampshire. He has covered various big events and tournaments for GM, the highlight of which was witnessing Tiger Woods win his 15th Major at Augusta in 2019. Email: david.taylor@futurenet.com