Fred Couples: playing it cool
Jeremy Ellwood meets Fred Couples to discuss his near 35-year career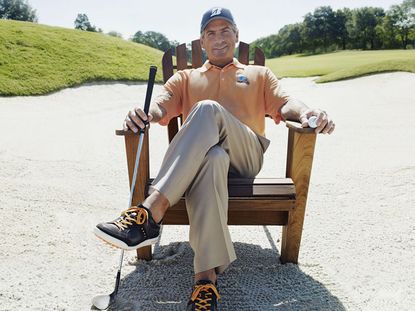 Get the Golf Monthly Newsletter
Thank you for signing up to Golf Monthly. You will receive a verification email shortly.
There was a problem. Please refresh the page and try again.
Jeremy Ellwood meets Fred Couples to discuss his near 35-year career, his love affair with The Masters and an unlikely passage into the world of professional golf…
I had never met or spoken to Fred Couples until this year's Berenberg Gary Player Invitational at Wentworth, which took place on the same day as the final round of the weather-delayed Open Championship at St Andrews. But like you, I knew all the key Couples facts: that he was a long hitter with the nickname 'Boom, Boom'; that he'd seemingly had a bad back for most of his career; that his ball had, against all odds, lodged itself on the bank short of the 12th green at Augusta in 1992; that he is among the more laid-back of tour pros; and that he is blessed with a gloriously rhythmic swing, the envy of many a golfer. Somewhat flatteringly, a starter at a golf club I used to work at once likened my swing to his, although I suspect only if you squinted very, very hard.
It had long fascinated me just how he had remained so competitive on into his highly successful Champions Tour career, given that his back was notoriously bad even when notching up 15 PGA Tour wins, including that famous 1992 Augusta triumph. "I still think today that when I don't feel so good, I should just get away from golf because I do want to keep playing," Couples says, matter-of-factly. The game clearly still means a lot to him. "It's just one of those things, and I don't know whether or not I'd be here today competing still if I'd played really hard in my late 30s and early 40s. A lot of people get injured by overdoing it and they don't play that well, but I'm 55 and I'm still playing."
Related: driver basics
Still playing, and still playing rather well. Couples would go on to finish fifth in the Senior Open at Sunningdale just after we spoke, in weather that most decidedly would not have suited his back. He won that particular title at Turnberry in 2012, one of 11 over-50s titles to date since joining the Champions Tour in 2010. Indeed, he won three of his first four senior outings, and was only denied the fourth by a stroke, losing out to that other age-defying senior, Tom Watson, on his debut.
Couples was competitive on the main tour right up to his 50th birthday, but at one particular place he has remained competitive pretty much every year since, too. That place is, of course, Augusta National, where his name has continued to feature high on leaderboards well into the tournament every year until this one, when he missed the cut. I ask how he accounts for his eye-catching record as a senior in the season's first Major. "Well, I love the place," he replies, understandably. "I just feel like it's a perfect course for me, and a lot of other players who play well there all the time. To be honest, this year I was really unprepared – I hadn't played much – and it still bothers me today talking about it. Not that I would ever go there and say, 'I'm going to play well because I like it.' But I was so unprepared to play. It's a bummer, because I don't have many more chances of doing well there."
Which brings me nicely on to 1992, the year he did especially well there, with the assistance of Lady Luck on the 12th hole in the final round. I want to know if he was unconcerned, mildly fearful or resigned to a watery fate when his ball was in the air. "I was pretty sure it was going to go in the water," he smiles, reliving a moment he must have been asked to relive a thousand times. " I knew it was going to land on the bank, but it hit so far down the bank that it didn't pick up much speed. The bank used to be like this and now it's like that," he continues, demonstrating with his arms a significant steepening of the slope since his good fortune. "It would be impossible now, unless they some day make a little bit of rough. So a lot of luck – pure luck!"
So did such a healthy dose of good fortune give him added inspiration for the closing stretch? "Well, if you can get by 10, 11 and 12 with a lead, it gives you a little bit of comfort," he nods, "although I don't play the 13th hole very well. It's just hard for me. I've made eagles, but I've made sixes way too many times." Couples, who was two ahead at the time, made five on 13 that day, and although playing companion Craig Parry was struggling, he was keeping a close eye on eventual runner-up, Ray Floyd, three holes ahead. "There weren't many other guys, unless they birdied five holes in a row," he explains. "So Ray was the guy I was really watching. You know, weird things have happened, but that was a huge break – not making bogey or double there on 12."
That Green Jacket would prove Couples' solitary Major, though with 25 other top tens, there were plenty of near misses. He tells me that he always wanted to win a "British" Open, but that the US Open would have been "brutal" for him to win. "I played well in that event maybe three times in 20 attempts!" he admits. He then picks out two more Masters, and his runner-up finish in the 1990 USPGA, as his closest brushes with further Major triumph. "Phil [Mickelson] might laugh, but the best I played on a Sunday at Augusta was with him in 2006," he says. "I just didn't putt very well and ended up losing out. Mark O'Meara birdied three of the last four holes in 1998, and I lost to him by a shot, but really there's a USPGA way back where I had the lead when Wayne Grady won. I shot four over the last nine and lost. He played really, really well but didn't do anything crazy. He just played his game and I made way too many bogeys."
To be as competitive as Freddie has for 35 years, you perhaps can't be as completely laid-back as you appear, and when I delve into the earliest stages of Couples' career, I learn about a more rebellious side, and a snap decision to turn pro in 1980 that didn't go down too well with his parents.
Couples played a lot of football (soccer) and baseball at school before getting his first set of clubs at nine years of age. He took to the game quickly, then mixed golf with baseball at high school. "My dad was a very good baseball player, and my brother, who is nine years older than I am, was drafted in the Major League so he was good," Couples explains. "I used to be his bat boy and be around the team, so I was always around baseball. I think my father was kind of disappointed when I started playing golf all the time when I was 13. I grew up in Seattle, so really couldn't play a whole lot of golf – you picked your good days. But that's really how I started, and like a lot of people who are now professionals, I picked it up pretty quickly."
He was good enough to finish as low medalist in the qualifying stroke play rounds for the 1980 US Amateur in North Carolina, before going on to lose to eventual winner, Hal Sutton… which is where the rebellious bit comes in. "I lost in the US Amateur and flew to see my girlfriend in California instead of flying from North Carolina to Houston, which is where I had my senior year of school. I went to see this pro about practising for a couple of days, and they had a tournament there. I couldn't play in it as an amateur, so I turned pro! That didn't go down so well at home, and I didn't go back for my senior year. I turned pro about as fast as meeting you and talking to you!"
Given what we now know about his career, it probably won't surprise you to learn that his mini-tour debut went rather well. "I won $1,800, which seemed like $18 million!" Couples beams. That professional debut was in the Queen Mary Open at El Dorado Park Golf Club, where he tied for 8th with 1998 Masters adversary Mark O'Meara.
But Couples' new-found professional status and wealth got a decidedly frosty reception back home, with his parents already getting wind of their son's decision, almost certainly, according to Couples, via TV announcer Jim Nantz, who was close to his mum. "My father hung up," he says. "They didn't want to hear anything about it, so I called back and talked to my mum for about an hour to explain, and then I got my tour card two months later. If I hadn't got that, I'd probably be flailing around on mini-tours. But it just kind of went 'bang, bang, bang' and I got on the tour."
Or 'boom, boom, boom', given his subsequent tour nickname, stemming from his innate ability to propel the ball prodigious distances with seemingly minimal effort. So not for Freddie the agonies of whether or not to complete his studies, and if, or when, to turn pro. Just a spur-of-the-moment decision stemming from a simple desire to play in a tournament that he wouldn't otherwise have been allowed to play in. As snap decisions go, it didn't turn out too badly, though, did it?
Fred Couples was competing in the Berenberg Gary Player Invitational at Wentworth, where big names from the men's, ladies' and senior tours helped raise over $225,000 for the DePaulUK charity for young homeless people #GPI2015
Get the Golf Monthly Newsletter
Tips on how to play better, latest equipment reviews, interviews with the biggest names and more.
David joined Golf Monthly in 2015 as a content editor for the magazine and regularly contributes to the website. He has worked in magazine publishing and editing since 2003. He is a keen golfer and up until recently was a member of Blackmoor Golf Club in Hampshire. He has covered various big events and tournaments for GM, the highlight of which was witnessing Tiger Woods win his 15th Major at Augusta in 2019. Email: david.taylor@futurenet.com