A Quest To Transform My Game: The Verdict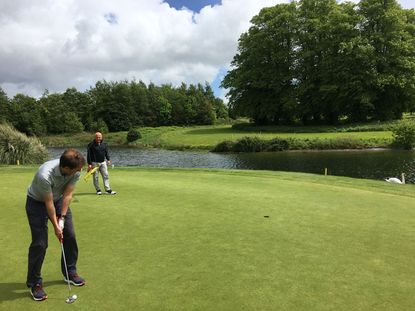 Twelve months in to this attempt to transform my game, what progress have I made and what conclusions can I draw?
So, here we are, one year on from my first tentative steps towards better golf, but what improvements have I made?
The most obvious place to start would be my actual performance on the course. I averaged around one lesson a month and about 15 full rounds throughout the year which culminated in a trip to Goodwood on a freezing cold, windy December morning.
The previous night had been the Golf Monthly Christmas drinks and I was feeling a little tender, to say the least, meaning my expectations were fairly low.
What followed was one of the best 18-hole rounds I can remember. On a day when scoring wasn't high, I managed 32 points playing off 18. But this only tells half the story. My driving and iron-play was accurate and consistent – it was only a dreadful performance on the greens which stood between myself and a feeling that I'd finally mastered the game!
This was a great way to finish the year and confirmed that I've made significant progress as the months have unfolded.
Initial Thoughts
When it all began, my initial expectations about a series of lessons were that it would be a whistle-stop tour through every aspect of the game – once one part was conquered we'd quickly move on to the next. What transpired was quite different, however.
George Porter, head coach at North Hants Golf Club and my guide for this project, had a few simple messages which we worked on throughout the year and stuck with them. If things got off track for some reason, George was there to put things back on the right path and gently add in other elements when the time was right.
As he puts it: "David's journey to better golf needed to be structured in a way that kept swing instruction as simple as possible, providing a consistently clear message. This, coupled with me being on the course with David as often as time allowed, would see a steady upward curve to better performance and scoring when the time came to play."
This approach meant that after a few months the swing became more and more natural. The one abiding memory I took away from my triumphant round at Goodwood was I had a very clear head standing over the ball. This may have been the hangover meaning my brain had switched off entirely but more likely it was the fact I finally felt comfortable with all I've been taught meaning I had a very positive mindset.
When it started to click on the course I kept on doing the same thing and suddenly I was putting together a decent score.
I've had patches where this had happened before but never over a complete 18-hole round. It's given me such confidence going into the new year and I can't wait to get back out there.
Final Conclusions
So, on a basic level, I started the year as an estimated mid-20s handicapper and finished in a healthier position. Whenever I've been at the range up to now I've feverishly worked on the same thing – trying to improve my swing.
Now I'm more confident in that department I'll use the coming months to work on my short-game and especially my putting. I see this as an area that can really help me make further inroads.
I can't thank George enough for his help with this. He took into account the time we had and tailored a specific programme for my needs. He made a quick diagnosis and I could see the improvements almost immediately.
"David came to me with a golf swing that worked too much behind him in the backswing and too much in front of him in the forward swing," George concludes.
"This meant the swing direction was to the right of target and the club head lacked some speed because it was being dragged up to the golf ball. Changing the club head to feel and be more upright in nature in the backswing with a more generous turn allowed him to be more organised in the downswing.
"These changes have lead to better ball-striking and better dispersion via a different way of releasing the club."
As a golfer with limited opportunity to practice and play, I can't recommend a series of lessons enough. The lack of spare time I have to get out on the course means I was never going to be closing in on single figures by the end of the year but what it has meant is that I've been able to get a lot more enjoyment out of the game. I've used the time I have had to practise in the most effective way possible.
Added to this, the TaylorMade club fitting offered further improvements and confidence in my equipment which has enhanced the overall experience hugely.
To sum up, golf still has its many frustrations, obviously, but I've now got a more solid game to fall back on when things get tough. I'm enjoying it far more and really feel positive about improving further in the months to come. Bring on the new season!
David joined Golf Monthly in 2015 as a content editor for the magazine and regularly contributes to the website. He has worked in magazine publishing and editing since 2003. He is a keen golfer and up until recently was a member of Blackmoor Golf Club in Hampshire. He has covered various big events and tournaments for GM, the highlight of which was witnessing Tiger Woods win his 15th Major at Augusta in 2019. Email: david.taylor@futurenet.com