5 of the unluckiest golfing moments
From Woosnam's Open nightmare to Levet's broken leg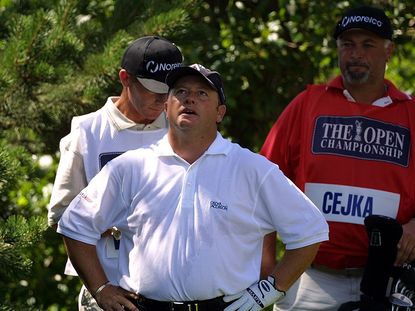 (Image credit: Getty Images)
Get the Golf Monthly Newsletter
Thank you for signing up to Golf Monthly. You will receive a verification email shortly.
There was a problem. Please refresh the page and try again.
We take a look back on some of the most unfortunate golfing moments...
5 of the unluckiest golfing moments
Has your form on the course ever been so bad you feel like you must have accidentally kicked a black cat or walked under a ladder during the week?
We've found five men who know that feeling all too well...
We've picked out some of the unluckiest golfing moments from the game's history. In a nod to the film of the same name, we've given our five moments movie headlines that best describe the misery that unfolded...
No. 1 – Fright Club
The number 13 may be considered unlucky, but it's nothing compared to 15. Just ask Ian Woosnam.
With the 2001 Open Championship in his sights, Woosie could have been forgiven for thinking everything was in his hands. Except it wasn't. He shared the lead after the first hole on Sunday and then proceeded to share his feelings after finding out his caddie had put 15 clubs in his bag, one more than permitted. A two shot penalty followed along with an eventual T3 finish. Old 13 has got nothing on 15, eh, Ian?
No. 2 – Forrest Jump
Jump, Thomas, Jump!
Boy, did he jump...and who can blame him? Thomas Levet had just won the 2011 French Open, his home championship, and decided a special celebration was in order. Many among us would have celebrated a little wildly in his position. The moment took him and Levet chose to jump into a lake on the course. Classic stuff, right? Well, kind of.
The jump broke his leg and cost him the chance to play at the Open Championship. He was philosophical about the outcome, though, citing the joy of winning the tournament as the painkiller. Colin Montgomerie said afterwards it was "not the way to celebrate." You've been told, Thomas.
No. 3 – Silver Linings Play-off Book
If Tom Watson needed a silver lining after missing out on the Open in 2009, it was that he'd already won five Claret Jugs. Still, a major championship title at the age of 59 would have gone down as one of the greatest winning performances of all time.
Watson proved that golf isn't just a young man's game like few others have before at Turnberry. He shot a final round 72 to finish tied with Stewart Cink. A win was a real possibility before Watson stepped up to the final tee. All he needed was a par to secure victory, but instead he bogeyed to force a play-off, which Cink won.
RELATED: 7 scariest golf shots
No. 4 - Ground(your club)hog Day
Always the groomsman, never the groom. Dustin Johnson has had some, how should we put it, difficult moments at major championships. His three-putt at this year's US Open was hands-over-eyes stuff, but it was his bunker mishap at Whistling Straits in 2010 that will live longest in the memory.
Poor DJ didn't know that any sandy area on the course was deemed a bunker when he grounded his club in a sandy patch on 18. The USPGA Championship was up for grabs and having made a 5 on his last regulation hole of the tournament he was all set for a play-off. That was until he was informed of his error in grounding the club and was forced to add a two-stroke penalty.
No. 5 – Not-so-Fantastic Four
When part of a golf course is named after you, either officially or unofficially, life can't get much sweeter, right?
Wrong.
Tommy Nakajima will forever be remembered for that bizarre turn of events at the 1978 Open Championship on the 17th. With his ball firmly in the Road Hole Bunker, Nakajima took not one, not two, not even three but four attempts to float his ball onto the green. Enter the Sands of Nakijima.
It might not have been a lesson in escaping from sand (despite the hole's notoriety), but Nakajima's sense of calm, on the outside at least, was commendable. You can just imagine what he was thinking when his caddie started applauding...
Get the Golf Monthly Newsletter
Tips on how to play better, latest equipment reviews, interviews with the biggest names and more.
Will Medlock graduated from UEA with a degree in Film and Television before completing a Masters in Sports Journalism at St Mary's in London. Will has had work published by The Independent and the Rugby Paper.