12 ways your iPhone can improve your golf
These 12 free iPhone functions can help you improve your golf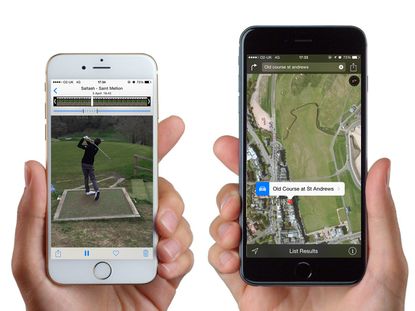 Golf Monthly Newsletter
Golf tips and expert instruction, golf club reviews and the latest golf equipment.
Thank you for signing up to . You will receive a verification email shortly.
There was a problem. Please refresh the page and try again.
Before you waste 99p on the latest coaching app 'guaranteed' to transform your golf swing, consider how these 12 iPhone functions, which are already preloaded on your handset, can help make you a better golfer
Before you waste 99p on the latest coaching app 'guaranteed' to transform your golf swing, consider how these 12 free iPhone functions can help make you a better golfer.
1 - Video your swing in slow-motion
Viewing your swing on video can be a game changer, but viewing it in all its glory slowed down to 240 frames per second (iPhone 6 and iPhone 6 Plus, or 120 fps iPhone 5s) can give you all the tools you need to deduce where it's all going wrong. Then you can use our tips to fix your faults.
Related: Watch tour pro swing sequences here.
2 - Facetime your club pro
Struggling on the practice ground before a big tournament or away club match? How about a quick one-to-one with your swing coach to get everything in sync before you tee off?
3 - Capture your swing sequence
The iPhone 6 camera has a little-known "Burst" mode that snaps an amazing 10 photos per second. To activate it, simply hold down the shutter button and it'll fire away. You can then stitch all the images together to admire your very own swing sequence.
4 - Be your own caddy
Forgot to pick-up a yardage book? Don't worry, you can use your iPhone to reveal overheads of every inch of the course you're about to tackle. Go into your Maps application, then find the venue you're at. Next, click on the 'i' icon in the bottom right corner (see left), and then select 'Satellite' mode to provide a birds' eye view.
5 - Make a note of drills and tips
Seen something cool on TV? Want to try out a Golf Monthly instruction tip or warm-up like Miguel Angel Jimenez? Make sure you don't forget the all-important details by making a list in your Notes app.
6 - Relax with some (i)tunes
Rory McIlroy and Tiger Woods are just two professionals who are known for their love of music during their pre-round warm-up. So if you often get nervous before the first tee, consider kicking back with an album on the practice ground.
7 - Check the forecast
Never again should you find yourself on the 6th tee with no waterproofs when the heavens open, all thanks to hour-by-hour breakdowns and five-day forecasts.
8 - Track your steps
Want to know just how far you've walked when looking for all those golf balls? You can monitor exactly that using the iPhone's built-in pedometer, which measures your walking and running distance.
9 - Work out your winnings and calculate handicaps
Three ales in, can you trust your playing partner to calculate your bits and winnings off the back of an old scorecard? What about working out ¾ of nine at 8am after a night out with the lads. No? Us either. God bless the calculator.
10 - Is that five minutes yet?
We all know how long you're allowed to search for, but how many of us actually know the difference between 4:45 and 5:15 without a watch or timer? There's only one way you can prove you found your ball in time, and this is it.
11 - Pencil in a date
Need to arrange 10 pairs matches to be played over the winter? Get them all in the diary using your iPhone's Calendar app, where you can also set a handy reminder for the week before to confirm everybody has remembered the tee time two months down the line.
12 - World clock
Make sure you don't make a McIlroy in Medinah time zone mistake by utilising your World Clock, which is perfect for planning your PGA Tour viewing when it heads west, or following the European Tour to the Middle East.
Jake O'Reilly specilaises in equipment coverage, and joined the Golf Monthly team in 2013. Before this he graduated from the University of Huddersfield with a Sports Journalism and Media degree, and worked at a number of British golf magazines. Follow Jake on Twitter
@jake0reilly